Local
Here's how Massachusetts malls are handling the coronavirus outbreak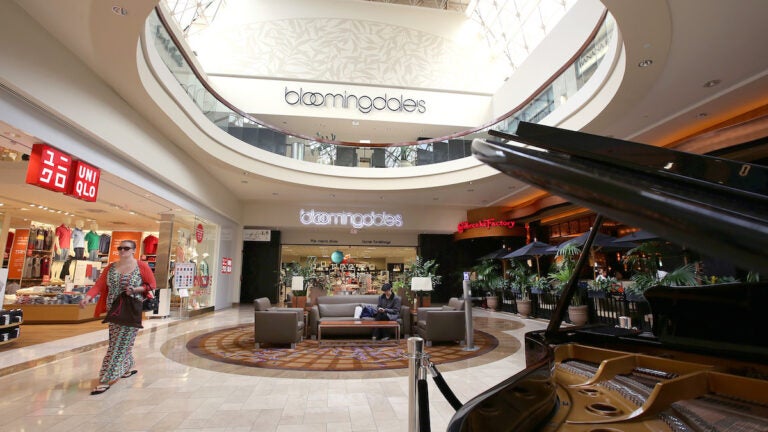 Malls across Massachusetts have curtailed their hours while some stores have closed up entirely, even as shoppers continued to turn out amid the COVID-19 outbreak.
Starting Tuesday, Simon, which operates 14 malls and shopping centers in the Bay State, modified hours across locations to 11 a.m. to 7 p.m. Monday through Saturday and to noon to 6 p.m. on Sundays, according to its website.
Individual store and restaurant hours may vary, according to the company, whose local properties include Copley Place in Boston, the Northshore Mall in Peabody, South Shore Plaza in Braintree, The Shops at Chestnut Hill in Newton, the Burlington Mall, and the Wrentham Village Premium Outlets, among others.
"We are committed to doing whatever is needed to safeguard the health of our shoppers, our employees and our tenants," Simon said on its website. "To that end, we are taking extraordinary steps to keep everyone safe and healthy at our center."
Simon said it launched an enhanced cleaning program starting amid the first reports on COVID-19 in January, and that its "cleaning crews have been increased and are working around the clock to ensure we meet and exceed the hygiene standards established by both the (U.S. Centers for Disease Control and Prevention) and the World Health Organization."
Highly trafficked areas and surfaces are frequently sanitized throughout the day, including entrances, strollers, door handles and knobs, trash cans, and dining areas, among others, the company said.
Simon is advising that anyone who is sick should stay home and has put up signage alerting shoppers to wash their hands frequently, avoid touching their faces, and to sanitize their hands at stations located throughout its properties.
On Monday, management at the Natick Mall announced it would reduce mall hours to noon through 7 p.m. every day except Sunday, when the mall will be open from 11 a.m. to 6 p.m.
Crews have ramped up cleaning procedures and hand-sanitizer stations have also been deployed, the mall said.
"We remain committed to supporting the operations of our retailers. We recognize that, in light of concerns surrounding the coronavirus, retailers and merchants may implement their own corporate policies regarding modified hours or temporary store closures," mall management wrote online. "Please make sure to check the restaurant or store hours prior to visiting."
Major retailers are also opting to close their doors amid the outbreak.
On Tuesday, Macy's and Bloomingdale's announced they would both close at the end of the day and remain closed through March 31.
"The health and safety of our customers, colleagues and communities is our utmost priority," Jeff Gennette, chairman and CEO of Macy's Inc., said in a statement. "As a result of the recent COVID-19 developments, we have decided to temporarily close our stores. We will work with government and health officials to assess when we will reopen our stores and safely bring our colleagues back to work."
Nordstrom has also closed its stores for two weeks, effective Tuesday, according to a company statement.
The closures and modified hours come following an order by Gov. Charlie Baker Sunday barring events with gatherings of over 25 people and dine-in service at Massachusetts restaurants.
<hr>
<h2>Baker bans gatherings over 25 people</h2>
<hr>
Despite calls for social distancing in recent days, however, according to social media posts, it appears some shoppers were still out and about.
There are about 75 people sitting enjoying a nice lunch in the food court at the mall while another 50 roam the halls… SHUT IT DOWN @NorthshoreMall .. There's a REASON the gathering limit was changed to 25!! IGNORANCE at its finest

— Leanne Sorrentino (@LeanneeeHope) March 16, 2020
Drove past the chestnut hill mall in newton on my way to distancing myself outside – parking lot is full. Every single one who doesn't need to be there is contributing to the pandemic spread.

— (((SimonaG))) (@casebycase2015) March 15, 2020
<hr>
<h2>Your 60-second guide to social distancing during the coronavirus outbreak</h2>