Local
The MBTA's reduced schedules took effect, and riders complained of overcrowding
"How's this for social distancing."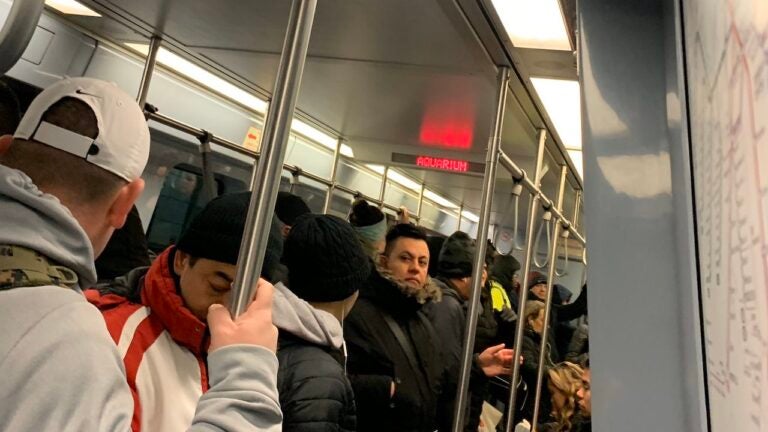 The MBTA's new reduced schedule took effect on Tuesday, and the morning commute was accompanied by a flurry of tweets from riders who claim the trains and buses were more crowded.
Twitter user Zach Hastings responded to the MBTA's tweet about the reduced schedule, and claimed that the Blue Line train around 6 a.m. from the Airport station was "twice as crowded as usual."
"Thanks Zach," the MBTA responded in a tweet. "Blue Line Supervisors are looking at the ridership numbers from this morning and are already planning adjustments for tomorrow."
In response, Hastings said his wife is six months pregnant, and a nurse, adding that he wants for her to be able to maintain a safe distance from other riders.
"We understand, and that's why we're evaluating all lines after this morning's commute," the T replied.
The MBTA announced schedule reductions on Monday, with them taking effect on Tuesday. All subway lines, plus bus routes, with the exception of a handful of express routes, are now on a schedule that mimics their normal Saturday runs. There's no ferry service and the commuter rail has also been reduced, while the RIDE has its usual full service. 
But the schedule changes mean an apparently crowded commute for some. Brian Bethell tweeted a photo of the Blue Line around 6 a.m. with riders appearing packed into the train, standing room only.
"How's this for social distancing," Bethell said in the tweet.
@7News 6am Blue line train out of Wonderland this AM. How's this for social distancing. MBTA service cuts were too much in the early AM. pic.twitter.com/QaNccIIMpG

— Brian Bethell (@bwb311) March 17, 2020
"The service changes were made based on guidance from public health professionals and have been developed according to several criteria that seek to protect the health and safety of MBTA employees and customers, as well as recent reductions in ridership," Lisa Battiston, a spokeswoman for the T, said in an email to Boston.com. "Acknowledging guidance that recommends people avoid large crowds, the MBTA will operate at levels that support social distancing.
"As this situation evolves, the MBTA will continue assessing ridership needs with a particular focus on workforce access for hospitals, as well as food distribution locations operated by the City of Boston. As part of that ongoing assessment, the T will continue monitoring customer volumes and make service adjustments accordingly; this means if the T experiences an increase in ridership, capacity will be added as necessary."
But Boston City Councilor Michelle Wu questioned if the service reduction is simply a "cost-cutting measure" for the T.
"Ok I'm told it's to protect @MBTA workforce & keep some healthy as backup for 'continuity of operations planning,'" she said in a subsequent tweet. "Except now the fewer drivers face exponentially greater risk of exposure w crowds."
She then rallied behind making the T free for riders – something she's called for in the past – and making all doors available for boarding.
Ok I'm told it's to protect @MBTA workforce & keep some healthy as backup for "continuity of operations planning." Except now the fewer drivers face exponentially greater risk of exposure w crowds.

You know what would actually protect drivers? FREE FARES & ALL-DOOR BOARDING. https://t.co/dtrEg581AB

— Michelle Wu 吳弭 (@wutrain) March 17, 2020
<hr>
<h2>Your 60-second guide to social distancing during the coronavirus outbreak</h2>