Local News
BU latest to close dorms to students, says the college will give refunds
"We are living through unprecedented events requiring new levels of adaptation for all of us."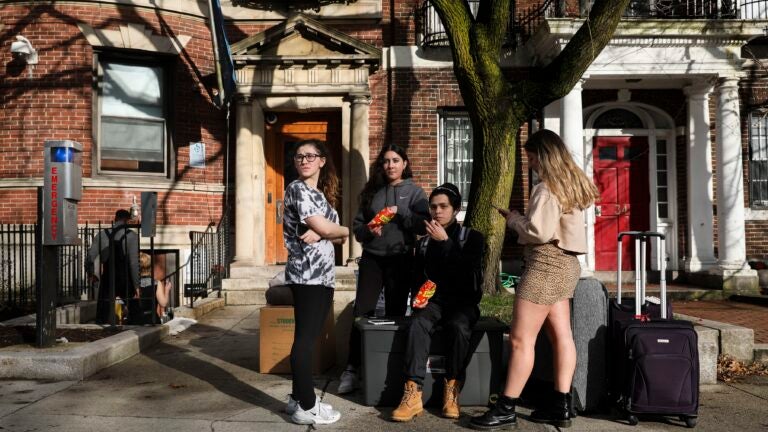 Many New England colleges have followed the same procedure in recent weeks: digitize their classes, and ask students to box up their things and permanently leave campus after spring break. A few, like Emerson College, Northeastern University, the New England Conservatory, and Boston University, told students classes would be moving online but dorm halls would remain open. 
But as Massachusetts continues to see impact from the sprawling coronavirus outbreak, these four colleges reversed their course.
The latest decision was made by BU officials.
As of Tuesday, March 17, BU asked all undergraduates to leave their residence halls and return home by Sunday, March 22, at the latest.
"I recognize that this is a painful decision for all our students, who thrive on the interactions with others as part of their experience as members of the Boston University community," President Robert A. Brown said in a letter to students. "Our hope is that our virtual technology will allow us to stay connected as we study and interact remotely, but I know it will not be the same. I will feel this as I walk the empty Charles River Campus. We are living through unprecedented events requiring new levels of adaptation for all of us."
Brown assured those leaving campus that their room-and-board costs would be prorated for the remainder of the semester. 
He said while students can appeal to stay on campus, only those with a permanent address in a country where travel is currently restricted, and those who have no alternative place to go, will be granted permission to stay.
Below, see a rundown of other local colleges that have digitized the rest of their spring semester studies, asked students to move out, and how they've handled partial refunds. 
Amherst College
The institution in Amherst, Mass. has asked all students to leave campus by 5 p.m. on March 18, unless they've been approved to stay. 
For those leaving campus, the college confirmed that it will be providing refunds for the pro-rata portion of student's room and board payments to the college, accounting for the time they're away.
"Since we do not yet know how long students will be away from campus, we do not know the amount of this reimbursement," Kevin Weinman, Amherst's chief financial and administrative officer said. "We will communicate and process these refunds as soon as possible once the duration is known."
Babson College 
Babson students are being asked to leave their rooms and pack up their belongings by 8 p.m. on March 21, according to their website. 
Similar to other institutions, Babson will allow some students the opportunity to sign a petition asking to stay on campus. 
The college's budget office is in the middle of developing a financial policy and process to address possible refunds and financial burdens. 
Becker College
President Nancy P. Crimmin said in a letter to the campus community on March 12 that students need to be off campus by 3 p.m. March 15 in light of an extended two-week spring break.
Crimmin said few students will be granted exceptions to stay in campus housing during this period, but if anyone staying begins experiencing COVID-19 symptoms and circumstances allow, they will be sent home.
"Otherwise, they will be quarantined," Crimmin said. "Likewise, students who have come in contact with them will be under quarantine for observation."
The college has not made any permanent decisions regarding whether or not students must move off campus indefinitely. Vice President of Communications Amy Dean told Boston.com that when they reconvene to discuss the college's next steps after break, conversations regarding refunds will follow.
Bentley University
Students have been asked to collect their belongings and be moved off the Waltham campus by Sunday, March 22.
"Our primary and overarching focus is protecting the health and safety of our entire Bentley community," officials said in an update to the campus community. "Bentley is developing a financial policy and process regarding this issue and we will share more details on this matter in the weeks ahead."
Berklee College of Music
Officials wrote in an email to students on March 11 that all classes will move to online learning, and on-campus students are asked to leave the residence halls by Wednesday, March 18, taking as many of their belongings as possible.
"Students living in a Boston residence hall should return home during the break, if at all possible, and stay there until further notice," Berklee wrote.
Officials said room and board costs will be prorated for the remainder of the semester. Once students have left campus, they said they will issue a credit to each student.
"Additional information on calculating and processing the credits is forthcoming," Berklee said in an update to students.
Boston College
The institution is requiring students to vacate their on-campus housing by 9 p.m. March 15. Anyone unable to leave the college due to international travel restrictions needs written permission from the college's Office of Residential Life to stay.
"The University has partnered with a local moving company to provide temporary storage and shipping for those who can't easily get their belongings home," Vice President for Student Affairs Joy Moore said.
All on-campus activities have been suspended and classes have been moved online starting Thursday, March 19.
Moore did not immediately respond to an email from Boston.com asking whether students' housing will be refunded for the remainder of the year.
Brandeis University
All students, other than a few with special permission to stay on the Waltham campus, are required to move out by March 25, college officials said in an update to the college community.
As of March 12, Brandeis did not immediately respond to Boston.com when asked whether students will receive prorated refunds.
Brown University
President of the Providence, Rhode Island college Christina H. Paxson said in a letter to students on March 12 that any on-campus students need to leave campus by Sunday, March 22 at the latest, completing their semesters "from their homes or at an alternate location away from campus."
She said students will receive a credit on their accounts for the unused portion of their room and board.
"Credit will be prorated based on each family's contribution to the cost of attendance," the letter clarified. "Graduating seniors will receive a prorated refund for the unused portion of their room and board."
While Brown noted they can't force off-campus students to vacate housing in the area, their "strong preference is for students to depart."
Bunker Hill Community College
The college's emergency management team sent an update to students on March 11 saying they have reported a presumptive positive coronavirus case on the Chelsea campus.
In precaution, the college closed both its Charlestown and Chelsea campuses, cancelling all satellite and instructional center classes, to deep clean the facilities for three days. The college said as of Monday, March 16 that they have not received test results from the Department of Public Health regarding whether the case is confirmed positive and will be reopening the campus.
Clark University
Officials announced on March 14 that students have until 5 p.m. on March 22 to "vacate campus residence halls and remove all their belongings."
The Worcester-based college confirmed that they will provide prorated refunds for room and board charges.
College of the Holy Cross
As of March 14, students have officially vacated campus. Holy Cross officials said students were required to bring all their belongings with them.
When asked whether the college would reimburse students, officials said they will announce their approach to housing expenses by March 31st.
Curry College
President Kenneth K. Quigley, Jr. told students all in-person classes are suspended and the college has extended spring break by a week.
"Students should not return to either the Milton or Plymouth campuses," Quigley said.
Any students currently on campus are asked to leave within 24 hours, though they have not been asked to move all their belongings at this time.
"We understand that students and families have questions related to account credits, refunds and prorated adjustments for aid or loan programs," Associate Vice President for the Office of Marketing and Communications Michelle O'Regan told Boston.com in an email on March 13. "The College is working to resolve these issues and will communicate as soon as further information becomes available."
Emerson College
President Lee Pelton updated the college community on March 13 asking students who were previously allowed to stay in their dorms to vacate campus by 3 p.m. on March 20.
"We will be issuing partial credit for spring semester room and board charges, due to these unprecedented circumstances, for the spring semester," Pelton said in an email to students. "We are continuing to review our policy and will provide further details as soon as possible. The College will also provide assistance to students who may need storage, packing boxes or shipping services."
The campus dining center will remain open as usual though only 25 people will be allowed to be seated at a time, Assistant Vice President of Campus Services Duncan Pollock and Assistant Vice President of Campus Life Erik Muurisepp said in an announcement to students Monday, March 16.
Beginning Tuesday, March 17, all meals will also be served in to-go containers and must be taken outside the dining center before eaten.
Emmanuel College
On March 13, Sister Janet Eisner, president of Emmanuel College and a Sister of Notre Dame de Namur, announced that the college would digitize their classes beginning March 18.
As of March 17, all students, aside from those with an exception to stay, have moved out of their residence halls.
Students were given the option to leave their belongings on campus indefinitely and their spring 2020 semester housing and meal plan charges will be prorated based on the time remaining in the semester.
All Emmanuel offices and services will remain open virtually.
"We are committed to working with students and families to make this transition as smooth as possible," Sister Eisner said. "Together we will navigate this uncertain time, demonstrating the agility in the face of external change that has characterized the Emmanuel community for over 100 years."
Harvard University
All Harvard students have been asked not to return to campus after spring break, and anyone remaining on campus after that has been asked to leave by March 23. 
Those who need to remain on campus, according to the university's website, will "also receive instruction remotely and must prepare for severely limited on-campus activities and interactions."
The institution said all graduate students will transition to remote work, too. 
Harvard Dean Rakesh Khurana confirmed in a letter to students that room and board charges will be prorated for anyone moving out.
Jake Kaufmann, Griffin Director of Financial Aid, said in an update to students that the financial aid office will be working with students individually to ensure affordable travel home whether it be a bus, train, or plane ticket.
"We appreciate your understanding as we coordinate with University departments to answer questions related to room and board, student work, and how they will affect students receiving financial aid," he wrote. "We will let you know about any specific guidance and policies as soon as we can."
Below, watch how Harvard students have reacted to being sent home from campus.
Massachusetts Institute of Technology
MIT Undergraduates were required to begin packing their rooms and leave campus residences by no later than noon on Tuesday, March 17. 
"It is painful to impose this intense disruption on the normal rhythms of MIT, but the arrival of spring break offers the best opportunity to act," President L. Rafael Reif wrote in a letter to students. 
The university is allowing a few housing exceptions for international students who are concerned they won't be able to come back to MIT because of their visas, students whose home countries have been hit hard with the virus already, or students without homes to go back to. 
MIT's Media Relations Manager Sarah McDonnell said in an email to Boston.com on Tuesday, March 17, that the college will be refunding students for their housing and meal plans on a prorated basis. 
"Additionally, we will refund half the spring semester student life fee for undergraduate and graduate students," officials announced. 
MIT will not be reducing any financial aid either, so any student who received financial aid for their housing and meal plans will be able to keep the extra money. 
"Students can use the full amount of their refunds for current or new expenses as well as to help offset lost paid opportunities," officials said. 
Mount Holyoke College
As of March 14, officials said students are required to leave the South Hadley campus housing by March 20 at the latest.
Christian Feuerstein, Mount Holyoke's director of news and media relations, told Boston.com that the college will issue student account credits of prorated room and board to those who are leaving campus for the remainder of the semester.
Students who have received an exception to stay on campus after March 20, will not receive prorated room and board credit.
"Because federal regulations currently require recalculation of student eligibility for some federal financial aid funds, we are evaluating how best to provide credits that are compliant with these regulations and that provide for equitable refunds to all affected members of the community," officials informed students in an update.
They said more information is to come by Friday, March 20.
New England Conservatory
Dean of Students Nick Tatar announced Sunday that all students, previously allowed to stay in campus-housing, are required to vacate their residence halls by 5 p.m. Tuesday, March 17, "unless granted an exemption for extraordinary circumstances."
As soon as students check-out of their residence halls a 40 percent room and board refund will be issued, according to Elizabeth Dionne, NEC's vice president for finance and administration.
Refunds will be electronically transferred to student's bank accounts within about 10 business days, she said.
Northeastern University
As of March 15, an off-campus Northeastern student living in Boston tested positive for COVID-19.
On March 14, officials announced that all students who were previously allowed to stay in campus housing must vacate their dorms by 5 p.m., Tuesday.
"Room and board costs will be prorated for the remainder of the semester for all students leaving campus," Chancellor and Senior Vice President for Learning Kenneth Henderson and Senior Vice President for External Affairs Michael Armini said. "For students who have already left Boston, Res Life and Housing will make arrangements to store students' belongings."
Olin College of Engineering
Rae-Anne Butera with Olin's student affairs team sent a release to students on March 10 saying anyone on the Needham campus needs to leave by 5 p.m. Wednesday, March 18.
"Because the duration of the situation is unclear, students are encouraged to take as many of their belongings as possible," Butera said. "Though no determination has been made, it is wise to assume that you may not be returning this semester."
Officials said students who are unable to return home should look into staying with a friend or relative instead.
Officials have not yet said whether they will issue student refunds for suspended campus housing.
Smith College
The liberal arts college in Northampton, Massachusetts has asked all students to move out of on-campus housing by March 20 at the latest, according to their website.
"Students should not expect to return this semester," officials said. 
Room and board will still be provided to students who have no other options but to remain on campus. 
"Some members of our community may not have a home beyond Smith," President Kathleen McCartney said in a release to students published on the school's site. "Others have homes to which they cannot return for a range of personal reasons." 
Smith has also confirmed that student financial services is currently determining a process for prorated room and board refunds. 
Below, watch how Smith students held their own graduation ceremony in spite of the rising pandemic.
Suffolk University
President Marisa J. Kelly updated the campus community Wednesday, March 18, saying students living on campus will need to leave, but anyone moving out is guaranteed a pro-rated refund. 
Officials have not established a set required move-out date. 
Tufts University
Tufts students are required to vacate campus by March 16, though anyone who's unable to return home is able to stay, President Tony Monaco said in an update to students.
Tufts officials said "housing fees, including potentially the Room Commitment fee, and financial aid for housing will be prorated accordingly."
Once credits have been processed to a student's account they will be able to request a refund, which will then transfer any credit to their bank accounts.
"The University is currently reviewing the possibility of pro-rating Meal Plan fees and financial aid for Meals plans and will provide additional information as soon as it becomes available," the college said.
University of Massachusetts System
The UMass president Marty Meehan confirmed that all five campuses will shift to virtual classes, noting that most the university's 75,000 students will not be allowed to live on campus after spring break. 
UMass Amherst has also officially postponed their commencement.
Meehan said UMass officials will be continuing to meet and discuss a course of action, but as of now, room and meal plan accounts will be adjusted, taking into consideration their financial aid guidelines.
"Without question, this is a public-health moment the likes of which few of us have ever seen," Meehan wrote in a letter to the UMass Board of Trustees. "Our hope is that the very significant steps being taken all around us will result in the virus being brought under control with as little impact as possible."
Wellesley College
In a letter to the college community, President Paula A. Johnson said students are required to move off campus by 6 p.m., March 17.
"The risks involved in having so many people travel and then return to the close quarters of a residential community are too great," she wrote.
Anyone unable to vacate or facing financial struggles is asked to fill out a form through their housing portal.
Johnson said a follow-up on financial issues will be sent to the community soon.
"We also know that students and their families will have questions about the financial implications of these changes," she said. "The College will be in contact once we have finalized details, and we will share additional information in a follow-up communication as soon as possible."
Wentworth Institute of Technology
As of March 11, the institution said classes will be moved online and the residence halls will be closed for the remainder of the spring 2020 semester.
"International students unable to return to their home countries, students performing co-ops in the Boston area and domestic students with special circumstances will be able to petition to stay on-campus," officials wrote on the college's website.
Wentworth said students must be moved out by 4 p.m. Monday, March 16.
Dennis Nealon, the institute's director of public and media relations, said in an email to Boston.com that those who have left campus will receive prorated refunds accounting for the rest of the 2020 spring semester room and board.
"Details will be shared as soon as possible once they are finalized, but the University is anticipating an announcement on next steps within a week or so," Wentworth President Mark A. Thompson said in an update to the campus community.
Wheaton College
The Norton-based College announced Wednesday afternoon they will extend spring break through Sunday, March 22, and remaining classes will be executed online.
Students are expected to stay home after the break and have picked up their belongings from dorm halls, according to the college's website.
Anyone not currently on campus is not allowed to return unless retrieving their belongings. Anything left behind in the dorms will be kept by Wheaton until the end of the semester on May 9, when students are allowed to return and collect their things.
Any students who have special approval to stay on campus will have access to a limited dining hall and face weighted hygiene protocols, officials said.
Wheaton's president said their financial offices are "developing a financial policy to address this disruption in room and board and more specific information will be communicated soon."
The Boston Globe also has a full list of schools that have changed instruction and campus policies in the face of the COVID-19 outbreak.
Nationally, over 250 colleges have also moved to online classes, according to a running spreadsheet created by Bryan Alexander.
---
Get Boston.com's e-mail alerts:
Sign up and receive coronavirus news and breaking updates, from our newsroom to your inbox.