Local
A Boston hospital is creating the nation's first dedicated COVID-19 treatment center
"We are prepared for an influx."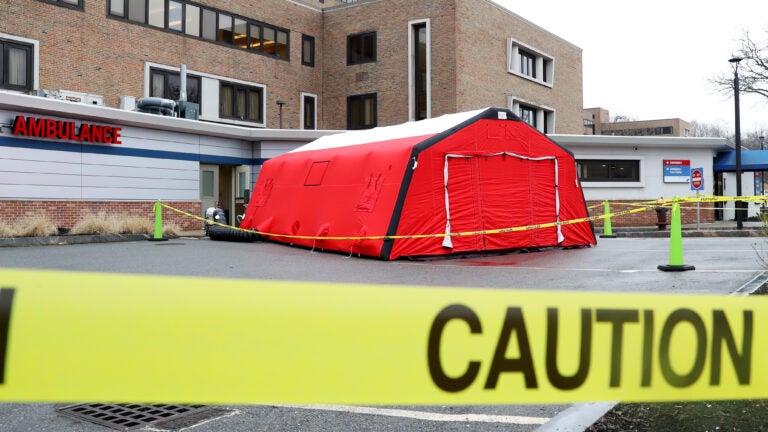 A hospital in Dorchester is converting itself into the country's first COVID-19 treatment center, according to its parent company.
Steward Health Care, which operates 35 hospitals in nine states, says it has been preparing for the coronavirus outbreak for months — stockpiling specialty equipment, preparing "drive through" testing centers, and establishing designated hospitals to treat COVID-19 patients. The first center is at Carney Hospital, a 159-bed facility located on the southern end of Dorchester Avenue.
"Carney Hospital's conversion will include the creation of negative pressure patient wards, enhanced patient isolation protocols, and the marshaling of specialty equipment needed to treat critical COVID-19 cases – including an increased supply of ventilators and personal protective equipment," Steward said in a press release.
The Boston Globe reported Tuesday that the conversion consists of making one floor of Carney a "hospital within a hospital" for patients infected with the contagious and potentially deadly disease. And according to the Dorchester Reporter, which broke the news of Carney's dedicated coronavirus center Tuesday, a tent was put up for "drive through" testing outside the hospital's emergency department on Monday.
Steward officials said that they began work on the dedicated treatment center Tuesday. According to the company, the "unprecedented action serves two important purposes."
"First, by locating COVID-19 patients in a focused environment, Steward can better dedicate the necessary resources, equipment and expertise to provide COVID-19 patients focused care and the very best opportunity for a full recovery," officials said. "Secondly, this measure keeps Steward's Emergency Rooms and other hospitals in Massachusetts fully operational, allowing us to continue caring for other patients who are sick, who are mid-course in treatments, who are in chronic pain and who need high-quality care. This approach also ensures that non-COVID-19 patients continue to receive necessary treatment of acute conditions."
The announcement came as the number of reported cases in Massachusetts broke 200 on Tuesday. The Globe reported that Carney's designated unit currently has 11 beds and was treating five people being tested for COVID-19.
Though federal officials have advised hospitals to consider canceling elective surgeries, Steward says it continue their scheduled treatments and procedures, calling it "irresponsible to ignore the fact that many other patients" will continue to experience a range of other "life altering maladies." Still, the company says it will establish other designated COVID-19 treatment centers at its other hospitals on an "as-needed basis."
"While we have only treated 10 confirmed COVID-19 inpatients across our more than 7,000 beds nationwide to date, we are prepared for an influx," Steward said.
<hr>
<h2>What are the symptoms of coronavirus, and how is it treated?</h2>