Local
What you need to know about Boston Public Library's virtual library cards while you're stuck inside
Similar to a physical card, eCards let you browse everything from books to music to movies, but digitally.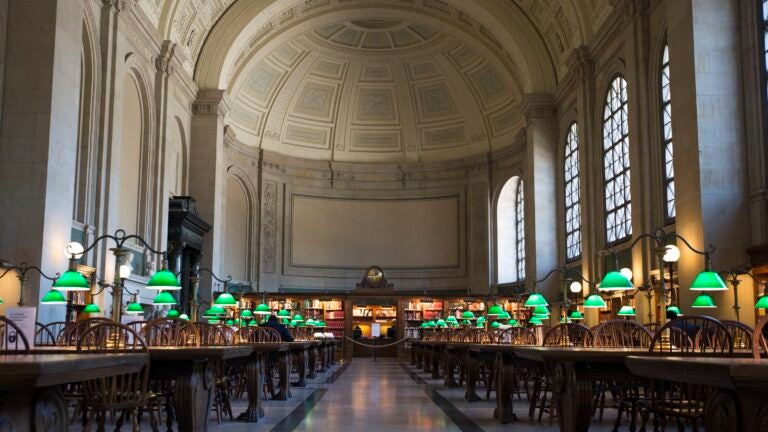 As more people convert their lives to an online existence, the Boston Public Library continues to feature online resources that Mass. residents can access using their library cards, or by registering for an eCard. 
Just a reminder:

-Please don't bring your books back until we're open
-You can keep materials for up to 15 weeks
-No late fines till May 1
-Cards expiring in March/April have been renewed till October
-We're not suspending online services for fines pic.twitter.com/OidZFpy0Jp

— BostonPublicLibrary (@BPLBoston) March 17, 2020
An eCard is basically the same as a BPL card — if you have one, you don't need the other — and you can sign up for it online. 
These cards are available to anyone who lives, attends school, works, or owns property in Massachusetts. 
Here's a look at just some of the resources you can access with them online:
Full texts are offered by subject, from books on art and architecture to screenable reproductions of The New York Times from 1851, to 1,905 plays alongside some of their original playbills.

You can also find free language learning tools, online courses from Lynda.com tutorials, and test prep for all grade levels, including handbooks for driving exams. 

The eCard is also set up with the online streaming service

Hoopla

, where you're able to i

mmediately stream or download movies, music, audiobooks, ebooks, comics, and TV shows.

And on BPL's

OverDrive

, you can browse ebooks and audiobooks as if you were still able to walk down the aisles and grab titles off the shelves, borrowing up to 10 at a time. 
BPL's Chief of Communications Lisa Pollack said that in the last week, their online usage has soared.
The amount of kids content checked out using OverDrive increased by 114 percent while adult comics checked out through Hoopla increased by 94 percent.
Pollack said the trend continues with a 160 percent increase in new user sign ups through OverDrive and a 292 percent increase in new users on Hoopla.
"We've seen an increase in registered users and ebook checkouts," Pollack said in an email to Boston.com, "but not audiobooks — probably because no one's commuting!"
While the library remains closed, she said the BPL is purchasing new content for their online collections and working on making lists so people can easily find all available titles.
If engagement continues to rise, Pollack said, the library may allow people to checkout more items through all their platforms.
As of now, the only thing you can't do with an eCard is request or check out physical materials, like museum passes. 
But when the BPL opens back up, you can upgrade your eCard to a physical card at any library branch. 
<hr>
<h2>Drone footage captures the nearly bare streets of Boston</h2>