Local
Mass. ACLU calls on ICE to halt detentions during coronavirus outbreak
The organization is also urging public officials to take actions to protect vulnerable, incarcerated populations.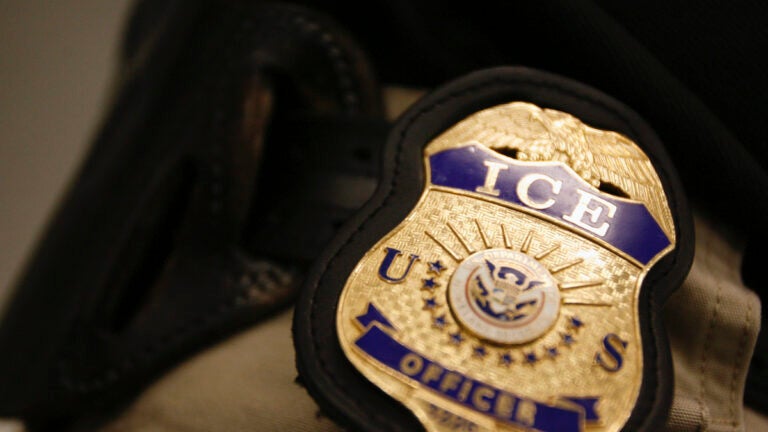 The American Civil Liberties Union of Massachusetts is calling on U.S. Immigration and Customs Enforcement to halt detentions of undocumented immigrants as the region grapples with the COVID-19 outbreak.
In a letter to ICE's Boston Field Office March 12, ACLU of Massachusetts Legal Director Matthew Segal wrote the federal agency should take steps to safeguard the health of detainees and staff in the face of the global pandemic, including by reducing detentions.
"Community transmission of COVID-19 is now ongoing in Massachusetts, and ICE's practices will influence its severity," Segal wrote. "If residents of immigrant communities decline to seek medical treatment because they fear immigration enforcement, the impact and spread of COVID-19 could worsen. If individuals who have been exposed to COVID-19 are placed in immigration detention, the spread of the virus in detention centers will be swift and unstoppable. And COVID-19's threat to detainees, correctional staff, and the broader community only increases with each additional person detained."
Specifically, Segal urged ICE to increase its use of alternatives to detention and to cease any new detentions, while reaffirming officers should continue to treat health care facilities "as 'sensitive locations' where ICE enforcement normally will not occur."
The letter also asked the local ICE office to make sure detainees have free and adequate access to health care and calls with their attorneys, among other resources, and "to undertake a case-by-case review of the individuals currently in its custody and identify those who should be released."
"Although ICE may previously have made case-by-case determinations regarding detention, these determinations were presumably not made with a global pandemic in mind," Segal wrote. "It is now critical to recalibrate each of these decisions in light of the urgent public health risks posed by COVID-19 in a carceral setting."
ICE says, as of Wednesday, it has temporarily adjusted its enforcement practices amid the pandemic.
"ICE Enforcement and Removal Operations (ERO) will focus enforcement on public safety risks and individuals subject to mandatory detention based on criminal grounds," its website says. "For those individuals who do not fall into those categories, ERO will exercise discretion to delay enforcement actions until after the crisis or utilize alternatives to detention, as appropriate."
According to ICE, officers do not carry out operations at medical facilities "except in the most extraordinary of circumstances."
"Individuals should not avoid seeking medical care because they fear civil immigration enforcement," the agency says.
An ICE spokesperson referred to the agency's COVID-19 response posted on its website when reached for comment Wednesday.
As of Tuesday, there had been no confirmed cases of COVID-19 in detention facilities.
The agency also "instituted screening guidance for new detainees who arrive at facilities to identify those who meet (the U.S. Centers for Disease Control and Prevention's) criteria for epidemiologic risk of exposure to COVID-19," it says.
Detainees with fever and respiratory symptoms who meet CDC criteria are isolated and health officials are consulted, according to ICE. Those who meet criteria without fever or respiratory issues are monitored for 14 days.
ACLU pushes for reduction of people held in prisons, jails to protect those vulnerable to coronavirus
On Wednesday, state chapters of the ACLU called on public officials to protect people held in prisons and jails, asking for the release of those who are in pre-trial detention and who are particularly vulnerable to the coronavirus, as outlined by the CDC.
"Public health experts recognize that there is a heightened risk of infection for people who are involved in the criminal system, and that downsizing the footprint of the criminal system should be a part of the COVID-19 public health response," Carol Rose, executive director of the ACLU of Massachusetts said in a statement. "It is essential to the well-being of everyone that our government response plan protects health, safety, and civil liberties, and limits where possible the number of people held in custody in order to protect the health and safety of all of us."
The ACLU of Massachusetts is asking officials around the commonwealth to halt arrests for minor offenses and to issue summonses or citations instead of arrests "so that people can return home, balancing the need for arrest with the overwhelming public safety concerns presented by coronavirus."
The organization is also asking prosecutors to move for release in most cases except where detention is absolutely necessary; sheriffs to ensure facilities "are as empty, safe, and clean as possible and that hygiene products are free and readily available"; and, among others, Gov. Charlie Baker to grant commutations to anyone who is at high-risk of coronavirus whose sentence is ending within the next year, "to anyone currently being held on a technical supervision violation, and to anyone identified by the CDC as particularly vulnerable whose sentence would end in the next two years."
Congresswoman Ayanna Pressley has also called for measures to slow the spread of COVID-19 among those incarcerated.
During a virtual town hall Wednesday, Pressley raised "compassionate leave for elders who pose no threat to the public and who are at risk for COVID-19" as one possibility, the Boston Herald reports.
Sentences for non-violent offenders could also potentially be commuted, she said.
The calls appear to have caught on in Boston.
On Thursday, Suffolk County District Attorney Rachael Rollins's office announced it is working to release people held in custody who are "vulnerable because of their health, age, socio-economic status, or circumstances, but pose no meaningful risk to public safety."
🚨POLICY ALERT 🚨
While we are being encouraged to self-isolate, members of our incarcerated population are, by definition, doing the exact opposite with no alternative options. We need to seriously consider pathways to prevent the spread of COVID-19 for those behind the wall. pic.twitter.com/ObtTmwipNq

— DA Rachael Rollins (@DARollins) March 19, 2020
"While Americans across the country are being encouraged to self-isolate, members of our incarcerated population are, by definition, doing the exact opposite with no alternative options," the statement said. "We need to seriously consider pathways to prevent the spread of COVID-19 for our incarcerated populations, the overwhelming majority of which will return to our communities at some point in the future."
For new cases yet to go to trial, Rollins's office is working to seek personal recognizance release in most, although cash bail will be requested "only after critically weighing any public health risk against our legitimate concerns for public safety."
Rose, in a statement, praised Rollins for heeding the ACLU's call.
"It is essential that all government officials follow public health experts' recommendations to help ensure a response plan that protects the health, safety, and civil liberties of all people," Rose said. "In order to protect the welfare of an especially vulnerable population, all aspects of the criminal legal system—from policing and pretrial through sentencing, confinement, and release—must be modified to combat this public health crisis."