Local News
Tents set up to quarantine, test Boston's homeless population for COVID-19
"When it comes, it's going to come like an avalanche."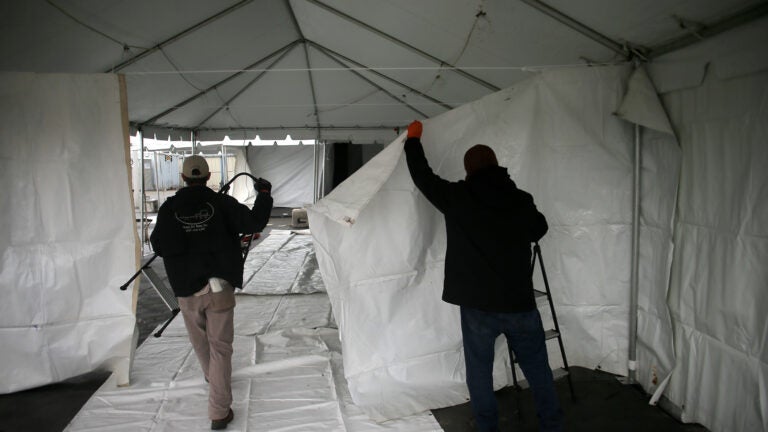 Those working with the homeless have not seen any positive cases of coronavirus among Boston's population yet, but, if and when the time comes, they say they're preparing for it.
Dr. Jim O'Connell, president of Boston Health Care for the Homeless, noted that preparing to test and care for homeless people is different than it is for the general population. Social distancing and quarantining don't apply to homeless shelters.
"You can't do any of that with homeless people," he said.
But there are other ways to continue to provide services, like shelters, to the homeless, and also test and treat those who may come down with the virus.
"What we've been trying to do is screen people," he said, noting that those who work with the homeless are screening them before they enter a shelter.
Pine Street Inn noted that this began for every person entering one of its four shelters on March 16.
For those either showing symptoms and awaiting test results, or those who have been exposed to a COVID-19 positive person, two tents, one for each of the people falling into those categories, have been constructed outside of the Southampton Street Shelter. Inside, there's actual beds, no cots, according to O'Connell. Another screening area is set up at the Woods Mullen women's shelter.
If a patient does test positive for the virus, they will be moved to BHCHP's Barbara McInnis House, which has a separate wing set up just to take care of coronavirus-positive homeless individuals, O'Connell said.
Having a plan in place for if and when homeless people come down with the virus is key, he said.
"The time to set this up is before the first case," O'Connell said.
Homeless people, and those who provide healthcare for them, have dealt with various diseases that have run through the population in the past, including Hepatitis C and HIV/AIDS. O'Connell said he's concerned that COVID-19 could "devastate" the homeless population.
"When it comes, it's going to come like an avalanche," he said.
<hr>
<h2>Drone footage captures the nearly bare streets of Boston</h2>