Local
Donald Trump wants states to buy more COVID-19 supplies. Charlie Baker told him they tried and 'lost to the feds.'
"I got to tell you, on three big orders, we lost to the feds."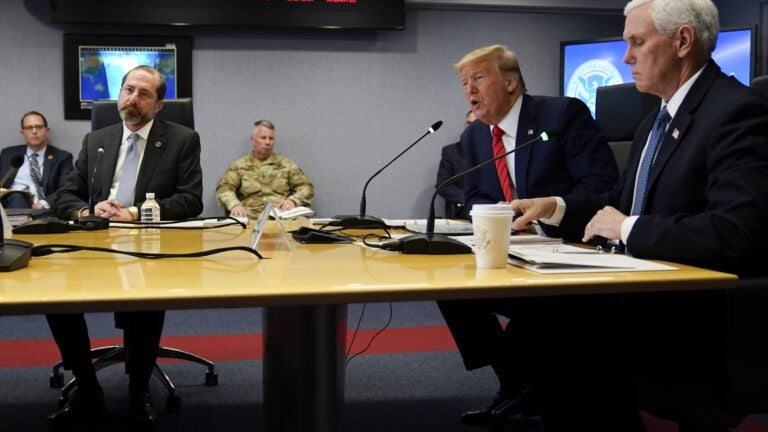 As states have called for more federal help in the response to the coronavirus outbreak, President Donald Trump put the responsibility this week on governors to obtain the medical equipment necessary to treat the increasing number of patients hospitalized with the disease.
"The federal government is not supposed to be out there buying vast amounts of items and then shipping," Trump said during a press briefing Thursday. "You know, we're not a shipping clerk."
Defending his decision to not yet utilize an emergency law allowing the federal government to tell private companies to ramp up production, the Republican president said it was on the states to begin buying in-demand medical supplies, like masks and ventilators.
Later in the day, Gov. Charlie Baker said that his state had tried. But they ran into a problem: the federal government.
"I'm not quite sure what to do with this, so I'm just going to throw it out there for you," Baker told Trump during a coronavirus teleconference with governors Thursday afternoon.
"We took very seriously the push that you made previously on one of these calls that we should not just rely on the stockpile and that we should go out and buy stuff and put in orders and try to create pressure on manufacturers and distributors," the Massachusetts Republican continued. "And I got to tell you, on three big orders, we lost to the feds."
Pointing out that the federal government had more purchasing power than the states, Baker asked what he and his fellow governors were supposed to do.
"I got a feeling that if somebody has a chance to sell to you or has a chance to me, I'm going to lose every one of those," he said.
The question drew a chuckle from Trump.
"All right, Charlie," he said, adding that he did like to see states trying to see if they could acquire supplies faster.
"Price is always a component of that also," Trump said. "And maybe that's why you lost to the feds.  I'll tell you, that's probably why."
Vice President Mike Pence, who has been tasked with leading the government's coronavirus response, added that he appreciated Baker's feedback and said the administration would help states access the supply chain "as it becomes more robust." Pence noted that Trump had activated the Defense Production Act, but not yet initiated any action under the war-time emergency law (Baker had also asked about how the act would be implemented to produce more supplies).
"He said he will if he needs to, but I think the president's perception and the team's perception is now is American industry is stepping forward very aggressively," Pence said.
Despite criticism that the administration itself has been slow to respond after initially downplaying the threat of the pandemic, Trump chimed in to say that the country as a whole had "really stepped up."
"I will say this, Charlie, and for everybody: The country has really stepped up like I don't think we've seen it in many, many — probably decades," he said. "It's incredible the way they've stepped up.  So we hope we can get rid of this thing quickly."