Local
Many things have stopped because of coronavirus. Pet adoption is not one of them.
"We didn't know what would happen. Every day things change."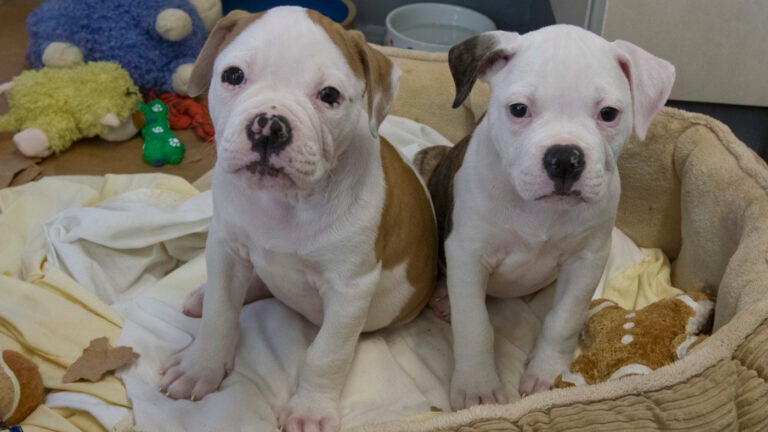 The shopping malls, restaurants, and offices have closed. The humdrum background noise of daily routine has fallen silent across New England as society distances itself amid the COVID-19 pandemic.
Yet apparently some things always have — and always will — endure.
Consider this one of them.
Pets up for adoption across Greater Boston have found stability of their own in a turbulent time, making their way into new homes as shelters around the region have remained busy.
Looking to adopt? You're not alone.
The amount of new adoptions has come as somewhat of a surprise to the staff at the Animal Rescue League of Boston, which is offering adoption visitation to the public by appointment.
In an area practically in shutdown, would people even venture outside their homes? Would they think to look?
"We weren't expecting it," says Dr. Edward Schettino, vice president of animal welfare and veterinary services. "We didn't know what would happen. Every day things change."
At the Massachusetts Society for the Prevention of Cruelty to Animals-Angell Animal Medical Center, staffers create daily, virtual tours of their facilities, showing off their newest arrivals and those awaiting placement in a good home, according to Mike Keiley, director of adoption centers and programs.
The postings are one way the center has worked to continue to bring the pets to the people, amid new rules on social distancing that bar visitors, he says. They've been catching eyes and, in some cases, have led to a pairing.
A key part of the adoption process is about that first interaction — about seeing the animal who's about to become a member of the family, Keiley says.
"We had to re-create a method for people to have that experience," Keiley told Boston.com Thursday.
"We're trying to keep the animals that need to go home, going home," he added.
That's key right now.
Shelters are trying to reduce the number of their in-house animals in anticipation for a surge in the number of pets needing housing as the crisis continues, although details of forthcoming programs are still in the works, they say.
Above all, though, they want the world to know they're here to serve pet owners and animals alike during these changing times.
At the ARL, Schettino, who's slated to become the president of the ARL of Boston in May, said the League is limiting its animal surrender cases to animals who have no other options.
A few cases have already come from college students, whose pets needed a place to go after their owners had to vacate their residences to return home overseas.
"It's hard," he said. "A lot of college students adopt pets or have a pet and when they go home, they haven't broken the news to their families yet."
For adoptions, prospective owners can check out animals available for adoption online and can then call the ARL to speak with a representative, he said. Callers are also asked about their health status and any recent international travel, as the League works to monitor visitors.
"We are available," he said. "We have been very busy with adoptions the last couple of days."
Calling all bird-experienced owners! 🦜
Dory is a Yellow-Naped Amazon parrot estimated to be about 10 years old. He will do best in a home with no other animals so he can soak up all your love & attention. This vocal boy is waiting to meet you tomorrow in Dedham ❤️ pic.twitter.com/O8ZnigYDvF

— Animal Rescue League of Boston (@ARLBostonRescue) March 16, 2020
And adoptions — should someone find the perfect match — are encouraged right now. The ARL needs the extra space for a few reasons, including should a staff member become sick and the other animals need to be relocated among the ARL's facilities, according to Schettino.
For those who want to support the ARL through donations, the League is currently not accepting drop-offs, but donors can peruse Amazon shelter wish lists through its website to send needed supplies.
At the MSPCA, adoptions — and surrenders — are currently on an by-appointment basis.
The society has had to restrict the number of volunteers allowed in the facilities, although it's been working to keep them up to date with the comings and goings, he said.
"It's been really hard for them not to be part of this, helping the animals through this time, so we've also been sending videos of animals getting adopted and updates to the volunteers … just trying to keep as much hope alive as we can," he said.
According to Keiley, staffers have been working on contingency plans to account for any anticipated surge intake as COVID-19 rages on. Intake levels can bump up, even months from now, he said.
In the meantime, the MSPCA is trying to find ways to help with housing and food support for vulnerable people and workers impacted by the coronavirus.
"The goal is to keep animals with their people as much as we can," he said.
While donations of gently used supplies such as blankets and toys are not currently being accepted, the MSPCA is in need of canned and dry cat and dog food to serve community outreach programs. The MSPCA website also has an Amazon wishlist and there are also drop-off locations outside of the building, Keiley said.
In light of the evolving situation, both the ARL and the MSPCA ask the public to continue checking their respective websites for the latest information.