Local News
On Martha's Vineyard and Nantucket, confirmed coronavirus cases have yet to arrive. Part-time residents, however, are a different story.
"They're coming up. And they're buying a lot of groceries."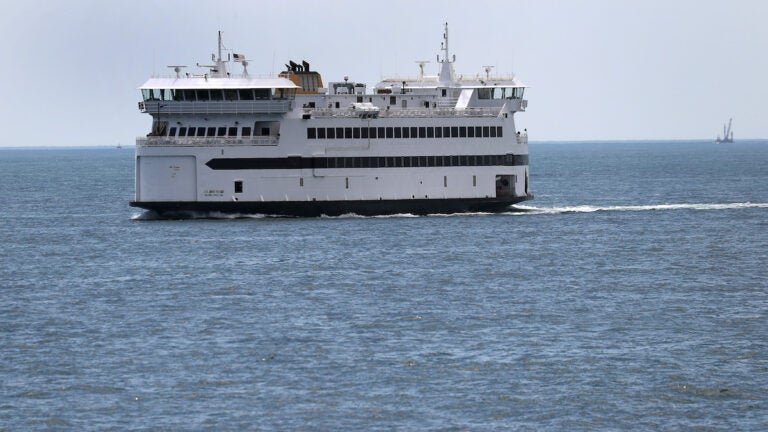 For some, the summer season has arrived early — at least on Martha's Vineyard and Nantucket.
But it's not vacation time.
Locals say those who are usually part-time, seasonal island dwellers have increasingly shown up this month, seeking refuge from COVID-19 at their second homes on the islands where confirmed cases of the virus have yet to crop up.
Amid calls for self-isolation and social distancing, affluent city residents have been fleeing to resort towns and summer homes to hunker down around the country. The island of North Haven, off Maine, and Dare County, which includes parts of North Carolina's Outer Banks, have even barred visitors in response.
As of Friday, Dukes and Nantucket counties were the only two in Massachusetts where confirmed cases of coronavirus had yet to appear, although suspected cases are beginning to show. In Nantucket, 18 people had been tested as of Thursday afternoon, according to Select Board Chairwoman Dawn Hill Holdgate.
But the earlier-than-usual migration of part-time residents has left some concerned over how an influx could affect the island in the midst of the global pandemic. Grocery stores have seen their shelves cleared, and local hospitals have limited resources, officials say.
"If we're panicked about anything, it would be the fact that I heard from two plumbers this week that they were opening homes of summer people — and that they're busier than ever before," Victoria Haeselbarth, a social worker and administrator at the Edgartown Council on Aging on Martha's Vineyard, told Boston.com.
On Nantucket, local ferries and the Nantucket Memorial Airport say they haven't seen a dramatic increase in passengers or air traffic, though, according to Hill Holdgate.
There have been 1,237 more passenger trips between Vineyard Haven and Woods Hole on Steamship Authority ferries during the first two weeks of March, although vehicle trips have been down by 78, not including those involving freight, The Martha's Vineyard Times reports.
But the shift is palpable for those who live on the islands year-round.
"I have absolutely, personally, noticed an influx of non-year-round residents," James Hagerty, the Edgartown town administrator, said in an interview. "You can see it in the Stop & Shops and you can see it in various locations."
In Edgartown, seniors are encouraged to hunker down amid the virus while officials and volunteers prepare and deliver them meals, according to Haeselbarth.
She's concerned that with more people, there could be less food at the grocery stores, as the part-time crowd has swooped in to buy up provisions in bulk, she said.
There "is also a large base of low-income people, and those people are not able to go to the Stop & Shop and sweep through the shelves and stock up," Haeselbarth said.
"They're coming up," said John Christensen, the West Tisbury public information officer. "And they're buying a lot of groceries."
Haeselbarth worries about Edgartown's 1,400 seniors, especially if food supplies should diminish.
"We're trying to be very creative in our meal preparations, in anticipating that that time might come," she said.
Public buildings have closed across both islands to the public, similar to other communities throughout the commonwealth. Restaurants and stores have also closed up shop, officials say.
"Some have said the boats should be shut down, but ultimately you do have taxpayers who own property (who want to come)," Hagerty said. "If you shut down the state-run transportation agency, that's not at the town level."
Hy-Line Cruises announced this week it has started to reduce passenger capacities to allow for social distancing during trips, but has otherwise remained fully operational, according to its website.
The Steamship Authority has made clear it has no plans to stop service.
"Let me be emphatic that the health and safety of our passengers and our employees is our No. 1 priority. We take deeply seriously our responsibilities to be the lifeline to the Islands," General Manager Robert Davis told the authority's board Tuesday, according to the Times. "So in no uncertain terms, let me say that we will continue to run unless we are ordered to stop by the state or federal authorities. Service cutbacks may be inevitable if our crews experience illness or demand takes a sharp decline."
Hill Holdgate can personally attest to the uptick in the number of seasonal residents, but, citing the numbers from the ferries and airport, said she doesn't think the extra population is that large.
With many restaurants and stores closed, folks are tending to keep to themselves, she said.
The Nantucket Select Board voted this week, however, to pass a moratorium on all construction through April 6, effective Friday. The emergency order bans all work except "work that is necessary to prevent damage to persons or property."
The decision was made following growing worry about construction workers who travel from the mainland to the island and back every day, many of them gathering in large numbers at job sites and in the supply stores, and cramming into truck cabs, according to Hill Holdgate, the board chairwoman.
"This is us actually just trying to be ahead of it and hopefully in the longer term, save our economy," she said. "But we're taking a very big short-term hit by closing our industry."
The Board of Health issued an order Thursday halting all services to the public that cannot be carried out from a distance of six feet, such as nail salons, hairdressers, and fitness centers. Retail establishments that do not sell "essential commodities" are encouraged to close voluntarily until April 6.
Others are also concerned about how the pandemic could impact medical services on the island.
In a statement Tuesday, Nantucket Cottage Hospital President Gary Shaw said the hospital "is not built for a global pandemic and no hospital is."
"We do not have an intensive care unit at Nantucket Cottage Hospital and we have limited number of ventilators. We are working with limited medical resources and personnel on our small island," Shaw said. "We will of course provide care to anyone who walks through our doors who needs us, and our Emergency Department team is an excellent group of physicians, nurses, techs, and support personnel that has been preparing for this situation for weeks.
"But if we do have critical patients who need access to an intensive care unit, there is a very real possibly that if we see a surge of cases of COVID-19, we may not be able to be transfer by MedFlight helicopter to Boston hospitals because most likely they will be at capacity with their own patients at that time as well," he continued. "That is simply our reality."
In a media briefing Friday morning, a spokesperson for Martha's Vineyard Hospital said the hospital has increased capacity and hours in its call center for COVID-19 screenings.
The hospital has also created a triage area at the entrance to the emergency room for patients with respiratory symptoms.
Hospital staff has personal protective equipment, but, like so many other health care institutions at the moment, supplies are limited.
"Our health care system isn't as robust as other places off island, but it's such a fluid situation everyone is doing the best with the information they have," Hagerty said.
Although coronavirus cases on the two islands have yet to be confirmed, they're coming, officials said.
Christensen, now retired from emergency management, was feeling optimistic last week.
The situation is urgent, but not disastrous, he said.
"It's the ninth inning and the bases are loaded," Christensen said by phone. "But we can get out of this. … Pitchers get out of this successfully. But it wouldn't take much to tip it."
Update: Martha's Vineyard Hospital and Nantucket Cottage Hospital have released a joint statement on the Steamship Authority website:
Martha's Vineyard Hospital and Nantucket Cottage Hospital are urging residents and visitors of the islands to consider the limitations of our critical access hospitals during this unprecedented time of pandemic. For your safety and to save lives, we strongly advise you to STAY AT HOME. The perception that the Islands are a safe haven are not realistic given the limited number of personnel, critical supplies and beds. Our system will not be able to handle the large number of infected patients from rapid community spread which is expected. For your safety and to ensure the safety of our medical personnel on the front line we need you to do the following:
• We are asking you to stay at home
• For those Island residents, only travel for the absolute necessities, such as food or prescriptions
• If you come to the Island – you will only strain our limited resources, putting your life and others at risk
• If you have a summer home here – we are asking you to stay at your home residence – we have limited bed capacity 25 at MVH and 14 at NCH – and that is already strained
• We have limited medical resources here on the Island and they are dwindling rapidly
• We will not have enough staff to care for you or your loved ones
• Our hospitals are virtually locked down to prevent the flow of people through the facility
• We must act now – to prevent any further spread
Denise Schepici, MPH, President & CEO, Martha's Vineyard Hospital
Gary Shaw, FACHE, President & CEO, Nantucket Cottage Hospital
---
Get Boston.com's e-mail alerts:
Sign up and receive coronavirus news and breaking updates, from our newsroom to your inbox.