Local
Food pantries are seeing a jump in clients amid COVID-19 crisis
"We want to make sure that people know that they are welcome."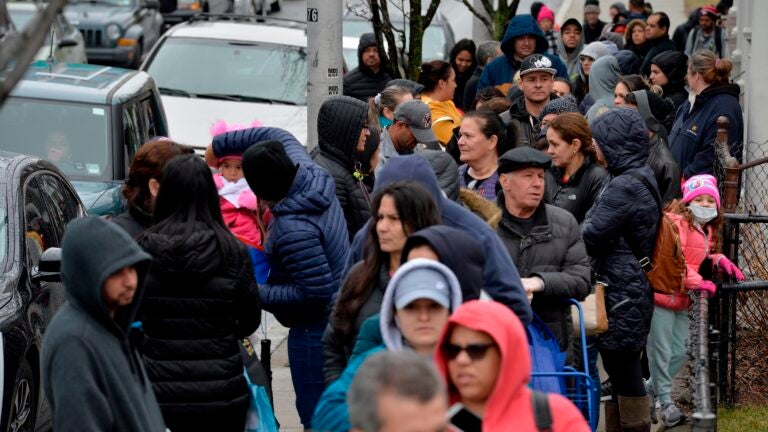 The Greater Boston Food Bank says the crisis brought on by COVID-19 is estimated to cost the organization about $4.5 million.
But there's plenty of food, according to Catherine Drennan, a spokesperson for the organization.
COVID-19 has forced many businesses to close, and the state has changed a variety of measures with collecting unemployment benefits to make it easier for those in need.
Already, the crisis has sent many people to Everett Grace Food Pantry and Outreach, where people could be seen standing outside in a long line waiting to collect food on Friday.
"It's just increased; we're just drawing out people," director Irene Cardillo told Boston.com on Saturday.
Before, the pantry served about 2,700 individuals a month, plus it would give out food to shelters, churches, and senior centers.
Due to extra precautions instituted to combat the pandemic, Cardillo said the pantry has now been forced to use a grab-and-go model to serve its clients.
"Before it was people's choice," she said. "People could pick what they wanted, but in tough times … we have to be grab-and-go."
Cardillo said she anticipates the lines to grow considering how many people aren't able to work at the moment. As people stand outside, she said pantry volunteers try to get them to stand spaced apart as part of social distancing efforts.
The GBFB has seen a 50 percent increase in food distribution, Drennan said. Many people who don't rely on the food bank are stocking up on food, but "people we serve don't have that luxury," she said.
"We're trying to give more food out to people," she said. "We definitely anticipate an increase in demand and people coming to our programs as this continues. As you know, so many people are without jobs."
GBFB distributes food to over 500 meal programs. These include shelters, pantries, and others. Plus there's 70 direct distribution programs, Drennan said.
The organization anticipates seeing people who perhaps haven't had to rely on it before due to the crisis, she noted.
"We want to make sure that people know that they are welcome, and this is a time, if they need help, there are places to help them," she said.
Those looking for food assistance can head to GBFB's "Need Food" site to learn about various meal sites, school meals, and food pantries in their area. For children, there's meals4kids.org for where to find meals.
GBFB relies on donations, Drennan said, and asks donors to visit the portion of the food bank's website dedicated to the crisis. Those who are healthy can also sign up to volunteer, she said.
<hr>
<h2>Your 60-second guide to social distancing during the coronavirus outbreak</h2>