Local News
Live updates: The latest news on the COVID-19 outbreak in New England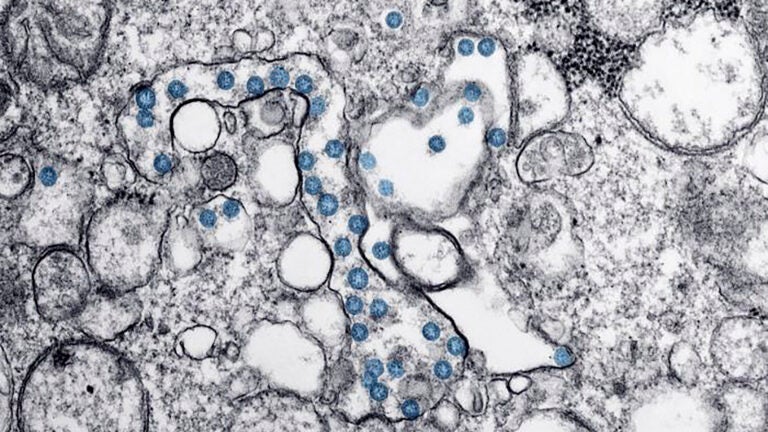 Note: Live updates for the week of March 30 can be found here. 
Mass. officials report 4 new COVID-19 deaths, 698 new cases (March 29)
MaineDOT employee dies from COVID-19 (March 29)
Maine announced its second and third deaths due to the new coronavirus Sunday, which included a worker for the state's Department of Transportation.
Gov. Janet Mills said the man in his 60s from Cumberland County was a long-time MaintDOT employee who recently went on vacation.
State officials said they were limited in releasing further details due to privacy laws, but that the risk to other MaineDOT employees is extremely low, based on the employee's travel history and the fact that he did not return to work after the vacation.
"Those who serve the people of Maine in State government are not only dedicated public servants, they are family," Mills said in a statement. "Today, I am saddened to say that we have lost a member of that family."
The other reported death was a woman in her 80s. Maine announced Friday that a man in his 80s was the state's first death due to COVID-19. Both were also from Cumberland County.
Suffolk University converting dorms for homeless amid coronavirus outbreak (March 29)
Following the city's first COVID-19 cases in its homeless population, Boston Mayor Marty Walsh announced plans Sunday to create new temporary housing for those experiencing homelessness, in an effort to promote social distancing and reduce congestion in Boston's existing shelters.
Suffolk University will be repurposing a dormitory to provide at least 172 beds, while another 70 beds will be made available at 1515 Commonwealth Ave. in Brighton in a vacant building that used to be an acute care hospital. The two new spaces will be operated in partnership between city health officials and local homeless shelters.
"These sites will enable us to get some of our most vulnerable guests, especially our elders, out of a crowded situation in our congregate shelters," Lyndia Downie, the president and executive director of the Pine Street Inn, said in a statement.
During a press conference Sunday afternoon, Walsh stressed that individuals should not go directly to the two new spaces; rather, those seeking housing should continue to first go to one of Boston's existing shelters, where they will be screened and triaged to another location as needed.
Officials say they have conducted over 8,000 screenings, tested approximately 100 individuals, and identified five positive COVID-19 cases. The city has provided 55 beds for homeless individuals in need of medical attention at the Southampton street shelter and at the Boston Health Care for the Homeless Program's Barbara McInnis House.
State officials also announced Thursday that a former Boston Medical Center hospital building known as the Newton Pavilion would be temporarily reopened for homeless individuals who have tested positive for the coronavirus. The facility has room for up to 250 beds.
Mass. officials announce 9 new COVID-19 deaths, with 44 total; 1,017 new cases as total rises to 4,257 (March 28)
Baker says he hasn't been near DPH commissioner with COVID-19 'for about a week' (March 28)
Gov. Charlie Baker said Saturday he has not had recent close contact with state Department of Public Health Commissioner Dr. Monica Bharel, who has tested positive for the coronavirus.
"I haven't been with her I think for about a week in the same building, much less in the same room," Baker told reporters as he donated blood at the Red Cross with his wife, Lauren. "But she was one of those people who did a really good job of distancing herself from others."
Bharel said in a statement Friday night she had tested positive for COVID-19 after experiencing "mild" symptoms. She said she was vigilant about practicing social distancing, has notified close contacts, and will continue to work remotely.
"I think the protocol that's being followed with her is exactly the same one that would be with other people, which is she started to feel symptomatic, she got tested, she was confirmed to have COVID-19, and the outreach to those with whom she had close contact with was done immediately," Baker said during Saturday's press conference. "I wasn't one of those people."
Baker has not been tested, he said.
"I've been asked this almost every day," he said. "I haven't been tested because I have no symptoms and my temperature when I was checked earlier by the Red Cross was 97.7 (degrees)."
Baker and Red Cross officials also put out an urgent call for healthy and willing volunteers to donate blood or platelets, citing a decline in blood drives as residents across the commonwealth self-isolate.
"Since schools, colleges, and many worksites are closed now due to the coronavirus, there are fewer opportunities to give blood, so we're working around the clock to add more opportunities, so that everybody who wants to give blood is able to do so," said Holly Grant, regional CEO of the American Red Cross of Massachusetts.
The organization, which directs its donations to local health care centers and hospitals, needs to collect hundreds of donations a day to help meet their needs, she said. There are approximately 5,500 to 6,000 donations that have not been collected in Massachusetts as a result of the global pandemic, according to Grant, who said each unit of blood can help up to three patients.
"Because we are now living in a time of extraordinary social distancing," Baker said, "it's critical that we understand and recognize that one way or another we all need to bend a little bit to figure out how to make sure that, God forbid, some friend of ours, some neighbor, some family member ends up in the hospital and needs blood … that that blood will be there to serve them."
The Red Cross is, however, not accepting donations from those who have traveled within the last 28 days to South Korea, Iran, Italy, or China and its special administrative regions, Hong Kong and Macau, or from those who have COVID-19, or have had contact with someone who does or is suspected to have the virus.
Donors are asked to schedule an appointment with the Red Cross by calling 1-800-RED-CROSS (733-2767), using the Red Cross Blood Donor App, or visiting RedCrossBlood.org.
Former Boston City Councilman Tito Jackson tests positive for COVID-19, says, 'Stay your ass at home!' (March 28)
Tito Jackson officially confirmed on Facebook that he tested positive for COVID-19 on Friday and is home recovering with family in quarantine.
The former Boston City Council member, 44, wrote, "Stay your ass at home!" in addition to detailing his symptoms such as bad headaches and the "worst body aches EVER" among others.
He also warned people that had been in close contact with him since he started showing symptoms on the night of March 14, "please consider yourself exposed."
Read his full Facebook statement below.
Jackson's diagnosis comes a day after another former member of Boston City Council, U.S. Rep. Ayanna Pressley, tested negative for the virus after showing flu-like symptoms.
Mass. officials announce 10 new COVID-19 deaths, now 35 total; 823 new cases, now 3,240 total (March 27)
Boston sees 113 new COVID-19 cases, bringing total to 477; Mayor announces first-responder testing efforts (March 27) 
As of Friday, Mayor Marty Walsh reported 477 positive coronavirus cases in Boston, showing 113 new cases since Thursday. 
Walsh said the last three days have shown the largest increase, with each day bringing more positive cases than the last. 
Due to the rising numbers, he stressed the governor's stay-at-home advisory, saying it may last well over a month unless people stick to community isolation guidelines. 
"Too many are still not taking that seriously enough," Walsh said, noting that Boston may be battling the virus until July. 
The mayor also announced a new effort to test first responders. 
Starting Saturday, a screening location at Suffolk Downs will be designated to test qualified EMTs, firefighters, and police officers for the coronavirus. The site, Walsh said, will follow state guidelines regarding who can be tested. 
Archdiocese of Boston suspends Lent requirements (March 27)
All Catholics in the Archdiocese of Boston no longer need to avoid meat for the remainder of Lent as many face food insecurity and uncertainty during the COVID-19 health crisis, Bishop Peter Uglietto said in a letter to the community Thursday. 
"In support of the efforts to limit further transmission of the virus we have all been asked to give up many of the everyday activities we take for granted, including our usual participation in the life of the Church," Uglietto said. "One of the effects of the current events is uncertainty regarding what food products are available on any given day." 
He said as many make the best of what's at hand, digging into food stored in freezers or pantries, others depend on pre-packaged meals or food delivered through support organizations.  
Due to this, he said Cardinal Seán O'Malley has suspended the Lent requirement to abstain from eating meat.
"The Cardinal encourages those who can partake of this traditional Lenten practice of abstention to do so and to offer it up for those who are suffering in any way from the pandemic we are experiencing," Uglietto said.
MBTA makes changes to RIDE paratransit service to avoid shared trips (March 27)
The MBTA has announced temporary changes to the RIDE paratransit service for people with disabilities in an effort to keep riders and its workers safe during the COVID-19 outbreak.
"Although some of these changes may create inconveniences for some customers, these are being put in place in an effort to do everything we can to protect the health and safety of those customers and RIDE vehicle drivers, while continuing to provide this vital service," MBTA General Manager Steve Poftak said in a news release. 
The changes include attempting to avoid shared trips with other riders, according to the release. The T is also automatically extending eligibility on a temporary basis for those who already have it, and will give temporary eligibility to potential new clients who meet the required criteria to use the service; the T is currently not doing in-person assessments. 
Trips will only be allowed to be booked one to three days in advance, and T officials will be contacting those with subscription trips to make sure they are still needed.
"This is intended to reduce cancellations for destinations that are closed," the release says.
The T is also encouraging people against unnecessary travel.
In a separate video update, Poftak noted that the T has received a shipment of personal protective equipment, and expects to receive hand sanitizer dispensers soon, which will be placed in stations.
Despite these unsettling times, we continue to run essential service, listen to all raised concerns, and strive to take all appropriate measures to safeguard our riders and employees. We pledge to communicate consistently with updates like this from General Manager @spoftak. pic.twitter.com/6jn6SDLMcs

— MBTA (@MBTA) March 27, 2020
Gov. Baker announces new telehealth option; offers extended physician licenses (March 27)
The Baker administration announced a new telehealth tool on Friday which will be free for all Mass. residents, offering personalized health guidance. 
Governor Charlie Baker said the self-diagnosis tool, Buoy Health, asks users a series of screening questions before directing them to the appropriate resources based on their symptoms. 
The system offers a portal that can be linked to an individual's health insurance provider, though Baker said Buoy is not to be used in place of emergency medical care. 
Andrew Le, the CEO of Buoy health, said the Mass.-based company was founded seven years ago in a Harvard lab. 
We released our COVID-19 screening feature when there were only 2 cases in the US. Since then, we've seen pockets of high risk patients in 18 different states just before a confirmed case appeared (1/2)https://t.co/eb2M3n2zH7 pic.twitter.com/LP131Ei0MH

— Andrew Le (@Andrew_Q_Le) March 16, 2020
"Our goal is to empower people to make good decisions about their health during this vital time," Le said at Baker's press conference on Friday. 
Le said the program's software develops with every new site visitor. 
The Baker administration also announced that physicians who retired within the last year in good standing may reactivate their license for 90 days to help support the public health emergency.
Mass. extends income tax filing deadline to July 15 (March 27)
Massachusetts is extending the state individual income tax filing deadline from April 15 to July 15 to help relieve strain brought on by the pandemic, officials announced Friday. 
"In partnership with our colleagues in the Legislature, we are committed to providing this flexibility to taxpayers in a way that protects the Commonwealth's strong fiscal footing that we have all worked hard to develop over the past several years," Governor Charlie Baker said.
Baker's administration said the income tax relief is automatic so taxpayers won't have to file additional forms to qualify for relief.
"Our message is clear: Residents should stay home and avoid social contact to be safe. Extending the tax deadline helps us accomplish that goal and provides peace of mind," Senate President Karen E. Spilka said in a statement.
Moving the state's deadline will match the federal extension for filing income taxes.
Pine Street Inn reports new COVID-19 case linked to shelter; seeks cooks and drivers to hire during pandemic (March 27)
The Pine Street Inn, a Boston-based homeless service, announced Thursday that an individual who stayed in Boston-area shelters, including their own, has tested positive for the novel coronavirus. 
While the individual is now hospitalized, Pine Street officials said all shelters involved are working with the Boston Public Health Commission among others to track down anyone who had contact with the infected person. 
"Pine Street Inn, together with our partners, is taking every precaution to protect our guests and employees," Pine Street President and Executive Director Lyndia Downie said in the update. "We continue to work closely with public health partners as we take action to keep our staff, guests and tenants safe." 
The Inn said they've conducted over 3,200 screenings on guests before sheltering them and 54 test results from shelter sites citywide are still pending. 
Pine Street is also calling for cooks and food delivery drivers to help continue essential service operations for the homeless community. 
Are you looking for a #job ASAP? Pine Street Inn is an essential services organization seeking cooks and food delivery drivers to help us continue our critical operations in the community. Apply now to be a part of #teampinestreet! #Boston #hiring https://t.co/uAqhkXu55k pic.twitter.com/6AboTCSVmh

— Pine Street Inn (@PineStreetInn) March 25, 2020
Drivers will be paid $19 an hour on call from 8:30 a.m. to 5 p.m., seven days a week, while cooks will be paid $16.50 an hour for full-time positions with 5 a.m. to 2 p.m. shifts currently available, according to the organization's Twitter. 
Gov. Baker's hometown of Swampscott enacts stricter virus guidelines; Provincetown backs off theirs (March 27)
Swampscott officials have ordered all residents to stay home aside from completing "essential activities such as running necessary errands, going for a walk or getting exercise, or leaving home to care for a family member."
The town's new stay-at-home order, which went into effect Thursday at noon, makes Governor Charlie Baker's stay-at-home advisory mandatory. 
"The intent of this Order is to ensure that the maximum number of people self-isolate in their places of residence to the maximum extent feasible, while enabling essential services to continue, to slow the spread of COVID-19 to the maximum extent possible," town officials wrote. 
Swampscott's Select Board and Board of Health voted unanimously in an online public meeting to issue the new policy, restricting all gatherings outside the home of any size. 
As of Thursday, the town had reported four cases of COVID-19.
"The Swampscott Health Department strongly believes that additional unrecognized cases DO exist in Town," officials noted in an update to the community. 
Similarly, on Sunday night, Provincetown's Board of Health announced a shelter-in-place order that would go into effect on Monday morning. 
But by Wednesday, officials had rescinded their order and deferred to Baker's less restrictive stay-at-home advisory. 
"The Governor's Order to stay at home is the only order that's in effect," Provincetown Board of Heath Chair, Steven Katsurinis said in a public Q&A podcast on sheltering in place.  "The Provincetown Board of Health's order is currently in abeyance and the reason for that is so that there's not confusion with conflicting orders that tell you different things."
Connecticut restricting gatherings to no more than five people as cases rise to 1,012; stay-at-home order issued in New Hampshire (March 27)
Connecticut Gov. Ned Lamont issued a new executive order Thursday that restricts the number of people allowed in a gathering to five as the number of coronavirus cases rose to 1,012. 
We're continuing to take every effort we can to stop the spread of #COVID19 in Connecticut. I want to thank all of the workers who are doing everything they can to help.

For a summary of everything we announced today, check out this link.

🔗https://t.co/tAMFTT3sbt pic.twitter.com/Q7Pcku11bd

— Governor Ned Lamont (@GovNedLamont) March 27, 2020
In Rhode Island, Gov. Gina Raimondo issued an order mandating that anyone who has recently traveled to New York must self-quarantine for 14 days.
This applies to anyone who has been in NY in the past 14 days & going forward.

— Gina Raimondo (@GovRaimondo) March 26, 2020
I understand this can be alarming for some who want to know how their information will be used. I want to assure everyone that this data is only being shared with @RIHEALTH so we can get people to quarantine and keep them safe. Please don't be afraid to share your information.

— Gina Raimondo (@GovRaimondo) March 26, 2020
In New Hampshire, Gov. Chris Sununu issued a stay-at-home order, which will go into effect midnight Friday. 
We cannot stress this enough – you should stay at your house unless absolutely necessary. Of course, we will not prevent you from leaving your home to go on a walk, go to the store, or if you are going to work. It will take sacrifice, but NH is resilient & we will get through it. pic.twitter.com/VPmlYcbaij

— Chris Sununu (@GovChrisSununu) March 26, 2020
THREAD: Today, I announced that the State of New Hampshire will be issuing a Stay-at-Home order and directing all non-essential businesses that have not already voluntarily closed to end in-person and public-interacting operations by 11:59 PM tomorrow, March 27, 2020. pic.twitter.com/wLO7KZB2hj

— Chris Sununu (@GovChrisSununu) March 26, 2020
In Vermont, Gov. Phil Scott ordered schools to remain closed through the rest of the 2019-2020 academic year.
Today, I directed schools to remain dismissed through the end of the 2019-2020 school year. This decision was made in consultation with @healthvermont and @VTEducation
in the continued effort to slow the spread of COVID-19. Read my full statement here: https://t.co/oLWQWuX6IV pic.twitter.com/EqTxuwup2D

— Governor Phil Scott (@GovPhilScott) March 26, 2020
In Maine, Gov. Janet Mill closed a handful of coastal state parks as the number of coronavirus cases rose to 155. 
The Bureau of Parks and Lands just announced that, with the support of Governor Janet Mills, it is closing select Midcoast and Southern Maine coastal State Parks https://t.co/qs6fiZpsmK pic.twitter.com/1utmPKvKdA

— Maine DACF (@MaineDACF) March 26, 2020
Mass. officials announce 10 new COVID-19 deaths, now 25 total; 579 new cases, now 2,417 total (March 26)

Gov. Baker asking president for federal disaster assistance, announces new efforts for homeless population (March 26)
Governor Charlie Baker said he submitted a request to the president through the Federal Emergency Management Agency for federal disaster assistance in response to COVID-19. 
"The major disaster declaration would give support and flexibility to our communities as they respond to the COVID-19 outbreak," Baker said in a press conference on Thursday.
Baker also announced that the state will temporarily reopen Newton Pavilion at Boston Medical Center to support the medical needs of the area's homeless population. 
He said the center will be operated by a consortium of Boston homeless providers and will offer a range of care needs or potential COVID-19 treatment. 
The center will provide a safe and isolated place for people to recover, while also serving as a post-discharge facility for people without a home to go back to, Baker said.
7 coronavirus cases linked to Revere senior living facility (March 26)
Seven residents in a Revere senior living community have tested positive for the novel coronavirus, Mayor Brian Arrigo announced on Thursday. 
The individuals live in the Jack Satter House, which is home to about 285 people, on Revere Beach Boulevard. City officials said five of the individuals have been hospitalized and one resident has died, though the cause of death has not been confirmed. 
"My heart goes out to the family that has lost their loved one, and to the others who continue to fight the virus," Mayor Arrigo said. "As part of our continued effort to slow the spread of COVID-19 and protect our most vulnerable residents, we are directing further restrictions at Jack Satter House and issuing additional guidance to senior housing facilities across the city."
As of Thursday, Revere reported 33 positive cases. 
The Revere Board of Health issued additional advisories to all other senior housing facilities in the city, and directed Jack Satter House management to quarantine all residents in their individual apartments.
Lou Woolf, President and CEO of Hebrew SeniorLife, which operates the Satter House, said there is now an aggressive no visitor policy across all campuses.
"We know that this virus is so aggressive, that it can get past the most diligent practices," Woolf said in a statement Thursday. "Despite the strictest guidelines in place at Jack Satter House, including no visitor policies, suspension of communal dining, deep infection control screening for all employees that include temperature checks, we are seeing an escalation of cases. Even opening a package from an on-line delivery can spread the virus."
Bike shops now included as an essential service during pandemic (March 26)
When Governor Charlie Baker ordered all non-essential businesses to temporarily close down, many bike shops were left wondering whether they were included. 
A document outlining which businesses offered essential services stated that "employees who repair and maintain vehicles, aircraft, rail equipment, marine vessels, and the equipment and infrastructure that enables operations that encompass movement of cargo and passengers," could continue to work. 
But on Wednesday, according to the Massachusetts Bicycle Coalition, the Governor's Office published a frequently asked questions page detailing bike shops as non-essential. 
MassBike rallied behind local shops to change the description, and as of Wednesday night, the frequently asked questions page was updated, removing the previous statement that bike shops were required to close. 
#Massachusetts bike repair shops are no longer deemed non-essential.

Thank you @MassGovernor for responding to this, and to Chair Straus & @JoeBoncore and Rep @JayLivingstone & Sen @WBrownsberger for working with me and others to ensure that bike transport will remain viable. https://t.co/93ol0YxrCH pic.twitter.com/z7K13fxJHf

— Tommy Vitolo (@TommyVitolo) March 26, 2020
"Though we are still asking for bike repair shops to be named as 'essential,' this gives us confidence that the State is not prohibiting bicycle repair as a necessary service during this Emergency Order," MassBike wrote on their site. "We advise all shops that choose to stay open to also check with their local municipality." 
We know Gov Baker is bike friendly, so our guidance for now is for shops to check with local municipalities for clearance on staying open, while we work with the administration and our friends in the legislature to get the "essential service" designation changed.

— MassBike (@MassBike) March 25, 2020
Massachusetts State Representative of Brookline Tommy Vitolo backed MassBike in a Tweet.
I rely on my local bicycle shop to repair and tune my bike. I strive to adhere to @MassGovernor's social distancing guidelines, including avoiding the @mbta right now.

I ride my bike to the State House to cast votes in the House of Representatives.

My bike shop is essential. https://t.co/hVAH3gKFHn

— Tommy Vitolo (@TommyVitolo) March 24, 2020
"I ride my bike to the State House to cast votes in the House of Representatives," he said. "My bike shop is essential."
MBTA sees 2 new employees test positive for COVID-19, bringing total to 5 (March 26)
Five MBTA workers have tested positive for the novel coronavirus, officials announced Wednesday.  
After finding three bus drivers had tested positive for the virus on Tuesday, the transit agency said it was informed that two additional employees, who work in the Southampton bus garage and the Orient Heights rail yard, have tested positive for COVID-19.
The MBTA did not disclose which bus lines the three drivers worked on, but said they've taken steps to clean and disinfect all exposed work areas, vehicles, and equipment at the T's Cabot bus facility. 
Yesterday, 3 employees tested positive for COVID-19. To protect our riders & workforce, we enacted our outbreak plan & disinfected employees' workspaces, vehicles, & equipment along with our enhanced systemwide protocols with @CDCgov & @MassDPH guidance. https://t.co/67Pe0hpIIe

— MBTA (@MBTA) March 25, 2020
Officials said the MBTA will inform workers who had "prolonged direct contact" with any of the five employees.  
In a statement, MBTA General Manager Steve Poftak said that "to ensure we can protect the health and safety of our workforce, we strongly urge essential travel only, and we will continue our enhanced protocols for cleaning and disinfecting all vehicles, equipment, and surfaces." 
Boston Carmen's Union, which represents transit workers, also released a statement Wednesday expressing concern for MBTA employees.
"As essential employees, our members report to work each day knowing they face this risk," Union President Jimmy Evers said. "Unfortunately, the T's leave policies fall short of recognizing the sacrifice and dedication these employees are making every day on the job. We'll fight for our members. Keep them in your prayers."
Beverly asks residents to shop in intervals, twice a week, to reduce crowds (March 26)
Beverly Mayor Mike Cahill is urging shoppers to stagger their trips to the store depending on which ward they live in, according to a community update. 
He said the effort would encourage social distancing while still allowing people to fulfill needed tasks. 
"Starting this Wednesday, I ask you all to voluntarily limit your trips to the supermarket to twice a week," Cahill said. "This is a voluntary effort."
Anyone who lives in wards one or two is asked to shop for food on Wednesday, Saturday, or both days, while those living in wards three or four are asked to shop on Thursday and/or Sunday. People who live in wards five or six, he said, are asked to shop on Friday or Monday. 
To see which ward you live in, visit the Massachusetts Secretary of State's website. 
"Please try to follow this schedule whether you do your shopping in Beverly or in a nearby community," Cahill said. "The more people who are able to follow this schedule, the more we will prevent overcrowding in our grocery markets, and the safer we will all be."
Chelmsford Market Basket employee tests positive for COVID-19 (March 26)
A Market Basket associate who last worked at the Chelmsford store on March 15 tested positive for COVID-19 on Tuesday. 
The employee is now home in self-quarantine as he recovers, WCVB Channel 5 reported. 
"The health and safety of our associates and that of our customers are our highest priority and we are moving swiftly to take all of the appropriate measures and ensure that we can continue to serve our customers in good health," Justine Griffin, a spokesperson for Market Basket, told Channel 5. 
Market Basket said part of their response to COVID-19 has been frequently disinfecting all regularly touched surfaces like door handles, registers, counters, handle baskets, and restroom facilities. The company said it has also increased communications with all associates about essential hygiene and proper hand washing.
"In addition to Market Basket's heightened disinfection program, we are bringing in a specialized cleaning crew overnight who will clean and disinfect the (Chelmsford) store," Griffin told WCVB.
COVID-19 cases more than 100 in each New England state; Connecticut sees 275 new cases in one day (March 26)
Mass. sees 679 new coronavirus cases, total now 1,838; 4 more deaths, total now 15 (March 25)
Baker extends school closure until May 4 (March 25)
Officials: In 5 days, Mass. 'received around twice as many new unemployment claims as were filed during the entire worst month of the Great Recession' (March 25)
(2/4) LWD is deploying hundreds of employees from across the secretariat to assist with this incredibly high volume of claims. We are also considering possible contracted options to increase capacity.

— MassLWD (@MassLWD) March 25, 2020
(4/5) If you have reviewed the online resources and still need personal assistance with your claim, please use the contact form at https://t.co/EhrUlj28N2 .

— MassLWD (@MassLWD) March 25, 2020
Boston Resiliency Fund surpasses $20 million in COVID-19 fundraising (March 25)
Mayor Marty Walsh announced Wednesday afternoon that the city's newly established coronavirus response fundraising effort, the Boston Resiliency Fund, has surpassed its $20 million goal. According to Walsh's office, $5.4 million of those funds will be distributed Wednesday to local organizations that provide food and health care to residents most affected by the outbreak.
"I am incredibly proud to see the generosity of the people and organizations of Boston who have come together during this time of crisis to support one another," Walsh said in a statement. "These grants will allow the local organizations in our community to provide critical services and scale up their operations to meet the needs of Boston's most vulnerable residents."
The fund was established on March 16 through support from more than 1,800 local philanthropic groups and individuals — and will continue to accept donations. It's first three priorities are (1) ensuring Boston's children, families, and seniors have access to food; (2) supporting first responders, front-line workers, and health care workers to promote public health, and (3) providing technology to Boston students for remote learning. In addition to supporting local food and health care groups, the fund also contributed $2 million to help Boston Public Schools purchase 20,000 Chromebooks last week, which are being distributed to students in grades 3-12 who don't have access to a computer at home.
More than 2,000 people in Massachusetts are currently undergoing monitoring or self-quarantining for COVID-19 (March 25)
Cambridge bans use of reusable bags at grocery stores; Boston lifts restriction on plastic bag use (March 25)
Local rules on shopping bags at grocery stores are being changed to help prevent the spread of the novel coronavirus.
The City of Cambridge announced Tuesday it is banning the use of reusable shopping bags. With the temporary emergency order, customers and staff at essential retail establishments are not allowed to use reusable bags at checkout. During the temporary emergency, no fees will be charged for bags from the essential businesses.
"This temporary emergency order is one more proactive step that the City of Cambridge is taking to ensure we can effectively halt the spread of COVID-19, protect our community, and put us back on the path to normalcy as quickly as possible," Cambridge Mayor Sumbul Siddiqui and City Manager Louis DePasquale said in a joint statement. "While we understand how strongly the Cambridge community cares about recycling items whenever possible, reusable checkout bags that have not been sufficiently disinfected could potentially contribute to the spread of COVID-19 among staff and customers at these establishments. This immediate action is necessary to prevent and minimize the spread of COVID-19."
In Boston, Mayor Marty Walsh issued a temporary order on Wednesday that allows for the use of plastic bags at any business that qualifies as "essential" under Gov. Charlie Baker's emergency order. Customers will not be charged for plastic bags at checkout.
"During this challenging time, we understand the retail establishments our residents rely on — like grocery stores, pharmacies, and restaurants — need added flexibility to best serve their customers," Walsh said in a statement. "We are adjusting Boston's plastic bag ordinance to give establishments and residents the help they need during this time."
President of firefighter's union calls for more training, equipment to protect against COVID-19 (March 25)
Richard MacKinnon Jr., president of the Professional Firefighters of Massachusetts, is calling for more training and equipment to protect against the novel coronavirus, saying five firefighters in the state have tested positive for COVID-19.
"The COVID-19 pandemic has dramatically threatened our ability to help the Commonwealth at the time of its greatest need," MacKinnon wrote in a statement. "The global health emergency has imperiled our ability to protect ourselves and you. The 12,000-plus first-responders represented by the Professional Firefighters of Massachusetts accept risks of doing the job. Now, every single fire response carries the added risk of deadly virus transmission. We need to update training, equipment, and accommodations necessary to protect ourselves as much as possible so robust and healthy fire departments continue providing emergency services. If firefighters are exposed to COVID-19 without proper protection and treatment, we will hamper Massachusetts' ability to respond to this pandemic."
President MacKinnon's Op-Ed on the current COVID-19 pandemic, and what the PFFM needs to continue to protect our communities and ourselves during this outbreak. pic.twitter.com/gzsUW18eqB

— Fire Fighters of MA (@THE_PFFM) March 24, 2020
Health officials: Person who tested positive for COVID-19 rode bus between New Hampshire and Boston four times in recent weeks (March 25)
New Hampshire officials are warning about potential community exposure to the novel coronavirus because a person diagnosed with the illness rode the Concord Coach Line between New Hampshire and Boston four times in recent weeks. The individual rode the bus on the following dates and routes:
3/11/20: 3:15 a.m. bus from Concord, NH – Boston Express Londonderry – South Station – Boston Logan Airport 

3/13/20: 5:40 p.m. bus from Boston Logan Airport – South Station – Concord, NH – Tilton – Plymouth – Lincoln – Littleton 

3/14/20: 5 a.m. bus from Concord, NH – Boston Express Londonderry – Boston Express Salem – South Station – Boston Logan Airport 

3/16/20: 1:40 p.m. bus from Boston Logan Airport – South Station – Concord, NH
"Any individuals who rode on one of the Concord Coach Line buses above may have been potentially exposed to the novel coronavirus and should stay at home and monitor their health for fever or respiratory illness," New Hampshire health officials said. "Any person who was on those buses and has developed symptoms should stay away from other people, and immediately contact their healthcare provider."
Connecticut sees 203 new cases of COVID-19 in one day; Rhode Island, New Hampshire, and Maine all have more than 100 positive cases  (March 25)
The number of coronavirus cases jumped up by 203 in Connecticut, bringing the total to 618, officials announced. Gov. Ned Lamont told WCBS Tuesday it's likely schools in the state could stay closed until the fall, past the current reopening target in April.
"I really think that's the likelihood," he said. "You just look at Italy and you look at Wuhan province, you see what the life cycle was there, and you worry that if people get back too quickly that there'll be a second iteration of this virus. So, April 20 is the minimum, probably the school year." 
In Maine, the City of Portland issued an emergency stay at home order, which goes into effect 5 p.m. Wednesday and will be in place for five days with extensions possible. The order restricts all non-essential personal and business services in the city.
"With 90 of 118 confirmed cases in Southern Maine, we are obligated to take additional measures to protect public health," Mayor Kate Snyder said in a statement. "We know this is a person-to-person virus that requires vigilant social distancing in order to stem the spread. Portland's early actions laid the base for today's additional, aggressively cautious measures. The City Council is in support of the Manager's action, and appreciative of this expansion of efforts that seeks to safeguard people, and alleviate the inevitable strain on our health care system."
Vermont Governor Phil Scott issued a "Stay Home, Stay Safe" order on Tuesday, directing the closure of all in-person operations and non-essential businesses. The order goes into effect Wednesday at 5 p.m. and will be in place until April 15, though it may be extended.
"I want to be very clear about this: We need everyone to limit activities outside of the home and to practice social distancing at all times to slow the spread of this highly contagious and potentially deadly virus," Scott said in a statement. "We all must do our part to slow the spread of COVID-19 to minimize infections — particularly for those who are elderly or have underlying chronic health conditions — and prevent it from overwhelming our healthcare facilities. The more Vermonters who take this seriously and stay home, the faster we can return to normal."
Mass. sees 382 new coronavirus cases, total now 1,159; 2 more deaths, total now 11 (March 24)

Charlie Baker announces state text alert system for coronavirus updates (March 24)
Gov. Charlie Baker Tuesday announced a new coronavirus alert system that will let residents get updates from state officials sent to their cell phones.
The program, "Alerts MA," will send out the latest news from the administration and state command center, tips on social distancing and other health and prevention information, and alerts on state services, according to Baker, who said officials worked to build the system with Burlington-based company Everbridge.
"We're not looking to bombard folks and add to the information overload many already feel," Baker told reporters. "Most days we'll only push out one or two notifications, but this is a great way to stay in touch with the commonwealth's government and to hear the latest announcements from trusted sources."
Residents can sign up by texting COVIDMA to 888777.
Brookline closes fire station after firefighter showed symptoms of COVID-19 (March 24)
A fire station in Brookline is temporarily shut down out of what officials say is "an abundance of caution" after a member of the department started exhibiting symptoms of the novel coronavirus on Monday. 
The fire department was conducting temperature checks on all on-duty members during a Monday morning shift change, and one of the individuals at Station 5 on Babcock Street had an elevated temperature at the end of his shift. The department said he went home and reported having a higher temperature later in the day. 
"As a precaution, the department required the other seven members of the department who worked on shift with the symptomatic individual to self-quarantine pending the results of testing for COVID-19 on the symptomatic member," the fire department said in a statement. "Additionally, four other members who had second-hand contact with that member have also been asked to self-quarantine pending the member's test results."
Station 5 will reopen later Tuesday, after it undergoes thorough cleaning and equipment is disinfected. In the meantime, two reserve companies have been activated at other fire stations in Brookline so the department is "appropriately staffed." Fire department members get temperature checks at the beginning, middle, and end of each shift to monitor for symptoms of coronavirus. 
"While we can't say for sure right now whether our member has contracted this illness, there's no doubt that our members — and first responders everywhere — are on the front lines of the fight against this pandemic," Brookline Chief John Sullivan said in a statement. "We have introduced several policy and procedure changes meant to protect our firefighters and residents alike as we continue to serve the community during this challenging time."
Boston 25 News reports that so far two Billerica firefighters and one in Worcester have tested positive for COVID-19, with 157 firefighters under quarantine across the state for potential exposure to the illness. There are at least 10 suspected COVID-19 cases in police officers across the state, according to the outlet. 
Boston police confirmed Sunday that a member of the department had tested positive for the virus. 
Boston's first coronavirus death was 91-year-old memory care patient (March 24)
The 91-year-old man, who was the first person in Boston to die from illness related to the coronavirus, was a memory care patient at Rogerson House in Jamaica Plain, the Boston Globe reports. 
The man, who had underlying health conditions, was taken to Carney Hospital with "flu-like" symptoms on March 15 and placed on end-of-life care. He died Saturday. 
Rogerson has since learned that a health care worker at the facility, who had been in self-quarantine since March 16, had tested positive for the virus. According to the Globe, the facility doesn't have a record of the worker having contact with the 91-year-old. Staff at the facility are now wearing protective masks and residents are being checked twice a day for fevers. 
"This is a fragile group of elderly patients who may not understand or remember instructions," Walter Ramos, president and CEO of Rogerson Communities, told the Globe. "That adds complexity to their care. We are trying to keep patients six feet from each other. With this group it is a challenge."
New Hampshire reports 1st COVID-19 death; fatal cases rise to 10 in Connecticut, 5 dead in Vermont (March 24) 
New Hampshire officials said the state's first coronavirus-related death is a Hillsborough County man who was over 60 years old with "multiple" underlying health issues. 
Mass. officials report 4 new COVID-19 deaths, now 9 total; 131 new cases, now 777 total (March 23)
Boston Mayor Marty Walsh announces 2nd death from COVID-19 in the city (March 23)
Mayor Marty Walsh announced Monday that a second Boston resident has passed away from the novel coronavirus. He said there are 133 cases of COVID-19 in Boston and that 15 people have so far recovered after contracting the virus, meaning they've tested negative twice. 
Five deaths now reported in Vermont from coronavirus (March 23)
Three more people in Vermont have died from the novel coronavirus, health officials reported Monday. 
According to Vermont Digger, the three new deaths were residents at Burlington Health and Rehab, which provides long-term care to older adults and short-term care to those leaving the hospital. The number of people who have died at the facility is now four, with five total deaths across the state.
State health officials have not found any fault in the way the facility is handling the virus outbreak, according to the newspaper. 
"That's why our mission has been to do all we can to slow the spread of the coronavirus," Gov. Phil Scott said of the impact of the virus outbreak, according to the outlet. "The reality is many who will be infected, but will only experience moderate symptoms. But the conditions are much more severe for the elderly, and those with chronic health conditions."
Massachusetts Gov. Charlie Baker issues emergency order closing all nonessential businesses in the state (March 23)
Massachusetts Gov. Charlie Baker issued an emergency order Monday morning that requires all nonessential businesses and organizations in the state to close their physical workplaces and facilities to the public and workers starting at noon on Tuesday. The order is set to last until at least Tuesday, April 7, at noon.
The state has a list of designated essential businesses and services, which includes grocery stores, pharmacies, and gas stations, that will continue to operate. Restaurants, bars, and other food establishments will be allowed to continue to provide takeout and delivery services, too, as long as they abide by social distancing protocols.
Baker has also directed the state Department of Public Health to issue a stay-at-home advisory, asking residents to stay at home and avoid unnecessary travel and activities during the two-week period.
The governor said no one will be stopped from accessing the essential businesses, but he urged all residents to eliminate nonessential outings to help slow the spread of the coronavirus.
He said he understood that many may be feeling lost with the measures that have upended normal life to stop the spread of the virus.
"But here's the truth: We all have a role, we all have purpose as we battle this disease," Baker said. "Protecting one another from the spread of COVID-19 by limiting physical and social contact and staying at home is profoundly purposeful. Every single act of distance has purpose.
"Our first responders and emergency medical personnel, those who are essential to our success in battling this disease, need us all to do everything we can to reduce the spread," the governor added. "Reducing the spread honors these orders, honors and protects them and you and your family. There is purpose in these drastic changes in the way we live. We must all embrace this new way of life and appreciate that here, we can all find purpose as we battle this virus together."
Member of Boston EMS tests positive for coronavirus, two more MTC inmates and correctional officer diagnosed in Bridgewater (March 23)
There are now 646 cases of the novel coronavirus in Massachusetts, and officials Sunday announced the first Boston resident has died from the illness. Five people across the state have passed away.
As one community, we stand with his family and friends in their grief. And as one community, we stand together, determined to do everything it takes to protect each other, protect the most vulnerable, and limit further loss of life.

— Mayor Marty Walsh (@marty_walsh) March 22, 2020
A member of Boston EMS is among the hundreds of state residents who have tested positive for the virus, the city's public health commission confirmed Monday. The individual is recovering at home. 
Over the weekend, two more inmates at the Massachusetts Treatment Center in Bridgewater tested positive for coronavirus and are being quarantined from the general population at the medium-security facility. A correctional officer at MTC has also tested positive and is staying home.
The total number of inmates who have tested positive at the Bridgewater facility is now at three. 
"The Department and our contracted medical provider have been actively preparing for this virus and we continue to closely monitor developments associated with its spread," the state's Department of Corrections said in a statement on Monday. "Health and safety precautions to minimize the risk of introduction and transmission have been and remain in place to protect inmates and staff. The entire Department is focused on utilizing CDC and DPH guidance to reduce, to the greatest degree possible, the potential impact of this virus on our correctional system while maintaining core services."
Provincetown issues shelter in place order after first two COVID-19 cases diagnosed (March 23) 
Two people have tested positive for the novel coronavirus in Provincetown and in response town officials have issued a shelter in place order, which will go into effect Monday at 5 p.m. All nonessential services, retailers, and business will be closed under the order. 
"Provincetown residents are directed to stay in their homes and avoid all public gatherings, practicing social distancing in an effort to stop the spread of the novel coronavirus," the town said in declaring the state of emergency on Sunday. "This order does not mean a 'lockdown' is placed. Trips for essential services, such as those to visit the grocery store, pharmacy and restaurants, are acceptable."
According to the town, the two COVID-19 cases are travel-related and there is no evidence of community spread in the town. 
"We are taking this extraordinary step because we need everyone to remain safe to prevent the further spread of this virus throughout the community," officials said. "This is not life as usual. We cannot pretend that Provincetown is immune to what is happening in the rest of the world."
Deaths from coronavirus rise to 8 in Connecticut; Maine has 89 total cases, Rhode Island has 83, New Hampshire has 78, and Vermont has 52 (March 23)