Local
What you can and can't do under the new social distancing rules in Massachusetts
"I do not believe I can — or should — order U.S. citizens to be confined to their homes for days on end."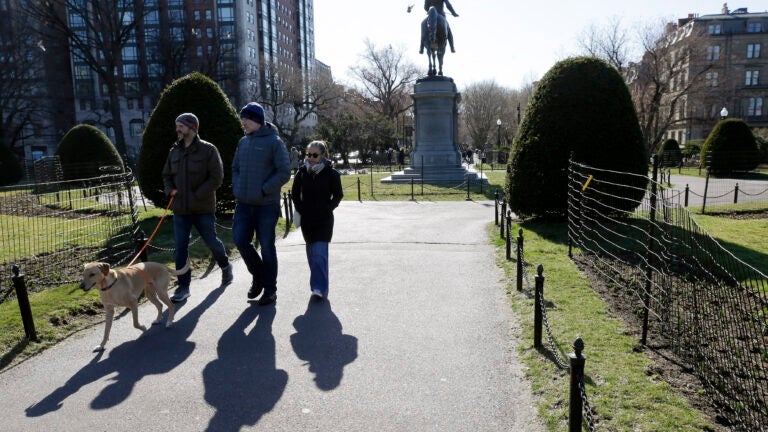 Gov. Charlie Baker issued new statewide restrictions Monday aimed at combatting the spread of the coronavirus.
In a press conference, the Massachusetts governor ordered all nonessential businesses to close their brick-and-mortar operations by noon Tuesday and reduced the limit on public gatherings from 25 people to 10. Baker also directed the state's Department of Public Health to issue a "stay at home advisory," which he noted was not an order.
"I do not believe I can — or should — order U.S. citizens to be confined to their homes for days on end," Baker said. "It doesn't make sense from a public health point of view, and it's not realistic."
<hr>
Baker announces closure of nonessential businesses, issues stay at home advisory
<hr>
The new order Monday allows a wide range of  "essential" businesses to stay open, from grocery stores to health care facilities to supply stores to laundromats to banks. Baker said he felt it was important to make clear that access to food and medicine is an "unimpeded right."
Still, the governor added that people over the age of 70 or with underlying health issues should "strictly" limit close contact with others and asked the public to protect those most vulnerable to the disease, whether it be offering to run errands for them or limiting "unnecessary activities" themselves. While difficult to take, Baker said the "aggressive" social distancing measures are "designed to give public health experts the time they need to ramp up additional steps that must be taken to effectively push back the virus."
The new restrictions run from noon Tuesday through April 7, unless further extended. Here's what else they do and do not allow:
Can I still go out for fresh air?
Yes. Baker even encouraged individual exercise, such as taking a walk or run around the block or at the park. Same goes for taking your dog for a walk.
However, team sports — both indoor and outdoor — that bring people "into close, physical contact" are not allowed, even if the game involves fewer than 10 people.
"If you're at the park, there shouldn't be any pick-up basketball games, touch football games, or activities or events that create the person-to-person contact we are seeking to eliminate," Baker said. "That spreads the virus."
And while the 10-person limit on public gatherings does not apply to individuals in an enclosed, outdoor space (like a field or parking lot), officials say it is not advised. According to an official guidance, individuals must also follow social distancing protocols by remaining at least six feet apart.
What gatherings are limited to 10 people?
Any organized community, civic, public, leisure, or faith-based event, as well as sporting events, concerts, conferences, conventions, fundraisers, parades, fairs, and festivals — most of which had already been canceled or postponed under the 25-person limit. Weddings, funerals, and any similar event or activity that brings people into a confined indoor or outdoor space are also now limited to 10 people.
So a get-together with less than 10 friends is OK?
Technically, yes. But the Baker administration is asking people to avoid unnecessary travel and other unnecessary activities during the two-week time period. Given what we know about how the virus spreads through families and close friends, that might be a good idea.
Do I need an essential reason to leave the house?
No.
Again, officials are urging residents against any unnecessary trips. But unlike some so-called shelter-in-place orders in other parts of the country, the new rules do not even place any theoretical restrictions on travel in Massachusetts. After constantly batting down unfounded rumors of an impending lockdown, Baker made a point Monday to say "we are not prohibiting travel" and that roads remain open.
Can I still take public transit?
Yes, though it's not particularly advised. Baker said that MBTA service will continue, albeit on a more limited basis, primarily to serve those who must still go to work at essential businesses.
"Just because the T is open, doesn't mean we think it's a good idea to take the train downtown to meet up with friends," he said.
Can I still go to the grocery store whenever I want?
Yes. The limit on gatherings does not apply to grocery stores, health care facilities, or any of the other businesses or places designated as "essential." While individual supermarkets may have their own social distancing protocols, the state order does not impact them.
What about other stores?
Convenience stores, pet supply stores, auto supply and repair shops, hardware stores, and home appliance retailers are also allowed to stay open. Baker noted Monday that e-commerce and delivery remains an option.
Can restaurants still offer takeout and delivery?
Yes.
Last week, Baker ordered bars and restaurants to shut down their dining areas, but allowed them to offer takeout and delivery. The new order Monday doesn't affect their ability to do that, but they can't have more than 10 employees working in the restaurant at a time.
What happens if I violate the order?
Baker said he expects the new orders will primarily be enforced on the local level, with a focus on determining if nonessential businesses are continuing on-site operations.
First-time offenders will receive a warning, while a second violation may result in a fine of up to $300. According to the state's official guidance, any further repeated and willful offenses may be subject to criminal penalties, including a fine of up to $500, prison time, or both.
Of course, officials are hoping it doesn't come to that. Baker noted Monday that many individuals and businesses have already been effectively complying with the new social distancing rules.
"We must all embrace this new way of life and appreciate that here we can all find purpose as we battle this virus together," he said.