Local
4 Green Line B Branch stations to be eliminated, combined into 2
Construction is planned to begin this fall.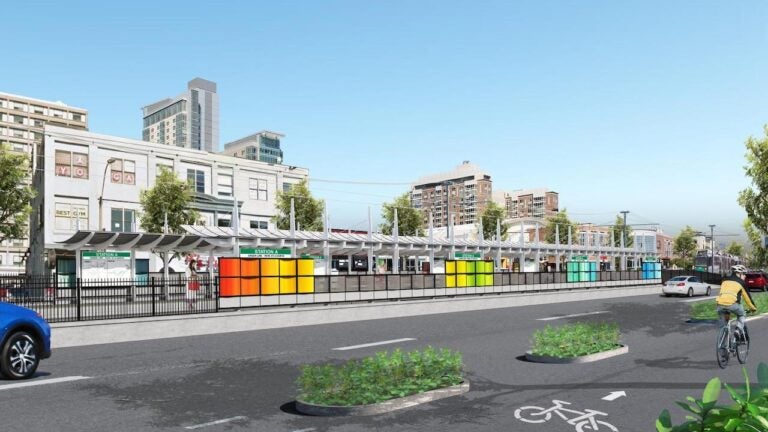 A ride on the Green Line's B Branch may not take as long in the future as the MBTA is getting ready to consolidate four stations into two.
The MBTA's Fiscal Management and Control Board agreed to a nearly $18 million contract for the project, which will combine the St. Paul Street and BU West stations into one stop, and the Babcock Street and Pleasant Street stations into another, according to a news release.
Both new stations are planned to be accessible, with 225-foot platforms to accommodate a set of three train cars. There will be updated machines for collecting fares and accessible-level boarding, plus two accessible exits, at each new station, according to the release.
Construction is planned to begin this fall and should wrap up next fall, the news release says.
"Consolidating these four stations into two provides multiple benefits to our B branch customers, including improved station spacing for more consistent time between trains, faster trips down Comm. Ave. to improve reliability, and low-level-vehicle compatibility to improve accessibility," MBTA General Manager Steve Poftak said in a statement. "While customers will be able to experience these benefits by the fall of 2021, these improvements also set the stage for the transformation of the Green Line as the new stations' larger platforms will accommodate the new longer cars in procurement for the Green Line."
The four current stations will be demolished, and the two new stations will not only have the longer platforms, but 150-foot canopies, as well as new benches, lighting, and signs, according to the release. With construction along the Green Line comes 32 diversions of the B Branch on weekends, and 32 diversions on weeknights starting at 9 p.m.
The T says it plans to let customers know "well in advance" when it's time for the interruptions.
https://twitter.com/MBTA/status/1242428571001524224