Local
Here's what the Massachusetts stay-at-home advisory actually says
Individual exercise and pharmacy trips are fine. Play dates and elective dentist appointments are not.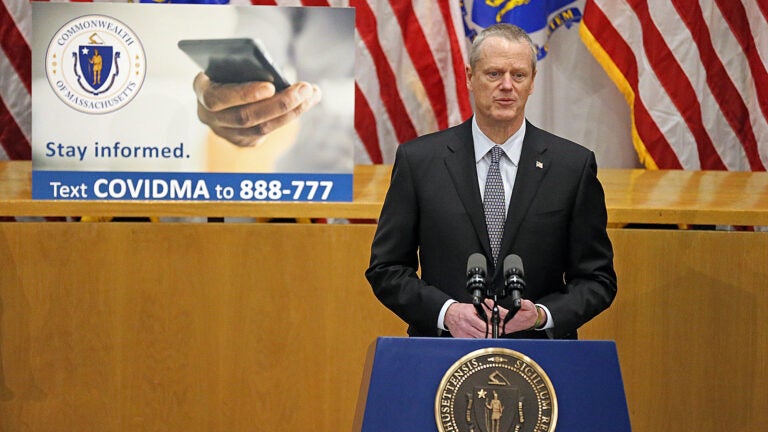 Gov. Charlie Baker announced a statewide stay-at-home "advisory" this week, as part of new aggressive measures to stem the spread of the coronavirus.
And while Baker has stressed that it's not an order, the state's Department of Public Health released the two-part advisory Tuesday spelling out what they're asking from Massachusetts residents.
"Everyone in Massachusetts has an important role to play to slow the transmission of this virus," officials wrote.
The first part urges the population most at risk of being killed by the disease — specifically people who are 70 years and older and those with underlying health conditions — "in the strongest terms" to stay at home at all times "with the exception of essential trips for food, medicine, and focused time for exercise and fresh air." The second part of the advisory, directed at the rest of the population, recognizes that some individuals may need to leave the house for "essential" businesses or other activities. Officials are not placing any restrictions on travel. Still, the administration is urging even low-risk individuals to otherwise stay at home as much as possible.
What exactly does that mean? Here's DPH's explanation:
Only leave your home to address essential needs, get some fresh air and exercise, and if you do, avoid unnecessary contact with other individuals.
You should still run essential errands such as going to the grocery store or pharmacy but should practice social distancing when shopping. If you are at high-risk, you should inquire about your local pharmacy/grocery store's alternative hours for high risk individuals.
When going to the pharmacy you should fill your prescriptions for 90 days if possible; for some medications this is not allowed. If you are at high-risk, you should try to use a mail-order service.
You can still go to the gas station, order and pick up take-out food and receive deliveries (e.g Amazon, UPS, Fedex).
You can still go outside to get fresh air, however, you must practice social distancing while outside and avoid touching surfaces frequently touched by others.
You are encouraged to use remote modes of communication such as  telephone or video chat (e.g.  Facetime, Skype, Facebook Messenger Video Chat) instead of visiting friends or family. This is especially true for a hospital, nursing home, skilled nursing facility, or other residential care setting.
Non-essential medical care like eye exams, teeth cleaning, and elective procedures must be rescheduled.
If possible, health care visits should be done remotely.
Parents should not arrange play dates for children during this time.
All individuals must eliminate close contact activities such as in pick-up sports games.
Officials say that anyone with symptoms of COVID-19 should remain in their homes — with no exceptions for essential activities. For things like food and medicine, they should request outside assistance, according to the advisory.
The advisory Tuesday also includes new requirements for grocery stores and pharmacies to provide and enforce alternative hours — at least one hour each day — for adults 60 years and older in order to limit potential exposure for higher-risk populations. Many local supermarkets have already implemented early morning "senior-only" hours. The advisory also requires grocery stores and pharmacies to adopt hygiene practices and social distancing strategies to protect their employees. And workers who are sick must be sent home, officials said.
In addition to the advisory, Baker did order nonessential businesses to close or allow employees to work remotely beginning at noon Tuesday. The governor also reduced the limit on public gatherings from 25 people to 10.
<hr>
<h2>Baker announces closure of nonessential businesses, issues stay at home advisory</h2>
---
Get Boston.com's e-mail alerts:
Sign up and receive coronavirus news and breaking updates, from our newsroom to your inbox.