Local
Charlie Baker unveils new coronavirus rules for grocery stores
The new order includes a ban on reusable bags.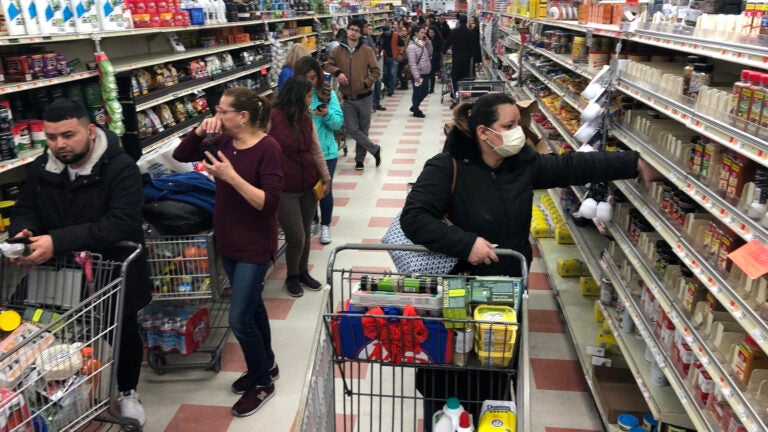 Gov. Charlie Baker says the ability of Massachusetts residents to go to the grocery store will remain an "unimpeded right" as the state tries to slow the spread of the coronavirus.
But he's also laying down a few guidelines.
The Baker administration issued an order Wednesday on how grocery stores and pharmacies in Massachusetts should operate in the midst of the pandemic. And while it affirms that such businesses are "essential and will remain open," the order also imposed new rules, including a statewide ban on reusable bags in stores and a temporary repeal of local plastic bag bans. Boston's recently established prohibition on single-use plastic bags was already lifted earlier Wednesday by Mayor Marty Walsh.
The Department of Public Health order also bans grocery stores and pharmacies from charging for paper or plastic bags.
The move comes amid concerns that reusable bags can carry viruses, as well as increased lobbying efforts by the plastics industry, as Politico reported Tuesday. But action has been bipartisan. New Hampshire Gov. Chris Sununu, a fellow Republican, also recently issued a temporary ban on reusable shopping bags. And on Wednesday, officials in Cambridge, the first municipality in Massachusetts to ban single-use plastic bags, did the same.
Some of the new statewide rules Tuesday have already been voluntarily implemented by the stores themselves, such as exclusive shopping times for elderly customers, who have the highest risk of serious illness or death due to the coronavirus. The order Tuesday makes it mandatory for grocery stores and pharmacies to provide at least an hour each day for only people over 60 years old to shop, which supermarkets across the country had already widely offered.
"We also need to make sure we make appropriate accommodations for our most vulnerable residents so they can safely do their shopping for food and supplies," Baker said during a press conference Wednesday.
The order also mandates new precautionary measures — like hand-washing breaks for employees and social-distancing markers at checkout lines — and requires grocery stores to close free sampling programs and self-serve food stations, like salad bars.
The new rules take effect Wednesday and remain in place until the state of emergency declared by Baker earlier this month is terminated or until the order is rescinded by health officials. Here's the full list:
 As indicated in the list of "COVID-19 Essential Services", grocery stores and pharmacies will remain open.
Grocery stores and pharmacies must provide alternative hours at least one hour every day for adults 60 years and older in order to limit their potential exposure. These hours must be conspicuously posted and should be enforced by grocery stores and pharmacies.
Grocery stores and pharmacies must deploy strategies to reduce COVID-19 exposure for their customers and employees including but not limited to:
• Access to handwashing facilities, including those available in public restrooms, and allowing employees sufficient break time to wash hands, as necessary.
• Alcohol-based hand sanitizers, as available.
• Disinfecting wipes, as available, at point of entrance for customers to disinfect carts, at cash registers and/or other appropriate locations.
• Procedures to ensure that both employees and customers remain at least six feet apart at all times. Procedures should include a marked "Social Distancing Line," which begins six feet away from all checkout counters.
• Closure of any salad bar or other self-serve prepared or other open food stations.
• Elimination of any open free samples or tastings.
• Procedures to sanitize frequent touchpoints throughout the day, including point of sale terminals at registers.
• Employees who are sick should not report to work and if, when reporting to work, they have symptoms of COVID-19 they must be sent home.
Grocery stores and pharmacies must accommodate employees who fall within the higher-risk populations, as defined by the CDC guidelines, with lower-exposure work assignments or allowing them to stay home.
Grocery stores shall be closed to the public for a sufficient time each evening to allow for stores to be properly sanitized and restocked.
Grocery store and pharmacy employees shall not perform bagging of retail products if reusable checkout bags are used and customers at grocery stores and pharmacies shall not use reusable checkout bags until further notice.
Grocery stores and pharmacies, food banks and emergency food programs, including those currently subject to municipal ordinances or regulations banning single-use plastic bags, may choose to use recyclable paper bags, compostable plastic bags or single-use plastic bags.
Grocery stores and pharmacies may not assess a charge for recyclable paper bags, compostable plastic bags or single-use plastic bags.
<hr>
<h2>Scenes from an eerily empty Boston</h2>
---
Get Boston.com's e-mail alerts:
Sign up and receive coronavirus news and breaking updates, from our newsroom to your inbox.