Local News
Local craft and yarn stores see rush of customers before closing due to coronavirus
"If we already have more yarn than we could admittedly use in a lifetime, did people go out shopping in droves? Most assuredly, the answer is yes."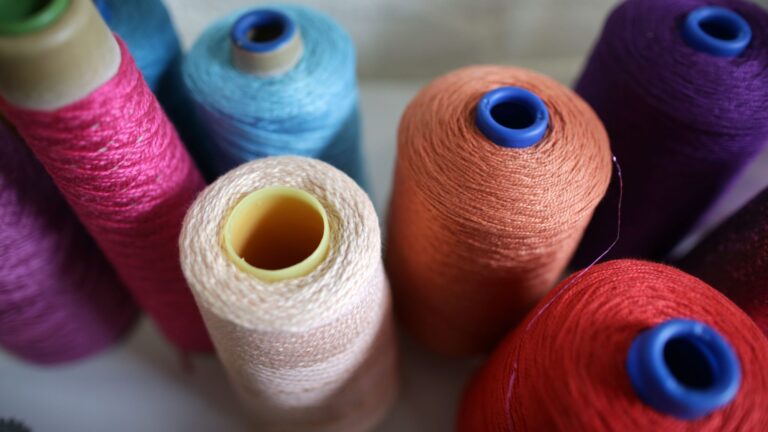 As the clock counted down the hours before non-essential businesses had to close on Tuesday at noon, lines formed by the Burlington JOANN Fabrics and Crafts, which had limited entry to 12 people at a time, including employees, as a social distancing technique. 
The manager on duty, Liz Frank, told The Boston Globe that once businesses close, Joann Fabrics will continue to complete orders online with curbside pickup. 
So "if people still want to continue making … masks to be able to donate, we will still be providing the fabric," Frank told the newspaper. 
Store manager of the Cambridge Porter Square Michaels location told Boston.com that they also saw a rush of customers in their final hours. Michaels will be implementing a similar curbside pickup system to help customers stockpile craft supplies without leaving their cars. 
Jennifer Lopez, author of the knitting-centric comic panel "By the Yard," and a self-identified voracious knitter, said she was part of the Joann Fabrics crowd.  
"We knitters are always making jokes about our ridiculously large piles of yarn, which we actually call 'the stash,'" the Millville resident said. 
"We always make jokes about, you know, I have so much yarn I could survive the zombie apocalypse," she said. "And then who knew there was actually going to be a legit, real apocalypse."
Even with a "stash," she said knitters flocked to the stores to stock up on more.
"If we already have more yarn than we could admittedly use in a lifetime, did people go out shopping in droves?" Lopez asked. "Most assuredly, the answer is yes. Yes, they did."
For the past few weeks, she said her Facebook groups have been flooded with people sharing photos of their "coronavirus projects," and photos of huge craft piles, explaining the things they bought in preparation for a lockdown. 
Lopez herself stopped at Joann Fabrics to pick up acrylic yarn. She said there weren't too many people in line, but inventory was definitely low. 
"They seemed a little more picked over than normal, and a little more disheveled," she said. "I think there's definitely more buying going on."
She said the yarn she bought is going toward a few new projects she's started to find solace during the pandemic, like a pink, gray, and white baby blanket, a multicolored afghan blanket, and a green zombie voodoo bunny for her son. 
"I'm a very anxious person — I'm really tightly wound, I have a type A personality, I'm a software developer so I have a very technical job — so I'm just like a ball of anxiety. And I think that knitting is very rhythmic, it's like this repetitive thing over and over and over again, and the needles click so it's very soothing and it's soft," she said. "I just feel it's very hypnotic, it's a very relaxing thing."  
Lately, Lopez said she's been ripping through projects and finishing them nearly months ahead of schedule.
She said while the stay-at-home order has left many unsettled, it's also led knitters to share free patterns with each other over the internet and spread positivity. 
"There's been more free stuff than normal, and people wanting to share the joy and get others involved in projects too," Lopez said.
One Facebook page she belongs to, Whimsical Woolens, would normally meet in person weekly. But instead, members have opted to share photo updates of their projects.
"If we were meeting in real life every week we would see each other's projects and the progress we'd made, so instead we're sort of having virtual meetings by posting our latest projects to keep everybody encouraged and excited and working on new things."  
<hr>
<h2>Drone footage captures the nearly bare streets of Boston</h2>
---
Get Boston.com's e-mail alerts:
Sign up and receive coronavirus news and breaking updates, from our newsroom to your inbox.