Local News
Charlie Baker says construction can continue amid the COVID-19 emergency. But mayors say otherwise.
"Some times you have to put down your foot & say no."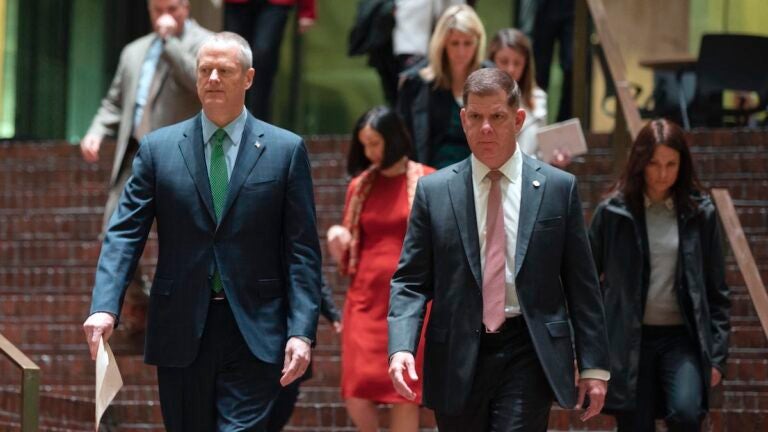 Gov. Charlie Baker's administration is making clear to cities and towns across the commonwealth that construction can continue on amid the coronavirus emergency, even as other industries are forced to conduct their business remotely.
Municipalities received a letter from the governor's chief legal counsel, Robert Ross, Wednesday, clarifying that position with guidance, as construction moratoriums have been put in place by some town and city officials.
Baker, in an emergency order issued Monday, mandated that only essential employees are to report to their workplaces through April 7.
Ross wrote that local policies that conflict with the order "should be withdrawn."
"Unitary management in this crisis will be essential to ensuring an appropriate balance statewide between taking actions necessary to combat the spread of COVID-19 and avoiding unnecessary hardships to the public and supporting community resilience over the weeks and months it may take for this crisis to run its course," Ross wrote. "The economic disruption and interruption in critical services and functions that could result from halting construction projects abruptly would be felt statewide and not simply in the locality where a particular project sits.
"For these reasons, construction projects should continue as long as they observe social distancing protocols and otherwise can continue to operate safely," he added.
But in Boston, where Mayor Marty Walsh rolled out a moratorium on all nonessential construction work on March 17, Walsh remains committed to the ban.
On Wednesday, Walsh's office said the pause remains in effect until further notice.
"The safety and health of construction workers and all residents of Boston is my first priority, and I am not willing to put that at risk as the virus spreads throughout our communities," Walsh said in a statement. "Large gatherings such as those at construction sites have been proven to escalate the spread of the virus, and Boston must do everything in its power to flatten the curve, and stop the spread of coronavirus."
Nantucket and Cambridge also announced moratoriums last week. And Somerville has indicated that the city will not stand down on its construction ban.
"Some times you have to put down your foot & say no," Mayor Joseph Curtatone wrote in a tweet Wednesday. "The construction stoppage will continue in Somerville. We tried to keep it open & it's just not safe."
Baker offered Tuesday that the state needs to continue building housing to meet demand amid a shortage.
"There's a lot of new housing being built right now," he said during a press conference. "To completely lose potentially all of that new housing for the commonwealth would be a tremendous loss."
Baker told reporters Thursday there is a lot of construction work the administration views as essential, even beyond housing, including transportation and infrastructure.
He noted that in the state's guidelines, oversight and enforcement is to be done at the local level for municipal-permitted projects. Several municipalities have said they are currently not in a position to ensure those guidelines are being followed, Baker said.
It's a fair point, he said.
"If you think about Boston in particular, they probably have somewhere between 10,000 and 11,000 construction workers working in the city at any point in time," Baker said. "And I am very sympathetic to the mayor's point of view that until he feels comfortable the actual act of overseeing and enforcing those guidelines … can be adhered to, he's not going to open back up. And I get that."
According to his office, Walsh is working with building trades and construction firms to "determine protocols that would allow these sites to safely re-open in Boston."
While construction projects permitted by the city are on hold, officials are reviewing exemptions on "a case-by-case basis," they said.