Local
Mass. physicians petition Charlie Baker, demanding more action to slow coronavirus spread, increase equipment
"We are working hard to combat this pandemic, but we are calling upon you to take action now to protect the lives of physicians and health care workers across the Commonwealth."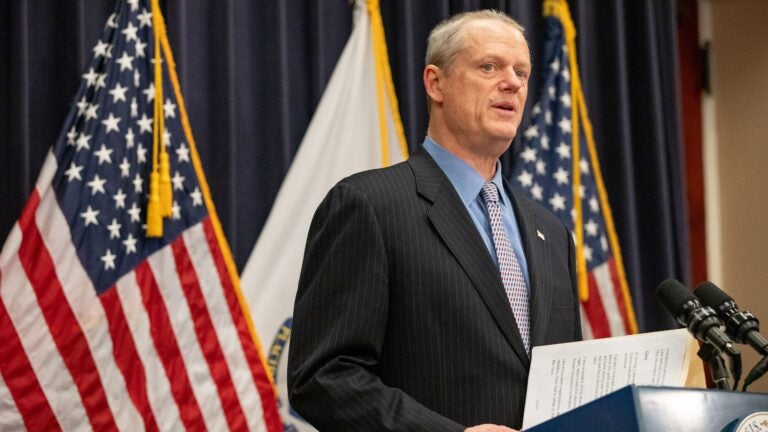 Over 1,000 physicians throughout the state have signed on to a letter and petition to Gov. Charlie Baker, and they're urging him to make social distancing guidelines even stricter, or they fear the health care system "may collapse."
The letter also asks for an increase in manufacturing of personal protective equipment within U.S. borders and to make tests for COVID-19 more easily available.
"We practice in world renowned hospitals, safety-net hospitals, community hospitals and ambulatory centers," part of the letter reads. "We are working hard to combat this pandemic, but we are calling upon you to take action now to protect the lives of physicians and health care workers across the Commonwealth."
The letter and petition was delivered to Baker on Wednesday, according to Dr. Karen Leitner, one of the physicians who helped organize the petition.
Leitner noted that there has been some positive news about PPE availability – officials announced Monday that "millions" of masks, as well as swabs for coronavirus tests, were ordered for the state – but "we're just going to need a lot more."
"As you see, the curve of Massachusetts continues to go up rapidly," Leitner, a primary care doctor, told Boston.com Thursday. "We haven't seen a flattening. We know it's going to get worse before it gets better."
The physicians are concerned about the impacts on health care if more strict social distancing guidelines — "ALL public gatherings of ANY size [should be] prohibited" — aren't put in place.
"Without this step, our health care system may collapse. Cases of COVID-19 are continuing to double every 2-3 days," the letter says.
It pushes Baker to work with other governors to put a "national 2 week pause" in place that would prohibit "all nonessential activities."
"If all of us across the country simultaneously distanced ourselves from one another for at least two weeks, community transmission would slow down significantly, allowing time to produce, purchase, and provide essential PPE and equipment to our physicians and health care staff," the letter says.
For PPE manufacturing, physicians want Baker to push the federal government to use the Defense Production Act to step up domestic manufacturing.
"We urge you to work with other governors to pressure the president to immediately use the DPA to increase the domestic production of medical supplies and equipment," the letter says.
The physicians are also pushing for tests for the virus to become "widespread" and "easily accessible."
"Please purchase and provide the now FDA-approved rapid, point-of-care diagnostic for coronavirus allowing physicians to diagnose the disease in about 45 minutes," the letter says.
Besides the PPE concerns, it's a challenging time for physicians, Leitner said. For them, the outlook is more of a "when" they get coronavirus, not "if."
Some places are asking retired physicians to help, but the coronavirus mortality rate is higher for older adults.
"It's really scary," she said.
Read the full letter:
We, the undersigned, are a diverse group of [Massachusetts] physicians with expertise in emergency medicine, hospital medicine, infectious diseases, surgical and medical specialties, public health, and primary care. We practice in world renowned hospitals, safety-net hospitals, community hospitals and ambulatory centers. We are working hard to combat this pandemic, but we are calling upon you to take action now to protect the lives of physicians and health care workers across the Commonwealth.

The ongoing rates of community transmission and the severe shortage of personal protective equipment (PPE) translates to physicians and other health care workers being asked to choose between their own lives and those of their patients. No one would imagine sending firefighters into a blazing fire without proper clothing and equipment, but our physicians, nurses, and other healthcare workers are being asked to treat COVID-19 patients without protective gear.

Hospital policies regarding PPE access vary across the state, and can be perceived as practical decisions based on available resources, which raises fears about safety and profoundly undermines morale. Some physicians report having no access to protective gear. Some physicians have had to make heart wrenching decisions to live apart from their children and spouses due to fear of infecting their loved ones with COVID due to inadequate PPE. Can we imagine asking hundreds of thousands of firefighters to make their own homemade fire-protective gear before combating the fire they are running into, and essentially spreading that fire to their homes? Can we imagine sending soldiers into war without a helmet or flak jacket?

We urge you to mobilize leaders of corporations and community organizations in a war-like fashion across the Commonwealth to halt community transmission and to produce, purchase and provide PPE. We ask that you join forces with other governors and state officials to sound a clarion call across the United States. We cannot and should not wait for the federal government. Here is what we need:

Please communicate clearly that ALL public gatherings of ANY size are prohibited.

Without this step, our health care system may collapse. Cases of COVID-19 are continuing to double every 2-3 days.

Work with other governors to institute a true

National 2 week pause

– a cessation of all nonessential activities. If all of us across the country simultaneously distanced ourselves from one another for at least two weeks, community transmission would slow down significantly, allowing time to produce, purchase, and provide essential PPE and equipment to our physicians and health care staff.




DPA needs to be invoked to ensure that Personal protective equipment production is adequate and can be equitably delivered immediately to all physicians and health care staff, to allow each employee caring for patients reliable access to hospital-grade N95 masks, ear loop masks, face shields, and other essential protective gear.

We call upon companies to

focus on PPE manufacturing — N95 and other masks, gowns, gloves, face shields, eye protection.

We call upon plastic manufacturers to focus on production of protective gowns, face shields, gloves and other medical items.

We call upon companies like Amazon, courier companies, and USPS to focus on delivering the PPE to the healthcare force. We ask that the National Guard be called

upon to help with delivery of PPE to healthcare workers.

We urge philanthropists and corporations to donate money to purchase or manufacture these items, from citizens who are hoarding them, and from companies around the world.

We urge Proctor and Gamble and similar companies to focus on hand sanitizers, soaps, detergents and disinfectant wipes. These products are critical for washing and disinfecting hands, hospital scrubs, gowns, linens, and hospital surfaces.

We urge you to work with other governors to pressure the president to immediately use the DPA to increase the domestic production of medical supplies and equipment.

To defeat the pandemic without freezing the economy, widespread, easily accessible, COVID-19 tests need to be available immediately

.

Please purchase and provide the now FDA-approved rapid, point-of-care diagnostic for coronavirus allowing physicians to diagnose the disease in about 45 minutes.

We need to establish COVID-19 testing centers organized by infectious disease and public health experts, available for asymptomatic people as well as symptomatic people.

This will enable us to understand where community transmission is occurring and avoid spreading the infection through our health-care system.

We urge you to include infectious disease and public health experts as well as frontline clinicians in your Command Center and we ask for transparency surrounding these advisors. The surge in the number of critically ill patients will increase demand for crucial life-saving medications and treatment (ventilators, endotracheal tubes, IV tubing,

etc.), and these experts will help you mobilize appropriate biotechnology and manufacturing companies to ramp up production according to needs.

[Massachusetts] has a wealth of experts and innovative minds who lead global corporations and institutions. Collectively we can solve this crisis. Every day of delay results in doubled or tripled loss of life. More people could die from COVID-19 in just a few months than have died in every single war this country has fought since its inception.

We urge you to take immediate action to harness the power of [Massachusetts] to protect the lives of our physicians, health care staff, and their families, and the lives of current and future patients.

Thank you.

Sincerely, the undersigned physicians