Local
Here are some of the Mass. businesses and institutions on the front lines of the COVID-19 battle
"The industry in Massachusetts is going to the mat to fight this thing."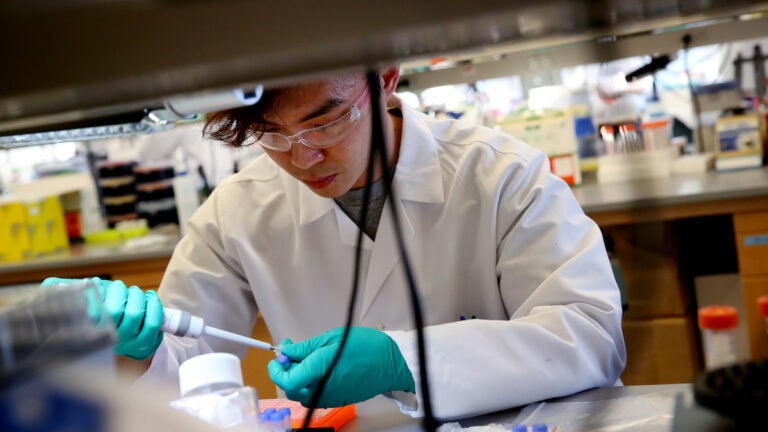 The battle against coronavirus is a war being fought on multiple fronts.
Outside of emergency rooms, Greater Boston's hub of biotech and health institutions are also stepping up, offering an array of offense — and defense — from genetic research and tests to a potential vaccine for COVID-19.
Others are offering up their own equipment and supplies, amid persistent shortages of personal protective equipment — the masks, face shields, and other gear doctors and nurses need to stay safe.
"This is our 'Dunkirk moment,'" Brian Johnson, president of the Massachusetts Medical Device Industry Council, or MassMEDIC, told WBUR this week. "The most important thing right now is to get everything that we have in the state together, and get it into the hands of the people who need it most."
Here's how some of the local biotech and scientific community is fighting the global pandemic:
Vaccines and tests
While a vaccine for COVID-19 may be some time away, that's not to say the biotech industry isn't working ferociously to develop one.
Out of the 40 vaccine candidates listed by the World Health Organization, the first one tested was created by Cambridge-based Moderna and the National Institute of Allergy and Infectious Disease, a division of the National Institutes of Health, according to The Boston Globe.
Last week, healthy volunteers started receiving the vaccine during the first stage of a six-week clinical trial in Seattle, the Globe reports.
The vaccine uses specific messenger RNA, or mRNA, to develop an immunity, according to the newspaper.
"We believe that there's a good possibility of the vaccine working, but, of course, we have to wait for the data from the NIH," Stephane Bancel, Moderna's CEO, told the Globe.
On Friday, the French pharmaceutical company Sanofi announced it is partnering with Lexington-based Translate Bio to develop a vaccine — the second such project the European pharma-giant has launched to address the coronavirus pandemic.
Translate Bio, a clinical-stage mRNA therapeutics biotech firm, has started to produce "multiple mRNA constructs and will use its mRNA platform to discover, design, and manufacture a number" of vaccine candidates, according to a press release from Sanofi.
The companies are currently building out manufacturing space "to accommodate at least two 250-gram batches per month."
"We are committed to leveraging different ways to address the COVID-19 public health crisis by testing treatments, as well as two vaccines using different platforms. We believe the more approaches we explore, the better our likelihood of success in achieving this goal," David Loew, global head of vaccines at Sanofi, said in a statement. "Having sufficient installed capacity will be key to satisfy the strong demand for vaccines we will probably see, and based on the experience we've had under the collaboration to date, we believe the Translate Bio mRNA platform could help us meet that need."
Ronald Renaud, CEO of Translate Bio, said the two companies have "generated encouraging preclinical data across multiple infectious disease targets."
"This work will serve as a strong foundation as we direct joint research efforts against COVID-19 to help address this public health threat," Renaud said in a statement. "Our collaborative efforts to combat COVID-19 will leverage Translate Bio's innovative mRNA platform as well as Sanofi's vaccine expertise and ongoing COVID-19 research with the goal of advancing a novel mRNA vaccine rapidly to the clinic."
German biotech CureVac, which has about 20 employees in Boston, is also working to develop an mRNA vaccine, potentially with clinical trials beginning this summer, according to the Globe.
Meanwhile, Beth Israel Deaconess Medical Center and Johnson & Johnson's Janssen Pharmaceutical Cos. have teamed up to work on a vaccine of their own by using a common cold virus to put a portion of the COVID-19 protein into cells to help build immunity, the newspaper reports.
Human tests could begin in the fall.
"Clearly, the epidemic is expanding in the U.S., as we and many others had predicted," Dr. Dan Barouch, head of he hospital's Center for Virology and Vaccine Research, told the Globe. "I believe it's going to get worse before it gets better. And it's possible that a vaccine may be required to end the epidemic."
Experts have said the lack of availability of coronavirus testing has hampered the country's response to the pandemic.
After receiving the go ahead from the Food and Drug Administration, both Hologic, a Marlborough-based company, and the Waltham laboratory equipment maker, Thermo Fisher Scientific, are among those now working to provide test kits, according to the Globe.
Cambridge-based Sherlock Biosciences has also created a test for laboratory use and another for home use is in the works, the newspaper reports.
Equipment
Companies and organizations, and even dentists and universities, across the commonwealth are donating personal and test equipment — from masks to swabs — to cover the shortage at local hospitals.
The call to action from MassMEDIC and other trade groups on March 18 was met immediately by almost 200 entities within the first 24 hours, WBUR reports. By Tuesday, over 380 organizations had chipped in, donating N95 masks, goggles, protective suits, swabs, and gloves, among other items.
"We basically gave them everything we could," Amber Salzman, CEO of the Cambridge biotech company, Ohana, told the radio station. "It's crazy that we are supplying to these top institutions … We feel fortunate that we can help. But it's kind of scary that they need our help."
The information about supplies will be shared with the state's coronavirus command center so the resources can be distributed, according to WBUR.
Research and drugs
A drug to treat coronavirus is also in the works — including here in Massachusetts.
Takeda Pharmaceutical, the Japanese drug maker whose United States headquarters is in Cambridge, is working to create a COVID-19 medicine aimed at serving high-risk patients, according to the Globe.
The company is seeking to use the plasma of people who have become immune to the coronavirus — whether they received a forthcoming, effective vaccine or have recovered from the virus — to develop the drug, the newspaper reports.
The Cambridge biotech firm Biogen is working with San Francisco's Vir Biotechnology, and together they intend to create and produce therapeutic antibodies as one possible virus treatment, the Globe reports.
Biogen announced last week it's also donating $10 million to fight the coronavirus. The company made headlines after a leadership meeting held in Boston last month was determined to be the origin point where several COVID-19 patients contracted the virus, officials have said. As of Friday, 99 coronavirus cases in Massachusetts had been tied to the event.
Alnylam Pharmaceuticals in Cambridge is also working with Vir on RNA interference drugs, as another potential treatment, according to the Globe.
John Maraganore, CEO of Alnylam, told the newspaper "the industry in Massachusetts is going to the mat to fight this thing."
The last time the world faced a public health threat of this magnitude was back in 1918, when the Spanish flu killed at least 50 million people around the globe, he noted.
"The difference (now) is we're technologically and scientifically better prepared to fight it," Maraganore said.
<hr>
<h2>Scenes from an eerily empty Boston</h2>
---
Get Boston.com's e-mail alerts:
Sign up and receive coronavirus news and breaking updates, from our newsroom to your inbox.