Local News
On Maine island, several people with guns allegedly cut down tree to block driveway and force quarantine
The individuals were targeted because of their out-of-state license plate, according to a state representative.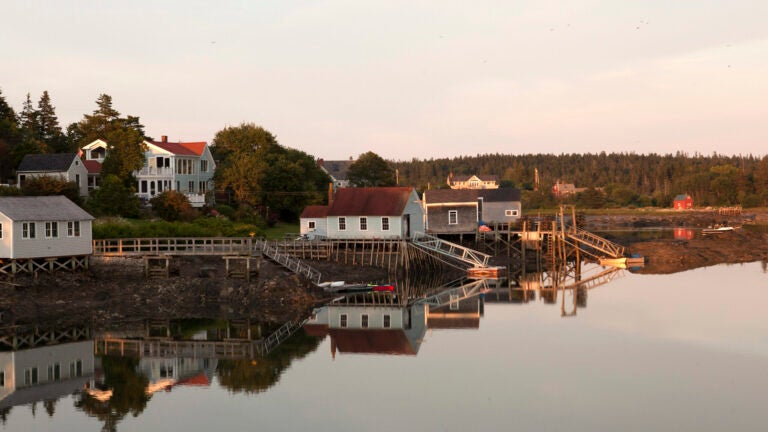 On the Maine island of Vinalhaven, an armed group allegedly told individuals to quarantine Friday amid the global coronavirus pandemic and even cut down a tree to block the driveway to their property, according to the Knox County Sheriff's Office.
Around 3:35 p.m., an individual used a VHF radio system to contact the Coast Guard for help at the residence in the area of Cripple Creek Road, authorities said.
"The individual reported that several people with guns had cut down a tree and were telling them that they need to stay quarantined," the sheriff's office said on Facebook.
https://www.facebook.com/knoxcountymaine/posts/10158273931114122?__xts__%5B0%5D=68.ARC1vOznWxEvpJ9YtIf_ZTsS7PbLf9QczMa2YGk4vUo04OX1PNi-RD_QGx_dmd4ZDcuKMjNv1iAiRMsFOQ1w8iWwk3LiuM4F4p-_prlIzivAp-_2gmKbtVoODd17PKaGSH6ZF7nbMAZyNTqefHAb_8xwcuT8yu67BYnMJ6fKibgA7Y-BGQ9yqLVP3pbUWLoU6TVjibXiYQzhh1Qbl3rCWGCVZE6Rb6JXT4-9ng24aeXkDqXRp3q_rKWzd0HlIUdwGF7ESzm47rx7JkvbYUsZA1mcaoghW1HlliVSqC-2vhoxXnwgIAvhZUm8VW8zZrmuuXx2y3bCA-z4Hb-K&__tn__=-R
Sheriff's deputies, members of the Maine Marine Patrol, and a Coast Guard boarding party all responded. Vinalhaven, which has a population of just over 1,000 according to the last census, is roughly 14 miles off the coast of Rockland.
Law enforcement "made contact with the complainant and discovered that a tree had in fact been cut down and dragged into the driveway to block the way," the sheriff's office said. "The group had dispersed prior to law enforcement's arrival."
"These events do appear to be directed toward specific individuals and we do not feel there is a specific threat to the general public," the sheriff's office added.
The incident remained under investigation.
As the Bangor Daily News reported, state Rep. Genevieve McDonald, who represents the island, provided more of the alleged details on her personal Facebook page, noting, "This is not something to be celebrated."
There are two guys from [New Jersey] on Vinalhaven who have been renting a house since September while working on a construction job. They went to the mainland, and were targeted because of their license plate when they arrived back on Vinalhaven.

There were some words between them and some locals, and the conversation apparently didn't go very well. I did hear the guys from [New Jersey] were fairly arrogant in their response. A group of local vigilantes decided to take matters into their own hands, and barricade these guys into their rental property. Marine Patrol and the USCG responded, along with [the Knox County Sheriff's Department].

THIS IS A TREMENDOUS WASTE OF RESOURCES.
https://www.facebook.com/genevieve.mcdonald207/posts/10218090767594000
---
Get Boston.com's e-mail alerts:
Sign up and receive coronavirus news and breaking updates, from our newsroom to your inbox.