Local
Massachusetts is expecting a coronavirus surge this month. Here's what you need to know.
"The next three or four weeks are going to be difficult ones."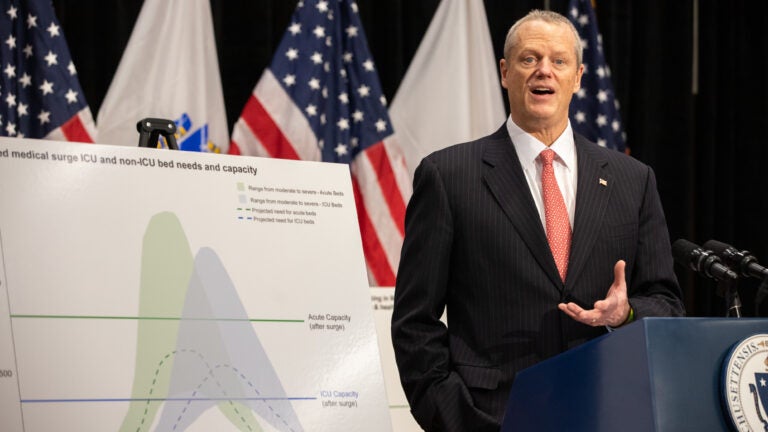 The number of new coronavirus cases reported each day in Massachusetts continues to steadily increase. And officials only expect the trend to accelerate in the near future.
"We are about to enter what will be perhaps the most difficult period associated with this particular virus," Gov. Charlie Baker said earlier this week.
And for the first time during a press conference Thursday afternoon, the Massachusetts governor quantified what that could mean.
According to modeling released by his administration, hospitalizations due to COVID-19 are expected to peak between next Friday, April 10, and April 20. In total, Baker said they're preparing for confirmed cases to range between 47,000 and 172,00 over the course of the pandemic.
"That's about 0.7 percent to 2.5 percent of the total population of Massachusetts," he said.
The timeline of the "surge," as Baker called it, roughly mirrors a projected national peak in cases in mid-April. During a press briefing Tuesday night, President Donald Trump said he anticipates a "very, very painful two weeks." Even with sweeping restrictions on public life, federal health officials say the virus could kill 100,000 to 240,000 Americans.
Baker has declined to put an estimate on the projected number of deaths in Massachusetts, but noted Thursday that the state's fatality rate of 1.5 percent of those infected was less than the rates in other parts of the country and the world. Deaths attributed to COVID-19 in Massachusetts surpassed 150 on Thursday, out of nearly 9,000 confirmed cases. According to Baker, the state is focusing on ensuring that "everybody who can be saved is saved."
"I prefer to think about it that way than I do with respect to some really cold and impersonal number," he told reporters Monday.
With that in mind, officials are scrambling to get ahead of the coming surge.
One of the findings released Thursday was that Massachusetts hospitals are short about 500 intensive care unit beds, in addition to other critical medical supplies.
The administration is working to set up at least three field hospitals with an additional 750 to 1,000 beds to reduce the strain on the state's hospitals and provide more flexibility to open up ICU beds. The first field hospital is being set up at the DCU Center in Worcester, with another at the Boston Convention and Exhibition Center. Other potential sites include Joint Base Cape Cod in Bourne and the Mass Mutual Building in Springfield, as well as other smaller locations, according to Baker's office.
The administration is also working to secure 1,000 nursing home beds for recovering coronavirus patients and recruit retired doctors and other medical personnel to boost the hospitals' capacity to respond to the surge.
During the press conference Thursday, the governor acknowledged that the projection of 47,000 to 172,000 cases in the state was a "big spread," but added that the "last thing you want to do here is start with a range that's too low."
<hr>
<h2>Baker: Between 47,000 and 172,000 cases predicted in Mass. over course of pandemic</h2>
<hr>
The administration worked with its medical expert advisory board and a team of epidemiologists to develop the model, which was primarily based on the experience in Wuhan, China — where the virus first originated — and adapted to reflect Massachusetts. One big still-undetermined factor is how long the pandemic will go on.
"That almost by definition creates what I would describe as the upper end," Baker said.
The governor also noted there were several reasons that the trajectory of cases in Massachusetts could differ from the curve in Wuhan.
"We have lower population density, we enacted strict social distancing standards and rules sooner than they did there, and we have a lower smoking rate," he said.
Baker said he expected the officials would dial in the projected range as more time passes and the state's testing capacity is further increased, particularly since many with the disease show little to no symptoms.
Baker stressed the importance of residents adhering to the state's gathering bans and stay-at-home advisory. The social distancing efforts are intended to stem the transmission of the disease in order to prevent the surge in cases from overwhelming hospitals and resulting in needless deaths.
"The next three or four weeks are going to be difficult ones," he said.