Local News
'A significant win for Massachusetts': N95 mask decontamination system will be set up in Somerville
"This is a critically important step forward in our efforts to protect health care workers on the front lines."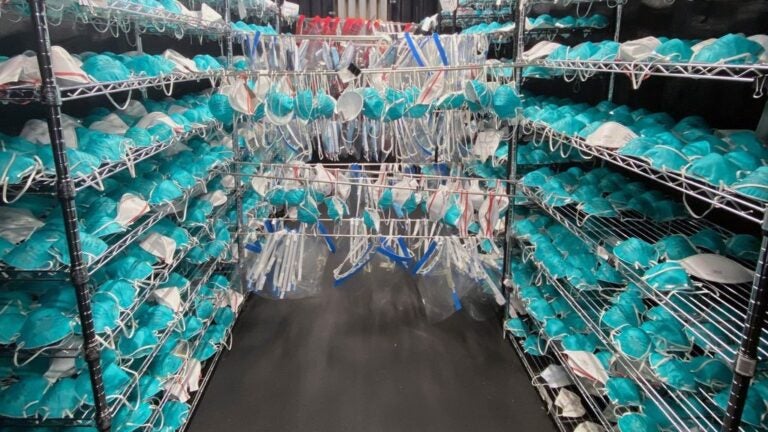 A decontamination system that will be able to sterilize thousands of N95 masks a day will be operational in Somerville next week, a move that state and health care officials alike are hailing as a critical step in the battle against COVID-19. 
The Battelle CCDS Critical Care Decontamination System, which recently received emergency use authorization from the FDA, will be hosted by Partners HealthCare at a empty former K-mart store in Somerville near I-93. It is expected to be operational on Monday, Heath and Human Services Secretary Marylou Sudders said Thursday. 
Sudders praised Partners for moving quickly to secure the Battelle-owned and operated system for the Boston area. It will be the fourth site in the United States where the system is being used. 
"That's a significant win for Massachusetts," she said.
The system will be able to decontaminate up to 80,000 masks a day, which Sudders said "should cover all demand in Massachusetts over time."
"This is a critically important step forward in our efforts to protect health care workers on the front lines," Paul Biddinger, Medical Director for Emergency Preparedness at Partners HealthCare, said in a statement. "By sterilizing 80,000 masks per day, this region will have a greatly improved supply of N95 respirator masks, keeping our workforce safe, ultimately improving access to care for patients in need during this pandemic."
According to Partners, Somerville Mayor Joe Curtatone secured the site for the system using emergency powers granted as part of the city's response to the pandemic. 
"We've got to move fast and be nimble to handle the coming coronavirus surge," Curtatone said in a statement. "It hasn't even been a week since Battelle's technology got approved by the FDA. Partners is able to bring it over and we're able to provide them with a facility where they can use it. This is how it's supposed to work in a crisis. Everybody comes together to do big things.
"The whole purpose of having emergency powers at a time like this is to use them," Curtatone said. "In this case we're able to put technology into production that's going to protect the frontline healthcare workers who are protecting all of us."
Battelle, a Ohio-based chemical and biological defense contractor, said they have been working to build, test, and mobilize the system in recent weeks. Sudders said each N95 mask can be decontaminated or disinfected between five and 10 times before it needs to be disposed of. 
"The principal benefit of this turnkey system is that it is fully staffed, industry grade and brings a level of quality assurance that will allow hospital teams to concentrate on other priorities," Sudders said.
<hr>