Local News
Boston Sports Clubs wouldn't let memberships be canceled during the coronavirus outbreak. Then they charged them.
Maura Healey says the gym's response has been "completely unacceptable."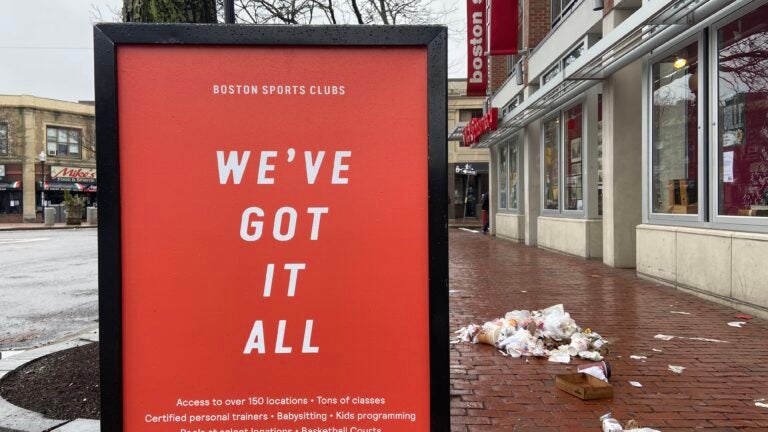 Forced to close due to the coronavirus outbreak, gyms in Massachusetts have responded in a variety of ways to the economic and public health crisis.
Equinox announced a freeze on its memberships, meaning that members wouldn't rack up expensive monthly bills while the gyms were shuttered. Planet Fitness did the same. Local chapters of the YMCA asked gym members to continue paying monthly fees to support the organization's staff and other programs, but still provided ample options for those who could not, as the pandemic wreaks havoc on the economy.
Boston Sports Clubs took a different approach.
After Massachusetts announced its first set of aggressive social distancing orders, the local chain abruptly closed its 30 locations in the state on March 16 and laid off all of its club-level employees.
Then, it went silent.
The gym's website says members can suspend or cancel their memberships "in person" at any club location. The catch, of course, was that BSC had closed all of their locations and only publicized the fact four days later. The club also said members could send a cancellation request to the club or "the Member Services department," for which no address was provided.
Over the course of the following two weeks, multiple BSC members fumed to Boston.com — and on social media — that they were left with no path to cancel or even freeze their memberships, which range from $30 to $100 a month.
And they weren't alone; Massachusetts Attorney General Maura Healey's office said Thursday that they had received 54 complaints against the gym related to their closure due to the COVID-19 pandemic.
"I'm now out of a job and can't afford a service I can't use," wrote one user on Facebook.
According to Healey, residents have a right to cancel their memberships if a gym closes, under the state's consumer protection laws. But even the attorney general said her office hadn't been able to "get a straight answer" from the company about how members could cancel.
"This is completely unacceptable," Healey tweeted Thursday.
You have the right to cancel your contract with BSC under Massachusetts law. If you want to cancel, you should email [email protected]. If BSC won't honor your cancellation, call us. There will be consequences.

☎️ 617-727-8400

— Maura Healey (@MassAGO) April 2, 2020
Boston Sports Clubs and its parent company, the New York-based fitness center operator Town Sports International, did not respond to repeated requests for comment.
After the gyms closed, multiple members said their phone calls went to voicemail and emails to the customer support department received an auto-response. Only on March 26 did Town Sports CEO Patrick Walsh send a general email promising to "handle all of your concerns, including credits to your memberships, and personal training sessions," once the clubs had reopened.
Walsh sent an additional email Tuesday promising that members who stay active during the closures would be upgraded to their club's "elite" membership through the end of the year. He also for the first time said that members could ask to have their memberships frozen by emailing [email protected]. At least two members have said they emailed the address seeking to freeze their accounts and received no response.
"The Town Sports team is working hard to navigate uncharted territory while we continue to plan for what may be a challenging future," Walsh wrote Tuesday. "We have made some extremely difficult decisions, but they are decisions that should ultimately benefit the Town Sports family, our members and our gyms."
The CEO added that the company was "working diligently behind the scenes to ensure we're ready to accommodate our amazing staff and members when we reopen."
Multiple members told Boston.com that their bank accounts were charged monthly membership fees for April on Wednesday.
Many more vented on Twitter.
So, I'm getting emails from @BSC_Gym telling me they will refund gym memberships once their gyms are "operating."

If they were paying staff I'd be happy to continue paying my family membership. But, BSC recently laid off tons of people.

What are other gyms doing? Thoughts?

— David Wade (@davidwade) April 1, 2020
Completely flabbergasted by @BSC_Gym charging me today. Your gym is closed – how can you possibly continue to charge customers for a service they cannot access?? The lack of communication on this has been astonishing.

— Jillian Saftel (@jillsaftel) April 2, 2020
. @BSC_Gym still charging their members, while also laying off their employees, during this crisis is so on brand it hurts.

— Cassie Lee (@cassan_druh) April 2, 2020
Hey @BSC_Gym. I tried to cancel my membership almost a month ago. Was told I couldn't at that moment but it would be "frozen". This came through today. Also you fired your employees… so where is this going? pic.twitter.com/AGEBeDe7c5

— JJ Murphy (@JJMurphyBOS25) April 2, 2020
Healey's office says they've contacted BSC and are disappointed the company still has yet to notify consumers about their right to cancel their memberships. The attorney general says they should email [email protected] to cancel their membership. Her office also says that members should be able to receive refunds for any membership or fee charges since the gyms closed.
Town Sports is already facing a class-action lawsuit in New York for making it "virtually impossible" for gym-goers to cancel their memberships during the coronavirus outbreak. Healey's office suggests that BSC members file a complaint with their consumer division.
"If BSC won't honor your cancellation, call us," the attorney general said Thursday. "There will be consequences."
<hr>