Local News
Nursing homes are particularly vulnerable to COVID-19. Here's how Mass. officials are preparing to protect them.
"Frankly, if we hadn't put the restrictions in place that we had, the situation probably would be worse."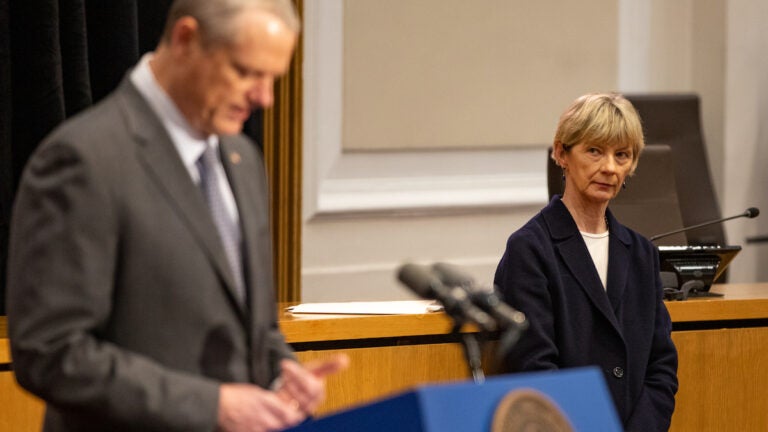 As Massachusetts heads closer to an anticipated surge in COVID-19 cases, state officials are expanding bed capacity and boosting testing in an effort to protect some of the most vulnerable populations: nursing home residents and elderly patients.
Coronavirus cases have clustered in skilled nursing, assisted living, and senior housing facilities, with 197 reported at long-term care facilities as of Thursday, according to the state Department of Public Health.
Secretary of Health and Human Services Marylou Sudders told reporters that of the 700 total of those facilities in Massachusetts, officials have identified COVID-19 clusters in approximately 78.
And the clusters have been deadly. Over a 12-day span, at least 15 people at the Charlwell House Health & Rehabilitation Center have died from what staffers believe were infections or complications related to the coronavirus, The Boston Globe reports.
"We know that older residents, particularly living in long-term care facilities, are at high risk," Sudders said Thursday. "We know from the experience of other states that there would be clusters, but frankly, if we hadn't put the restrictions in place that we had, the situation probably would be worse.
"We are working hard to mitigate these clusters and keep residents and staff safe," she added.
Meanwhile, officials are ramping up patient capacity across the commonwealth's health care system to ready for a drastic influx of COVID-19 cases, which experts anticipate will come between April 7 and 17, according to Gov. Charlie Baker.
Here's what to know about the effort to protect Massachusetts nursing homes ahead of the surge:
Current cases
With 700 long-term care facilities — including 380 nursing homes, 250 assisted living residences, and 62 rest homes — COVID-19 has arrived in at least one tenth of them, state data shows.
As of Thursday, the DPH logged 85 facilities that reported at least one coronavirus case.
Local case numbers reflect that the coronavirus has indeed affected older adults at a disproportionate rate. Of the 8,966 cases reported so far, 4,403 patients are at least 50 years old, of which 2,670 patients are over the age of 60.
Across the state, 154 deaths are attributed to COVID-19 so far, although department statistics do not break down how many deaths have occurred within those long-term care facilities.
In Norwood, at least 15 people have died in suspected virus-related complications or infections at the Charlwell House Health & Rehabilitation Center, the Globe reports.
Seven of those residents had tested positive for the virus, although COVID-19 was listed as the official cause of death in only three of those cases due to underlying health conditions of patients, according to the newspaper. The other eight cases have not been tested and the deaths were the result of underlying conditions, Chris Roberts, vice president of operations, told the Globe.
At the Jack Satter House in Revere, 20 residents were confirmed COVID-19 positive, eight of whom have been hospitalized, and six had died as a result of the virus as of Thursday, Hebrew SeniorLife wrote on its website.
At Orchard Cove, the senior living facility Hebrew SeniorLife operates in Canton, seven residents and two employees tested positive for the virus and one resident has died.
Also, "there are two confirmed cases of COVID-19 in long-term chronic care at (Hebrew Rehabilitation Center)-Boston and two cases in long-term chronic care at HRC-Dedham. Many of these patients have already been transferred to HRC's special COVID-19 unit to protect other patients and provide the best care," Hewbrew SeniorLife said in an update posted online. "There are also five patients on the short-term rehabilitation floor of HRC-Boston who have tested positive. The HRC short-term rehab floor is isolated from patients who are in long-term chronic care at HRC-Boston."
Five employees at the HRC-Boston campus have also tested positive.
Three residents at Jewish HealthCare Center in Worcester have died, while 13 others and four residents have confirmed cases, according to the Globe. Other residents are symptomatic but had not been tested yet as the center awaits more test kits to arrive, chief executive Steve Willens told the newspaper.
"We've been hit hard," he said. "We're trying to control it."
Deaths have been independently reported at centers across the state. As of Thursday, six residents at Poet's Seat Health Care Center in Greenfield had died, as well as one confirmed death of a resident at the Life Care Center of Nashoba Valley in Littleton, according to the Globe.
In one of the state's largest clusters at Williamstown Commons Nursing & Rehabilitation Center in Berkshire County, 36 in-house patients have tested positive and seven are awaiting test results. Three residents have died so far, administrator Jodi Ouimette wrote in an update posted on its website Thursday.
"It is extremely difficult at times like this to continue to remain positive, but I will tell you that it has been made possible through the tremendous support Williamstown Commons has received from the community," Ouimette wrote. "From medical supplies, signs of encouragement posted throughout the community to full meals and everything in between, our staff has felt very cared for. This has encouraged them to push on and continue to care for our residents in tremendous ways during this unfathomable time."
Testing
This week, state officials rolled out mobile teams to assist nursing homes with on-site testing, Sudders said.
The program, a partnership between the DPH, the National Guard, and the Broad Institute of MIT and Harvard, tested 280 people from Tuesday to Thursday, and officials are planning to expand capacity in coming days. Fourteen facilities are now equipped with the onsite testing, Sudders said.
"We are focused on homes with known clusters of cases, as well as facilities that are transitioning into COVID-19 nursing homes," Sudders said Thursday, referring to a plan to fully dedicate certain nursing home facilities to COVID-19 patients (more on that below). "If facilities have onsite medical staff, we've issued guidance to them that they can swab their own residents and we will provide sampling kits. This will help our National Guard testing team reach as many nursing homes as possible."
According to Sudders, test samples collected from nursing home patients will be sent directly to the state's testing laboratory, where they'll be prioritized for testing by the Broad Institute.
"We expect (results) to be turned around in 24 to 48 hours," Sudders said in announcing the initiative Tuesday. "Prior to the (program) launch, the only way for nursing home residents to actually be tested was to go to a hospital or to a physician's office."
In a statement Thursday, Tara Gregorio, president of the Massachusetts Senior Care Association, said the organization is hopeful that the testing effort will allow "greater access to testing for our residents and staff, with quicker results."
Gregorio is also calling on government officials to change testing criteria so more individuals can be tested.
She pointed to data recently published by the U.S. Centers for Disease Control and Prevention showing that elderly people can be asymptotic but still highly contagious for up to a week. Gregorio called previous screening guidance from the CDC "essentially inadequate."
"We therefore urge government agencies to revise their testing criteria, thereby ensuring a greater number of nursing home residents and staff qualify for testing," Gregorio said. "This would allow for quick and appropriate treatment, as well as the swift implementation of isolation protocols in order to further reduce the risk of spread. Without testing of staff, we have more staff staying at home who may not have COVID-19."
Beds
Baker announced Monday that the state is working to reduce pressure on the health care system as medical professionals and public health leaders prepare for the anticipated surge.
The governor said the state is expanding hospital bed capacity to make sure "we have the right kinds of beds in the right places to serve people once the surge arrives."
That effort includes a goal of creating dedicated skilled nursing facilities with a total of 1,000 beds catered to caring for older adults infected with COVID-19. Those patients can be relocated to these facilities in order to maintain "acute care capacity," he said.
The state's Command Center is working with the Beaumont Rehabilitation and Skilled Nursing Center in Worcester to build out the first 300 beds, officials said. Baker had expected 150 of those beds to be ready by Thursday.
The prospect of re-locating patients has raised criticism from families, including some who say the move could cause "transfer trauma" for already vulnerable patients, according to the Boston Globe.
"There's no perfect solution with this surge of patients coming," David Grabowski, health care policy professor at Harvard Medical School, told the newspaper. "Massachusetts deserves a ton of credit for getting out in front of this. But I'd prefer they use other facilities, like closed nursing homes or hospitals at specialized sites, without moving longer-stay nursing home residents. It's very disorienting for residents to switch environments and caregivers."
Baker said officials understand that the move is likely to be disruptive for residents and for their families alike. Staffers are making "every effort they can to make temporary re-locations as smooth and as comfortable as possible," he said.
"We need to continue to create significant capacity so our most vulnerable population, should they get infected with COVID-19 and need acute care in a well equipped and safe setting, will get it," Baker said. "We know this isn't an easy task but without these designated sites, hospitals would have to discharge COVID-19 patients to any skilled facility with an open capacity which could put the rest of the healthy residents and the staff at those facilities at risk."
Continued social distancing
The public has been prohibited from visiting nursing homes and other long-term care facilities for weeks.
But the strict adherence to social distancing, while difficult for loved ones, remains imperative to combatting the virus, officials say.
Sudders encouraged families to regularly contact their members who are residents in those facilities by phone. Families can also call a state-run hotline, 413-552-4764, staffed by social workers Monday through Saturday, to check in on patients, she said.
"Managers of these type of senior housing facilities are doing everything we're asking of them to keep our older residents safe, but they need the continued help from the public and families to ensure that spread of the virus in their facilities is prevented or mitigated," she said.