Local
'Breaking of new ground in the fight against COVID-19': Massachusetts is launching a contact tracing initiative
"We have the ability to lead on how we respond to this public health threat in the long term."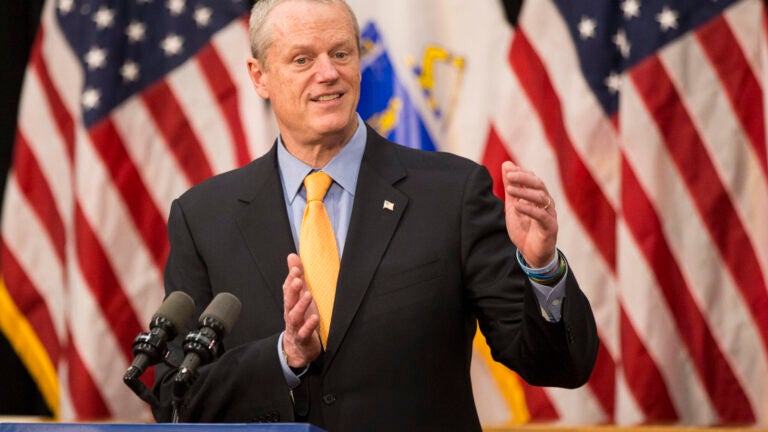 Massachusetts is launching a community contact tracing initiative to battle the COVID-19 pandemic, Gov. Charlie Baker announced Friday. 
The state is creating the COVID-19 Community Tracing Collaborative, or CTC, in collaboration with Partners In Health, a locally-based global health nonprofit, to mitigate the spread of the novel coronavirus in Massachusetts through enhanced tracing of cases and potential exposures. 
With contact tracing, when a person tests positive for coronavirus, a public health official gathers information from the individual about who else they have come into contact with and potentially infected. Public health officials then attempt to contact those people, known as "close contacts," to let them know they may have been exposed and need to self-quarantine or get themselves tested. 
Baker said the goal is to get the "enormously powerful tool" for public health officials staffed and ready to go by the end of the month as a surge in cases is expected to hit the state.
"There is tracing happening now, but this program that we're talking about launching today is a much more robust, targeted approach that we hope can be highly effective at slowing the spread of this highly infectious disease," Baker said Friday. "And to be successful it will take a coordinated effort and resources. It is going to be a big part of our ongoing efforts to manage and fight our way through COVID-19."
<hr>
<h2>Baker: Mass. stepping up contact tracing</h2>
<hr>
With the new initiative, a virtual call center will be established with about 1,000 virtual contact tracers who will reach out to COVID-19 patients to learn about their recent activities, ensure they are taking appropriate steps to get healthy and not spread the infection further, and get contact information for as many people as possible who the patient may have potentially exposed. Those individuals would then be contacted and informed by the center. 
"By monitoring and isolating through an enhanced community tracing program our state can be positioned to reduce the number of new cases in the long run," Baker said. 
Baker said as the initiative ramps up, public health college students have been connected to 35 local health departments across the state to help with contact tracing. Partners In Health will be hiring staff and virtually deploying contact tracers, while contributing their expertise in the field to the effort, he said.
PIH is looking for Contact Tracers to join the COVID Community Team in Massachusetts, who will reach out to contacts of #COVID19 patients, counsel them on testing + quarantine, refer them for testing, and connect them to resources during quarantine.
Apply: https://t.co/BzvlLvyZvL pic.twitter.com/hRqLRBZcgf

— Partners In Health (@PIH) April 3, 2020
The governor called the tracing collaborative a "breaking of new ground in the fight against COVID-19."
"Massachusetts will be the only state in the country putting together this kind of programming," Baker said. "There's no nationwide tracking that is currently being done. And we anticipate that we need to get out ahead of this and do everything we possibly can here in Massachusetts to deal with COVID-19, through and in the aftermath of the surge."
"Massachusetts will be the only state in the country putting together this kind of programming."
— Gov. Charlie Baker
"We have the ability to lead on how we respond to this public health threat in the long term," he added.
Joia Mukherjee, the medical director of Partners In Health, pointed to the group's work on the outbreak of Ebola in West Africa as an example of the importance of contact tracing for stopping the spread of disease to end an epidemic. 
"It is an enormous difference if you know you have been in contact with someone who has COVID-19," she said. "That is the point of the contact tracing collaborative."
Currently, most efforts in the battle against the novel coronavirus are focused on caring for the people who are sick and protecting health care workers, she said. But that effort is only about 20 percent of what she described as a "pyramid" of transmission. 
About 80 percent of the pyramid, the doctor said, are people who have mild symptoms or who are asymptomatic who are "silently and unknowingly spreading the disease."
"We want to shine a light on that," she said. "A light with love and compassion that can reach out to people and humanely let them know that they are at risk and humanely help them to isolate themselves."
Ramped up testing will go hand-in-hand with the contact tracing, along with providing support to people in quarantine, officials said. The more people know whether or not they have been exposed, the better, she said.
"I live with three people," Mukherjee said, giving an example of her own living situation. "One person in my family, my mom, is older. If I have been in contact with someone with COVID, I would want to know."
Under the new initiative, she would be contacted about being potentially exposed, and would receive information on how to prevent further spread.
"I would be instructed not to be sharing a meal with her, to wipe down the surfaces in my home, to use my own bathroom if that's available, which is not for everyone." she said. "And then, I would get a test. And in my family unit, if I was tested positive for COVID-19, I may need to go somewhere else."
Many people can't separate from their families within their living spaces, she said, so that's where state social services and social support will be important moving forward. When an individual is contacted about potential exposure to the infection, they will simultaneously be connected with available resources in their county to meet their needs for quarantine and isolation — whether that means an isolation facility or additional food support.
"We need to make sure that everyone who is in contact with a person who has COVID has the material resources and the psychological resources to safely quarantine or isolate," she said.
As to whether the initiative comes too late, both Baker and Mukherjee insisted it does not.
"It will be hard and we are daunted by the challenge, but we are undaunted by the moral need to stop the epidemic," the medical director said. "Is it too late? It cannot be too late. We need to mitigate the suffering now."
Baker said he hopes the initiative, as it expands and collects more data on cases in the commonwealth, might help the state play offense in the fight against the virus, by allowing them to do predictive modeling of where outbreaks are occurring.
"That's exactly where I'd like to end up at some point on this," he said.
Mukherjee said the more data the state is able to gather — knowing where infections are occurring and who has been potentially exposed — the more public health officials can work to protect people who are vulnerable and get people who are healthy back to work. 
"We think this investment in really understanding the epidemic in the commonwealth will really be a game changer to get back to normal," she said. "Instead of just waiting. The problem with this idea of 'is it too late' — well, we could just wait. We could just wait till 60 to 80 percent of people are infected and maybe then that level of immunity will start bending the curve down. I don't want to wait that long, and I don't think it's humane to wait that long."