Local
Stop & Shop is implementing one-way aisles at all stores
"One-way traffic only."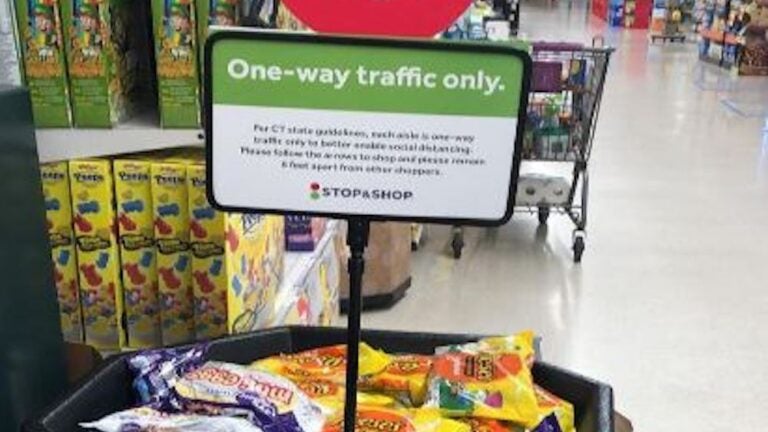 The latest grocery store initiative to limit the spread of the coronavirus: One-way lanes.
Jen Brogan, a Stop & Shop spokeswoman, says the Quincy-based supermarket chain instituted one-directional aisles Tuesday at all stores — including its 132 locations in Massachusetts — in the hopes of increasing physical distance between customers in the midst of the COVID-19 outbreak.
"We've implemented aisles that are one-way traffic only beginning today to better enable both customers and associates to practice social distancing," Brogan told Boston.com in an email Tuesday.
To inform customers of the new pattern, Stop & Shop is putting up "one-way traffic only" signs and taping directional arrows to the floor at the ends of each aisle. They're also using bins to lightly guide shoppers.
"Please follow the arrows to shop and remain 6 feet apart from other shoppers," reads the signage.
The move comes as several big national chains, including Kroger and Walmart, test the concept one-way aisles in certain markets in response to the pandemic, as CNN reported Monday. According to Brogan, Stop & Shop found success implementing it last week at their stores in Connecticut, where state officials required grocery stores to make aisles one-way only "where practicable."
Stop & Shop is now expanding one-way aisles to all five states in which the chain operates, Brogan said.
Starting today, Stop and Shop is making its store aisles one-way, to better practice social distancing. Arrows on the floor will be directing shoppers #coronavirus pic.twitter.com/klPX4lCdBC

— Kelly Sullivan (@ksullivannews) April 7, 2020
As one of the essential businesses allowed to stay open in Massachusetts and other states amid aggressive social distancing rules, grocery stores have become a point of focus during the COVID-19 outbreak.
Gov. Charlie Baker has imposed new temporary rules banning reusable bags and requiring stores to have exclusive senior shopping hours. Some chains, like Stop & Shop, have put up Plexiglass shields in checkout lanes between cashiers and shoppers. And most are limiting their hours and the number of customers allowed inside their stores at a single time (though Stop & Shop has yet to put caps on the number of people in its stores, according to their website). Stop & Shop has also been working to increase the number of grocery delivery employees to meet unprecedented demand.
<hr>