Local
Here's how to cope with and talk about death during COVID-19, according to experts
"The answer is that it is always in the person's best interest to bring it up, obviously in a tactful and supportive way."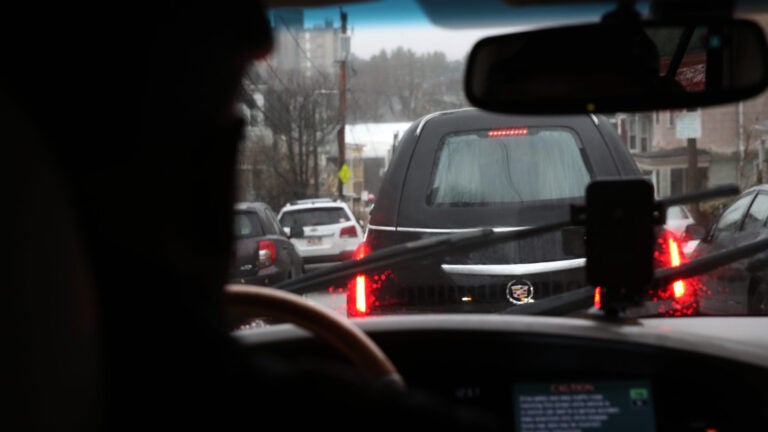 Death is an inevitable part of life, but the coronavirus pandemic has brought mortality to the fore in a way most have never experienced.
Each day, the news cycle brings numbers – numbers of cases, numbers of those in quarantine, and numbers of deaths, all while people stand by and watch in horror. And a surge in cases is anticipated in Massachusetts over the next few weeks.
Because of that, people may find themselves talking more about death than perhaps any other time in life. But is there a right way to talk about it, or a wrong way? And what about children? What's the right way to talk to a kid about one of life's heaviest topics?
It turns out there are right ways, and wrong ways, to talk about death, whether it's with other adults or children, according to several experts. There are also healthy ways to process grief.
But the virus does bring its share of challenges, and inability to hold rituals the way people have for centuries is one of the biggest.
"This is something I'm very concerned about," David Barlow, Professor of Psychiatry Emeritus at Boston University, told Boston.com. "Funerals and our religious and cultural rituals serve an extremely important purpose. They gather our friends and loved ones around us to mitigate the terrible emotional trauma, and it is a trauma, of a loved one dying, and now that's been taken away."
Barlow described how a good friend's wife recently passed away – she had been battling cancer for a long time, and her death wasn't related to the pandemic. Before she died, she voiced her concern over possibly not being able to have a wake or a funeral, and his friend wasn't expecting her to say something like that.
"She may have realized it was more important for him, because what happened was, all they could have was a quick graveside ceremony with immediate family, and four or five other people," he said. "And there was no wake, no funeral, no preparation for this. This hit him – he's a strong guy, but this hit him so hard, the finality of it."
Everything was done quickly, Barlow said. His friend's wife died, and two days later was the abbreviated service. Because of social distancing, he couldn't have friends or many family members around, just the immediate family. 
He's struggling with the emotional toll, Barlow said.
Talking about death with a friend
Most people are able to talk about death by generally thinking about it happening to someone else, someone that they don't know well, Barlow said.
It's an illusion of control, and it's healthy. Most people don't think about death being right around the corner, even though tragedy strikes unexpectedly at times, he said.
"But if we all sort of dwelled on that kind of potential, then obviously we'd all be basket cases," Barlow said.
Because of that coping mechanism, most healthy people can talk about end of life, Barlow said. However, what is the right way to talk with a close friend who is facing the loss of a loved one, or has recently lost one? Some common questions a friend may consider are, is it better to just bring it up, or should you attempt to distract them from their grief?
"The answer is that it is always in the person's best interest to bring it up, obviously in a tactful and supportive way," he said.
The person needs to confront the death of their loved one, and they need to accept the loss. Talking about it, confronting it, helps them to move through it, he said.
That confrontation often happens at funerals or burial rituals, Barlow noted. Regardless of faith, all include being surrounded by loved ones and grieving the death together.
"There's no tradition that says ignore it, and just turn the other way and pretend it didn't happen," he said. Someone who doesn't confront the grief could develop "severe emotional consequences," and could have difficulty being able to move on.
Overcoming guilt
The grief of losing someone can be coupled with guilt, according to Erin Uzarski, a bereavement counselor with Care Dimensions, which provides palliative and hospice care, as well as support for families, around the Greater Boston area.
"I think a lot of times, no matter how we lose somebody, there's almost always some aspect of guilt," she told Boston.com. Someone may wish they hadn't moved away from the person they lost, or they wish they could've been there when they died. "I think it's  … really hard to do when you're grieving, but really important to try to look at it as, 'What realistically could I have done?'"
It's especially difficult right now given the circumstances – families aren't allowed to sit alongside the hospital bed of their loved one, and nursing homes and other senior care facilities have eliminated visiting hours in order to try to stop the spread of the virus.
"So geographically you're there, but you still can't be there with them, and I know that that's been really difficult for families, trying to figure out how to make the best of that situation," Uzarski said.
Luckily, technology can help, such as using video calling.
It's also OK not to have the answers, something that's difficult for adults to sit with, according to Uzarski.
"People expect us to have answers, and we want to have those answers, but I think it's very frustrating when we don't, and I think it's scary when we don't," she said. "And especially the big questions now are, well, when is this going to get better, when are people going to stop dying from this? We don't really know at this point."
But, while frustrating, people should understand that it's OK not to have the answers, and accept that having those answers isn't possible now.
Talking to children about death and grief
Parents and caregivers love their children, and they naturally want to protect them from grief and difficult topics, according to Maureen Patterson-Fede, a mental health clinician and clinical social worker within Boston Medical Center's Good Grief Program.
But when faced with talking to their children about  the death of a loved one, it's important to be direct, and to talk with children about it in a way that they will understand.
"One of the tried and true principles that I often will tell folks to come back to is really starting from simplicity, and wanting to give kids access to information, but also being cognizant that we're making that information line up with where they are developmentally " she said. Parents and caregivers should also allow children to ask questions, and allow those questions to guide the conversation, too.
It's important to sift through all of the information that's out there, whether it's news outlets or social media, and find reliable sources, and with that, have an "open and honest conversation" with kids, according to Patterson-Fede.
When it comes to talking about COVID-19, it's important for parents and caregivers to present what's known about the disease – that many people will get sick. For some people, it will feel like they have a cold or the flu, while others may not show symptoms at all, and then there are some people who could be more seriously ill, she noted. But most people who get COVID-19 will get better and be OK.
"It's such an anxiety-provoking time for families that we want to kind of be able to bring back that reassurance," Patterson-Fede said.
There will be families who are more directly impacted by the virus, and for them, Patterson-Fede said it's important to remember honesty and openness, and to avoid euphemisms for death with children.
"We really encourage folks to avoid euphemistic language or more vague terms like someone passed away, or they fell asleep and they won't wake up, because those terms can be very difficult for children, especially younger children, to understand," she said. "Stick with some of that concrete language, and then coupled with that, really making sure that we create a space where we can listen to what our kids are bringing up for themselves."
When considering how much to tell a child about a disease, or how someone died, it's important to name it and give a simple description, said Cammy Adler-Roth, a children's program manager for Care Dimensions.
How much you share depends on the child's age, and how much they want to know, she said. It's also important to allow them some time to let the matter settle in, and allow them to ask questions if they have them.
"Some of us really cope better when we have a lot more information, and others do better with just the basics," Adler-Roth said. "And so it's important that we're asking kids and checking in with them to make sure they're getting the amount of information that's helpful for them."
There's also considering whether or not to allow a child to attend a funeral service, or view it if it's being streamed live.
"Kids should have the choice to attend," Adler-Roth said. And if they decide to do so, it's important for adults in their lives to prepare them by describing who might be attending, and what the service could be like based on the five senses.
But if a child isn't comfortable with attending, there are other ways for them to contribute. Maybe the family can light a candle at home in memory of the person, create a photo collage, or prepare a meal that the deceased person enjoyed.
"This is a time where it kind of calls upon us to be really creative, but I think we also want to be trying to find room for kids to have some choice in how they participate," Patterson-Fede said.
It's also important to understand that crying around children, or opening up about the difficulty of talking to them about something like death, is OK.
"I think when we're able to really bring our authentic selves to a conversation, kids know and they respect that," Patterson-Fede said. "If somebody is delivering really hard news and they cry, or they say, 'I'm having trouble even saying the words,' it models for kids that, it's still hard, but we'll kind of find a way to get through this together."
Anxiety of the times
Hearing about illness day after day is difficult, especially if a person was already anxious before the pandemic.
For most people, the messages from government officials about social distancing and hand washing are taken with the understanding that they need to do those things, but that they will probably be OK, according to Barlow.
But for those who have anxiety or phobias, the fear created by the pandemic can magnify the symptoms. Barlow, who also founded BU's Center for Anxiety and Related Disorders, said patients there, who are seen virtually now, are already having difficulty.
"For some of them, they develop such a preoccupation with death that we have to deal with head on," he said, noting that some people may not be able to function at all – they can't sleep, they can't think of anything else.
In therapy, the death obsession is pulled apart, and providers talk with them about why death bothers them, and help to remove the fear and preoccupation, according to Barlow. He said he's concerned there will be many people who will be unable to talk about death due to the fear brought on by the pandemic.
Then there are the people on the other side of the spectrum, perhaps teenagers who are at the developmental point where they think they're invincible, or people with certain personality traits, who don't heed the warnings of the government. These are the ones "who could use a little more anxiety," Barlow said.
When it comes to grief, and dealing with the times, it's important to remember many of us are in "survival mode," Uzarski said. She noted that the grief process is fluid, and it's not something someone can move through in a month.
"One of the big things to keep in mind is that people don't have the space to grieve their loved ones," she said. Some may not understand why they aren't crying, or why the loss isn't the first thing on their minds. It doesn't mean the loss is easier, or that they didn't care about the person.
"If you feel you have the space to carve out, if you can do it, let your emotions be what they are, and let them come out as they need to come out," she said. "But if you can't, that's OK."
Grief resources
Below are some websites recommended by local experts for people looking for help dealing with grief and dying.
• National Alliance for Grieving Children: https://childrengrieve.org/
• The alliance also has a page dedicated to COVID-19: https://childrengrieve.org/about-us/news/covid-19 
• Coalition to Support Grieving Students: https://grievingstudents.org/
• The coalition's resources on COVID-19: https://www.schoolcrisiscenter.org/resources/covid-19-pandemic-resources/ 
• Grief expert David Kessler: https://grief.com/
• Kessler's COVID-19 resources: https://grief.com/covid-19/ 
• Boston University's Center for Anxiety and Related Disorders: https://www.bu.edu/card/ 
• Care Dimensions grief resources: https://www.caredimensions.org/grief-support/
• Boston Medical Center's Good Grief Program: https://www.bmc.org/programs/good-grief-program