Local News
Marty Walsh says Boston's early racial data on COVID-19 is 'disturbing'
"We do see disparities."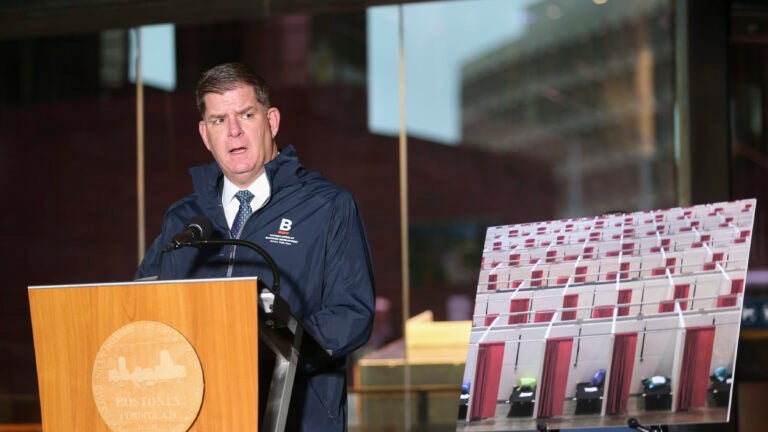 Boston Mayor Marty Walsh warned that the initial data on the racial breakdown of COVID-19 cases in the city remains incomplete, but he says the early results show that the disease is disproportionately affecting communities of color.
"We do see disparities, and it does concern me," Walsh said during a press conference Thursday.
The city released racial data on 1,567 of the 2,513 coronavirus cases that had been reported through Wednesday. Of the 62 percent sample, more than 40 percent of residents that had contracted the disease were Black, 28 percent were white, 14 percent were Latino, and 5 percent Asian or Pacific Islander. Those numbers indicate that Black and Latino residents — who make up 25 percent and 20 percent of Boston's population, according to census data — are coming down with the disease at much higher rates.
"With all the reports that we have seen on the coronavirus hitting people of color harder in places all over the country, such as Detroit and Chicago, this is certainly disturbing," Walsh said.
City officials said they were not releasing racial and ethnic data on deaths due to COVID-19 in Boston, because small numbers for several population groups could lead to the identification of individuals in violation of state and federal privacy laws. As of Thursday, the city had 2,812 confirmed cases and 34 deaths.
Along with releasing the new racial data, Walsh announced a new COVID-19 Health Inequities Task Force on Thursday to advise the city on how to address the disparities and dig deeper into the data, which the mayor said was "critical."
In the short term, Walsh said city officials would work to increase communication, particularly in non-English-speaking communities, about social distancing and hygiene best practices. Massachusetts General Hospital reported that 40 percent of its COVID-19 patients spoke Spanish as their native language, which was a significantly higher percentage compared to its usual patients.
"They think — and I agree — that we need to focus more on the Latino community around Boston," Walsh said, adding that the city had observed "clusters" of cases within households in East Boston.
According to data released last week by the Boston Public Health Commission, the neighborhoods with the highest rate of COVID-19 cases were Hyde Park, East Boston, and Mattapan — all three of which have majority-minority populations. Patient data collected by Boston Medical Center found that 80 percent of COVID-19 patients were either Black or Latino, compared to 58 percent of their usual patient population.
According to city officials, BMC also reported the coronavirus patients had higher rates of underlying conditions that are risk factors for COVID-19, including 34 percent with diabetes, 49 percent with hypertension, and 52 percent with a Body Mass Index above 30. While those conditions exist at higher rates in communities of color (due to a range of historic socioeconomic factors), Walsh stressed Thursday that following the state's stay-at-home guidances could help reduce its spread.
"It's not increasing in a neighborhood because of a neighborhood or because of who lives there or because of the color of your skin," he said. "It comes down to practicing social distancing."
Walsh's office said the new task force would help inform a strategy for ensuring equity and accessibility to health care services for historically underserved populations in the midst of the pandemic. He also said he had advised the state and surrounding communities to collect their own data in order to better address existing inequities.
The initiative comes after Gov. Charlie Baker's administration released equitable crisis care standards for the state's health care system this week, as well as calls from the Massachusetts congressional delegation for the collection of racial data in COVID-19 testing, hospitalizations, and deaths.
Both the Centers for Disease Control and Prevention and the Baker administration released limited data on the racial makeup of COVID-19 cases similarly indicating that communities of color were being disproportionately affected at the national and state level. Sen. Elizabeth Warren has said that the pandemic is accentuating disparities resulting from "decades of structural racism [that] have prevented so many Black and brown families from accessing quality health care, affordable housing, and financial security."
"Although COVID-19 does not discriminate along racial or ethnic lines, existing racial disparities and inequities in health outcomes and health care access may mean that the nation's response to preventing and mitigating its harms will not be felt equally in every community," Warren and several Democratic colleagues, including Rep. Ayanna Pressley, wrote in a letter to federal officials last week, calling for "comprehensive demographic data."
"Any attempt to contain COVID-19 in the United States will have to address its potential spread in low-income communities of color, first and foremost to protect the lives of people in those communities, but also to slow the spread of the virus in the country as a whole," the letter said.
<hr>