Local
Here's a look at the local and federal programs to help small businesses through COVID-19
"We're a city that really prides ourselves on our diverse set of businesses, and we really don't' want to lose that part of our identity."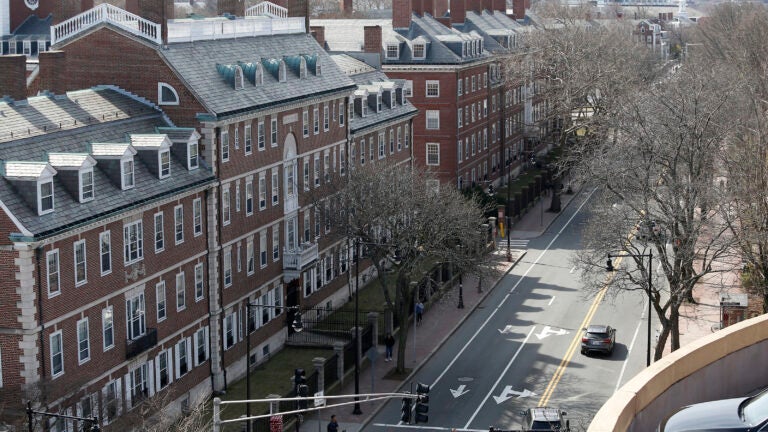 Social distancing, and the closure of all nonessential businesses, has been a key method the state has used to, hopefully, curb the rise of COVID-19 cases.
But, when the crisis passes, some may wonder if their favorite local small business — whether it's a retail store, book shop, or restaurant — will still be around.
While it may seem like everything is in flux due to coronavirus, the government, both locally and federally, has created programs to help small businesses survive through the forced closures brought on by the pandemic.
"We're a city that really prides ourselves on our diverse set of businesses, and we really don't want to lose that part of our identity," Cambridge Mayor Sumbul Siddiqui said in a recent virtual town hall focused on small businesses. "And we have to really, really work hard during this time to put our heads together and figure out how we can help."
Federal help
The recently passed federal "CARES" Act includes a $377 billion Small Business Rescue Plan. Under the plan, $350 billion of that money will go to loan forgiveness for small businesses and nonprofits so that they can pay expenses, like utilities, or a rent or mortgage, and be able to pay their existing workers.
Other provisions include:
A total of $10 billion for Small Business Administration loans to be divvied up into grants up to $10,000 for small businesses for operating costs.

The remaining $17 billion is to help businesses pay for six months of payments to existing SBA loans.
The SBA also launched the Paycheck Protection Program, which is a loan, but will be forgiven as long as the money is used for employee paychecks, utilities, mortgage interest or rent, and as long as all employees remain on the payroll for eight weeks.
State programs
Because of Gov. Charlie Baker's disaster declaration, small businesses are eligible for an Economic Injury Disaster Loan. Non-profits, as well as agricultural cooperatives, and small aquaculture businesses are also eligible. The loans can be up to $2 million with an interest rate of 3.75 percent for small businesses, and 2.75 percent for nonprofits. The maximum term length is 30 years.
The state's Executive Office of Labor and Workforce Development also offers resources for businesses, including a WorkShare program to help businesses not layoff workers.
Help for Boston small businesses
Last Friday, Mayor Marty Walsh launched the Small Business Relief Fund, which plans to provide grants, with an initial fund amount of $2 million.
The city began accepting applications this week.
Businesses can apply for a grant via one application, and could receive $2,500 if it has between zero and five employees, including the owner, and less than $250,000 in annual revenue; a $5,000 grant if it has between five and 15 employees, including the owner, and less than $750,000 in annual revenue; or $10,000 if it has between 15 and 35 employees, including the owner, and less than $1.5 million in annual revenue, according to the fund's website.
Businesses can use the grants to pay rents, debts, payroll, accounts payable, "lost opportunities, and other working capital expenses," the site says.
The city pulled the money from its own funds, the U.S. Department of Housing and Urban Development, and private contributions. Plus, Massachusetts Attorney General Maura Healey's Office also contributed $50,000, according to a news release.
"Small businesses are the backbone of our economy and the lifeblood of our neighborhoods," Walsh said in a news release. "As the response to COVID-19 continues to evolve, we want to make this resource as straightforward as possible for business owners and work one-on-one to ensure they have the most up-to-date information on financial assistance available."
There's also a handbook for small businesses on various programs that the city put together.
For Cambridge small businesses
Cambridge opened its Small Business COVID-19 Relief Program, and businesses can apply for a grant up to $6,000 to help pay employees, mortgage or rent, and utilities, assist with setting up business online, or allow businesses to buy any perishable items that may have been lost.
To be eligible, a business must be located in, and its owner live within, a Neighborhood Revitalization Strategy area of the city. The business must also have five or less employees, including the owner, and the owner must have an income in the very low or low-moderate range.
Businesses receive points on their grant application if they can show they had to lay off an employee, and their sales have seen a 25 percent decline during the pandemic as compared to last year.
"We all deeply understand that we need to be focused on supporting our main streets for the next several months so that when we're able to transition out of this crisis, and we will, that we will have a main street that we recognize and the local small businesses that we know and love are there for us," Cambridge Vice Mayor Alanna Mallon said during the virtual town hall.