Local
New charts show Massachusetts hospital capacity ahead of coronavirus surge
"Our health care system will be stretched like never before."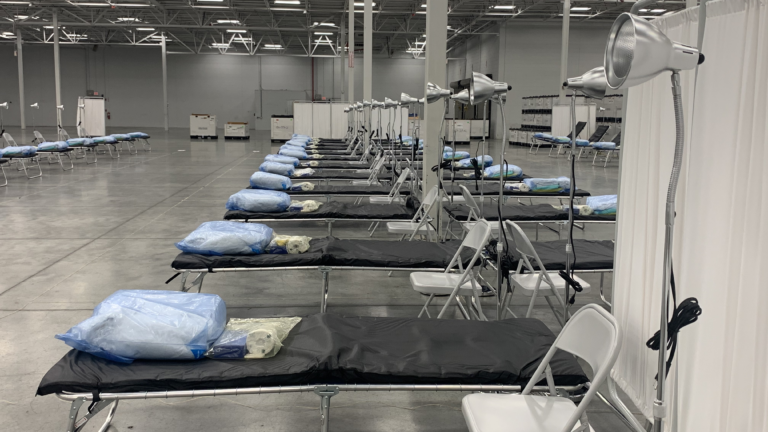 <
While a shortage of crucial medical equipment remains, the Massachusetts health care system has been able to handle the increased demand for hospital beds due to the coronavirus outbreak — so far.
According to figures released by Gov. Charlie Baker's administration, about 55 percent of hospital beds in the state are currently filled, as officials prepare for a surge in COVID-19 patients this month. During a press conference Friday, the Massachusetts governor gave credit to residents staying at home and "the incredible work of our medical community." But he warned Bay Staters against resting on their laurels.
"Capacity is manageable right now," Baker said. "But what we are seeing in the models predicts a big increase in the weeks ahead, and that means our health care system will be stretched like never before."
New charts released by the Department of Public Health illustrate how much room the state's hospitals have to spare.
Through surge planning and field hospitals for less sick patients, officials said they were working to increase the baseline number of acute and intensive care unit beds in Massachusetts from roughly 11,000 to 14,500. That includes nearly doubling the number of ICU beds from 1,500 to 2,700.
As of Friday, there were nearly 2,000 confirmed hospitalizations in Massachusetts due to COVID-19 out of more than 20,000 cases of the virus. However, state officials said they were still investigating more than 13,000, meaning it's unclear how often infections required medical care. Most people who catch the disease experience only mild symptoms, and officials project somewhere between 47,000 and 172,000 coronavirus cases in Massachusetts by the end of the outbreak.
As of Thursday, hospitals across the state reported 8,100 of the total number of beds were currently filled, including hospitalizations for both COVID-19 and other reasons. That leaves a total 6,400 beds available for both acute and ICU patients — or 45 percent of the amount the state expects to have available.
The rates do vary by region; while less than 50 percent of beds in the Boston area are currently occupied, more than 70 are filled in the MetroWest region, as are more than 60 percent in central and western Massachusetts.
Baker said Friday that the state has a plan to manage potential hotspots in any particular region, including potentially transporting patients to other areas.
The administration also released standards earlier this week for how to potentially ration life-saving equipments like ventilators if the situation becomes dire. But as The Boston Globe reported Friday, doctors predict that their preparation efforts — along with social distancing orders — will help the state avoid a worst-case scenario.
"I don't believe we will get there," Dr. Daniel Talmor, the chief of anesthesia and critical care at Beth Israel Deaconess Medical Center, told the Globe. "I am quite confident we won't get to Italy or New York."
<hr>
<h2>Baker says people should wear masks when they go out</h2>