Local News
Live updates: The latest news on the coronavirus outbreak in New England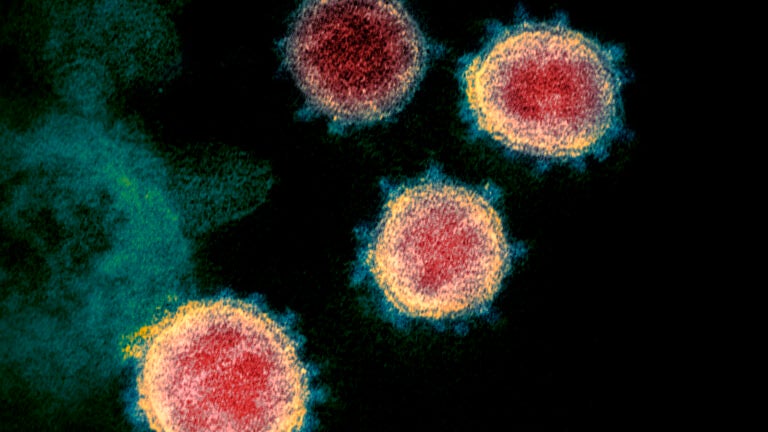 Note: Last week's coronavirus live updates can be found here. 
Mass. reports 1,705 new coronavirus cases; total confirmed cases now at 38,077
Boston will start using public works trucks to broadcast messages about coronavirus safety on Sunday.
City officials said the trucks will be outfitted with sound equipment and they will deliver messages about social distancing, washing hands and using facial coverings. The trucks will deliver the messages in seven languages depending on the neighborhood they are broadcasting in, officials said.
Mayor Marty Walsh said the city is "launching new tactics to get the message out in the places that we know are hardest hit." Trucks will be deployed in hard-hit neighborhoods including Hyde Park, Mattapan, Dorchester, East Boston, Roxbury and Roslindale, officials said.
— Associated Press
New Hampshire
Republican Gov. Chris Sununu's attorneys filed court papers Saturday seeking to dismiss a lawsuit brought by Democrats in the state about coronavirus relief money. New Hampshire Legislature leaders turned to the courts to try to stop Sununu from spending federal COVID-19 relief funds without their permission.
Sununu argued in court papers that the complaint "should be dismissed for lack of standing."
Sununu also said more than 500,000 medical-grade face masks have been delivered to the state. He called it a "life-saving delivery" and added the state would deliver the masks to areas of greatest need.
There have been more than 1,300 coronavirus cases in New Hampshire.
Maine
A Republican state lawmaker is encouraging residents to join him Monday in a demonstration aimed at getting officials to reopen the state. A demonstration against lockdowns took place Saturday in New Hampshire's capital city.
Rep. Chris Johansen, of Aroostook County, wants residents to come to Augusta, the state's capital city, for the "Re-Open Maine" event. He posted on Facebook that residents who want to participate should "fill up your gas tanks and get ready to rumble."
Democratic Gov. Janet Mills has issued a stay-at-home order for Maine. The governor has said repeatedly that maintaining social distancing is important to slow the spread of the virus, which has infected more than 800 people and killed 34 in the state.
Johansen has called on participants to maintain social distance and wear masks during the event.
Vermont
Lt. Gov. David Zuckerman was scheduled to address the state Sunday ahead of the proposed closing of state colleges. The Vermont State Colleges Board of Trustees is set to vote Monday on the issue. Three Vermont colleges might close due to financial problems that have been made worse by the coronavirus pandemic.
Senate President Tim Ashe and Speaker of the House Mitzi Johnson, who are both Democrats, issued a statement Sunday that the vote should be postponed.
"While we recognize that change must come, an abrupt vote to close three campuses, with three days notice, without a public plan for what comes next for the students, faculty and staff, and the host communities is not appropriate, especially in this era of unprecedented unknowns," they said.
Vermont has had more than 800 cases of the virus.
Connecticut
Connecticut is looking for residents to donate personal protective equipment if they are able. The state has set up a process for residents to donate items such as face masks and surgical gowns.
Connecticut has had more than 17,500 cases of the virus.
Rhode Island
Democratic Gov. Gina Raimondo raised the possibility of reopening the state in May. She said state officials were working on a path to reopen the state's economy in phases, she said.
The state has had more than 4,400 cases of the virus.
— Associated Press
Mass. reports 156 new COVID-19 deaths, bringing total to 1,560 (April 18)
The number of veteran residents who have died since the COVID-19 outbreak began at the Holyoke Soldiers' Home has risen to 56 as of Friday, rising by four from the previous day. All four of the residents who died tested positive for coronavirus.
Of the 56 deaths, 47 residents tested positive for the virus, 7 tested negative, and one remains unknown. One test is still pending.
As of Friday, 92 veterans and 81 employees at the state-run Holyoke facility have tested positive for the virus. Five residents have pending test results, and 73 veterans have tested negative. 
The Massachusetts National Guard remains on site and additional staff with nursing and facilities expertise are being brought into the home, where federal and independent investigations have been ordered to determine how the COVID-19 outbreak unfolded and whether it was mismanaged. 
Boston Mayor Marty Walsh announced the launch Saturday of a website, Good Neighbors, that will connect volunteers with older, at-risk city residents who need assistance amid the COVID-19 pandemic. 
"We are seeing the best of Boston with residents looking for ways to volunteer and support those in need," Walsh said in a statement. "This new volunteer platform will help organize and activate volunteers looking to help seniors who need things like groceries, medication, or just a good old fashioned phone call check-in."
The free platform is being run in partnership between the Department of Neighborhood Development, the Age Strong Commission, and Nesterly. Older residents, or an individual on their behalf, will be able to submit a request by phone, online, or email for a door-step delivery of groceries, prepared meal, a wellness check or call, or written correspondence, according to the city. 
"Anyone who is at risk and must maintain social distancing as a result of COVID-19 is eligible to receive deliveries and friendly check-ins," the city said in a statement. "After an individual submits a request, Good Neighbors will reach out to their volunteer community to locate a compatible volunteer. The volunteer will then contact the recipient directly via email or phone to facilitate the delivery or check-in."
Volunteers will go through a background check and be given guidance on safety protocols and use of personal protective equipment if completing deliveries, according to the city.
With 159 new COVID-19 deaths reported, Mass. toll surpasses 1,400 (April 17)
Since the start of the coronavirus outbreak, 52 veteran residents have died at the Holyoke Soldiers' Home, as of Thursday, rising by five from the day before. Four of the residents who died tested positive for the coronavirus, while one tested negative.
As of Thursday, 97 veteran residents and 81 employees at the Holyoke facility had tested positive for the virus. Two residents had tests pending, and 75 veterans had tested negative.
Expedited testing is continuing at the state-run veteran facility, where federal and independent investigations have been ordered to determine how the COVID-19 outbreak unfolded and whether it was mismanaged.
Connecticut
Rhode Island
New Hampshire
Maine
Vermont
Death toll from COVID-19 in Mass. rises 137 to 1,245 (April 16)
Just over 100,000 Massachusetts residents have filed unemployment claims within the last week, Gov. Charlie Baker said in his Thursday press conference. 
This brings the total number of unemployment claims in the state to 578,000 since March 15. 
"I think everybody knows that the number of claims here is eye-popping," Baker said. "Given that for months, we typically saw somewhere between seven and 10,000 new applications a week." 
He said many are working to address the new claims, and the Department of Unemployment Assistance is now paying unemployment compensation to over 315,000 residents. 
"This is about way more than numbers — we all get the fact that there are people behind those claims," Baker said. "There are families who suddenly face economic anxiety after losing a job through no fault of their own, and it's a situation we take extremely seriously."
Over the weekend, he said officials launched a new Spanish language online application form to increase accessibility. 
Baker also said the DUA's call center went from a 50-person staff to an 850-person remote team. As of Thursday, he said the center has made over 115,000 calls to connect with claimants. 
"We're committed to making sure that we help the many people who are having trouble getting through the system," he said. 
As another step to help people through the application process, Baker said officials have been holding 25 daily town hall conferences in English and Spanish. 
"The progress is not happening as quickly as any of us would like, but things are starting to move in the right direction," Baker said. "We're going to continue to work this issue hard, because we know that for many people, their economic livelihood depends on it."
Twenty seven residents of Belmont Manor Nursing Rehabilitation Center, a nursing home and rehabilitation facility, have died of COVID-19.
That's twice the number of deaths since this past weekend, The Boston Globe reports. Stewart Karger, the facility's manager, told the newspaper that 92 residents have tested positive for the virus. About half of the facility's employees that have been tested have tested positive – 34 of 65.
"Every member of the Belmont Manor team is heartbroken by the losses of beloved members of our community," Karger told the Globe via email. "From the beginning of this pandemic, we have taken every possible step to address this fast moving situation."
The facility has 135 beds, and is family owned and operated, according to its website.
As of Wednesday, Belmont had 116 cases of COVID-19, according to recently released data.
"Despite these multi-faceted efforts and our longstanding and recognized focus on quality care, the impacts of the coronavirus have been hard hitting," Karger said, according to the Globe. "Our staff continues to remain vigilant and focused on creating meaningful connections between our residents and their families in a time of physical-distancing."
The Holyoke Soldiers' Home reported that 47 veteran residents have died as of Wednesday.
Of those deaths, 38 tested positive for COVID-19, eight tested negative, and one cause of death is still unknown, according to the state's Executive Office of Health and Human Services.
Officials reported that 99 other veteran residents and 79 employees have also tested positive for the coronavirus. 
Three veteran residents are pending testing results, while 76 have tested negative. 
The living facility recently received 50,000 surgical masks and 1,000 gowns from the Department of Public Health, and the Massachusetts National Guard has continued to help care for veterans still living at the home. 
In efforts to mitigate the spread, the facility is offering families the option to move residents to alternative short-term care locations. 
While many reportedly declined the option, 44 transferred to the satellite unit at Holyoke Medical Center.
Of those who transferred, 15 had tested positive for the coronavirus, and three have died. 
The U.S. attorney's office recently announced a federal investigation into the deaths at the Soldiers' Home that have occurred during the coronavirus pandemic, one of several investigations into the facility.
Hoping to elevate frontline workers' stories and centralize resources for them, Attorney General Maura Healey launched a new website for healthcare professionals and first responders in Massachusetts. 
ANNOUNCEMENT: We are launching a new website to centralize resources for health care workers and first responders in MA, create a space to lift up their stories from the frontlines, and send thanks. @HubSpot and @ideo helped make this a reality.

Visit https://t.co/ABmp0VdB1q pic.twitter.com/xj347Loh6Q

— Maura Healey (@MassAGO) April 15, 2020
"The last few weeks have been hard for families all across Massachusetts, and they've been especially hard for healthcare providers, first responders, and others on the frontlines," Healey said in a video posted to Twitter. "They're working around the clock, risking their lives, and putting all of their hearts into it under the worst of circumstances."
The new site will offer easy access to information like where to find personal protective equipment, emergency child care, discounted meals and delivery, or a safe place to stay and self-isolate. 
She said it will also feature a "hero wall," where people can share their stories from the frontlines and read messages from others saying thank you. 
"This is just a start and we hope it helps," Healey said. "You're here for us and we're gonna be here for you." 
The Quality Inn in Revere will open its doors for the next 60 days to recovering COVID-19 patients who no longer need hospital care, but do need a safe place to quarantine, Revere and Chelsea city officials said.
Starting Thursday, the hotel will act as alternative housing for Chelsea and Revere residents who are living in overcrowded housing conditions or are at risk of spreading the virus, Revere Mayor Brian Arrigo and Chelsea City Manager Tom Ambrosino announced in a news release. 
"We know the best way to protect all our residents from this virus is to prevent exposure to it in the first place," Arrigo said. "Providing a safe place for quarantine to those who need it is a critical part of our strategy to slow community transmission in Revere."
The two cities have become COVID-19 hotspots — Revere reported 470 positive COVID-19 cases as of Wednesday, while Chelsea reported 712. 
Managed by Partners HealthCare, the hotel will also offer mental health support services from the North Suffolk Mental Health Association.
Revere and Chelsea public officials will consult with medical experts before confirming who is eligible to stay at the hotel, where most rooms will be used for individuals and some will be used by families. 
Officials said there will be no acceptance of "walk-in" patients.
"This partnership of two cities working in concert with state partners is critical if we hope to slow the pandemic in the hard-hit communities of Chelsea and Revere," Ambrosino said. "This temporary housing will ensure that the health of all of our residents, and most especially those in over-crowded units, is protected."
Coronavirus testing for tribal members has been expanded, with the opening of a drive-thru site at the Mashpee Wampanoag health center, the Cape Cod Times reports. The drive-thru service, which began offering testing on Wednesday, is free for all members of federally recognized tribes, and individuals can get tested regardless of whether they are experiencing symptoms. 
"We need to ensure that all tribal members have the opportunity to get tested for COVID-19 in an effort to keep the health and well-being of our tribal citizens as the number one priority," the Mashpee Wampanoag Tribe said in a statement obtained by the Times. 
The Massachusetts Institute of Technology has opened a health care facility named for fallen officer Sean Collier to care for coronavirus patients. Collier, an MIT Police officer, was killed in the line of duty on April 18, 2013, in the days after the Boston Marathon bombings. 
The university said the facility, located on campus, will provide care for members of the MIT community and from the broader Cambridge community. The center, funded by the college and staffed by MIT Medical, will focus on patients who need "eyes on" clinical care but who are at low risk for requiring intensive care or ventilators, the school said. Patients from Cambridge will be referred to the center by Mount Auburn Hospital or other local ambulatory care centers and organizations partnering with the college, according to MIT.
"We are proud to help our neighbors in Cambridge by creating the Sean Collier Care Center," MIT Medical Director Cecilia Stuopis said in a statement. "With this facility, we hope to do our part to ease some of the strain that our fellow health care facilities are feeling at this time."
In Connecticut where coronavirus cases total 13,989, Gov. Ned Lamont said it is time to be "really strict about the need to wear masks" in the state. 
Anyone in a public space should make sure that they're wearing a mask, not only for your own safety but also for those around you.

This is the way that we are going to get this virus behind us sooner and get everyone back to work as soon as we possibly can. pic.twitter.com/uvCeJBvNk5

— Governor Ned Lamont (@GovNedLamont) April 15, 2020
During this unprecedented emergency, Vermonters deserve access to the care they need to stay safe and healthy. As we work to expand testing to more Vermonters, it is critical that our efforts to help control the spread of the virus are not affected by insurance costs. 2/2

— Governor Phil Scott (@GovPhilScott) April 15, 2020
Mass. officials report 151 new COVID-19 deaths; now 1,108 total (April 15)
Attorney General Maura Healey issued a guidance Monday, making it clear to creditors that emergency funds issued to consumers through the government's Coronavirus Aid, Relief, and Economic Security Act are exempt from seizure or garnishment under Massachusetts law.
"These payments are supposed to help individuals and families put food on the table during this crisis, not enrich debt collectors," Healey said in a statement. "With this guidance and letter, my office is putting the debt collection industry on notice that these payments are off limits."
As residents across the state receive and deposit their one-time payment of $1,200 per person plus an additional $500 for dependents, Healey reminded them that any attempt or threat by a creditor or a debt collector to garnish or seize the funds would violate her debt collection regulations.
Dr. Lucas Marinacci was the first to receive a reprocessed N95 mask at Massachusetts General Hospital Tuesday, according to a tweet from the health center.
Congrats Dr. @lucas_marinacci (AKA "Luke Mastrucci") for receiving the FIRST @MGHMedicine reprocessed N-95!@MassGeneralNews is extending #PPE supply by decontaminating #N95 #respirators at @Battelle in @SomervilleCity using #hydrogenperoxide vapor, which inactivates #SARSCoV2. pic.twitter.com/YkoDsK23Nb

— MGH Hospital Medicine (@MGHHMU) April 15, 2020
The mask is the first of many to be distributed after being decontaminated at Battelle in Somerville in an effort to extend personal protective equipment supplies. 
MGH officials said the masks are sanitized with hydrogen peroxide vapor, which inactivates the virus. 
In his Wednesday briefing, Gov. Charlie Baker said Massachusetts hospitals have started seeing a rapid increase of COVID-19 patients.
"We said all along that we thought the surge would start somewhere between the 7th and 10th of April," Baker said. "And I would say at this point in time, based on the conversations we're having every day with our colleagues in the hospital community, that we are in the surge." 
To prepare, he said Mass. was one of the first states to cancel elective surgeries, freeing up gear, people, and space to manage COVID-19 patients, and one of the first to put out a series of orders making it possible to recruit more healthcare professionals. 
"We put $800 million into our provider community to deal with the fact that in a COVID-19 world, their revenue bottomed, their revenue just literally fell because a lot of people just weren't going anywhere near health-care organizations generally, and by cutting off elective surgeries we took away one of the most important revenue generators a lot of our providers have," he said. 
But with executive orders helping onboard more medical professionals, and four field hospitals stood up in Boston, Worcester, Cape Cod, and Lowell, Baker said the state is well prepared. 
"We are pretty well positioned to deal with this," he said. 
Meanwhile, for the first time Wednesday, Mass. will publicly release the number of coronavirus cases by cities and towns on the state's website. 
Secretary of Health and Human Services Marylou Sudders said these numbers will be updated every Wednesday by 5 p.m. 
"Having the ability to look at this virus through the lens of its impact on specific cities and towns will help us identify potential hotspots, inform the public health response, assist cities and towns working to slow the spread, and help the state appropriately deploy resources," Sudders said. 
As a caveat, she said due to privacy concerns, numbers will not be reported if a city or town with a population of 50,000 or less has under five positive cases. 
As the number of positive COVID-19 cases have remained low in Nantucket, hospital officials are asking seasonal residents and visitors to stay in their permanent off-island residences, ensuring the safety of those already living on the island. 
"This is America and we all depend on each other in so many positive ways. We will all be together soon, but the time is not now," Gary Shaw, President and CEO of Nantucket Cottage Hospital, said in a letter sent to the community Tuesday. "The islands are not a safe haven during a pandemic and now is not the time to potentially strain limited island resources by increasing the island's population."
The letter, sent in partnership with colleagues at Martha's Vineyard Hospital, reminds residents that the two facilities were not built to sustain a rapid increase of patients.
"The surge in Boston is expected to reach its peak over the next week," Shaw wrote. "Whether or not that has any impact on Nantucket remains to be seen."
As of Tuesday, the Nantucket hospital reported 10 positive COVID-19 cases while Martha's Vineyard reported 12. 
"While the relatively small number of cases on Nantucket may give us some sense of comfort, we are in the eye of the storm and we cannot let our guard down," Shaw said. "Even as we work together with the town to refine its plans to reopen the island and our local economy in a measured, responsible, and safe manner, now is the time to double-down on what we know has worked."
Connecticut-based @LEGO_Group is donating 1,600 educational games to first graders in #Bridgeport during this trying time.

Every day I'm inspired by stories like that, which demonstrate that people care about our communities and are sticking together. #InThisTogetherCT pic.twitter.com/5bUypHd8pt

— Governor Ned Lamont (@GovNedLamont) April 15, 2020



Mass. officials report 113 new COVID-19 deaths (April 14)
A 94-bed field hospital at Joint Base Cape Cod will start taking patients by Monday, Gov. Charlie Baker said during his Tuesday briefing. 
Baker said the Cape Cod hospital took six days to set up and looks similar to the two recently established at the Boston Convention and Exhibition Center, and the DCU Center in Worcester.
Partnered with Cape Cod Healthcare, the new Joint Base Cape Cod hospital will care for patients who no longer need acute care, but are still not well enough to go home. 
Baker said neighboring hospitals will send patients to the facility as necessary. 
Continuing to prepare for the surge, Baker said his administration is on track to open two more hospitals by the end of the week — one in the Merrimack Valley, and a 140-bed facility at the University of Massachusetts Dartmouth campus on the South Coast. 
He said a 95-bed medical center at the University of Massachusetts Lowell's recreation center, partnered with Lowell General Hospital, will also open its doors on Monday.  
"Our data is showing that we have some very difficult days and weeks ahead, and that's precisely why we're here today and planning for what we call the worst case scenario," Baker said. "We certainly hope we don't have to use these beds, or certainly not all of them, but we wanted to have a plan to make sure that we could if we needed to."
The Baker Administration has reversed direction on a previously announced plan to relocate older adults at nursing homes as the state works to boost bed capacity for recovering patients during the coronavirus pandemic.
On Monday, administration officials said they will add approximately 1,000 beds by reopening former nursing homes to COVID-19 patients in recovery instead, The Boston Globe reports.
The switch comes after an outcry over the prospect of moving older nursing home residents during the health crisis. The first three facilities that volunteered to host the recovery centers have also reported positive coronavirus cases among residents since Gov. Charlie Baker first detailed the plan in late March, according to the Globe.
"We needed to pivot and try to find some other strategies," state Secretary of Health and Human Services Marylou Sudders, told reporters.
Baker said the plan initially sought to avoid scenarios seen in other states where government mandates were needed to force nursing homes with no reported cases into admitting recovering patients, who could potentially infect healthy seniors.
Baker said the long-term care centers are "by far the most difficult kind of facility — because of the nature of the population, the nature of the work, and the nature of the way they're organized and the way they support and serve their residents — to manage against a contagion like COVID-19," the Globe reports.
Sites under the new plan have not officially been announced, but locations reportedly include one in Falmouth, one in East Longmeadow, and two in New Bedford, according to the newspaper.
As of Monday, 378 coronavirus-related deaths had been reported in long-term care facilities, while 3,446 people at 201 of those facilities have tested positive.
As of Tuesday afternoon, the below Massachusetts hospitals are self-reporting the following number of coronavirus cases among their staff:
Anna Jaques Hospital: 8

Beverly/Addison Gilbert Hospitals: 41

Beth Israel Deaconess Medical Center: 159

BID-Milton: 14

BID-Needham: 8

BID-Plymouth: 5

Lahey Hospital & Medical Center: 62

Mount Auburn Hospital: 37

New England Baptist Hospital: 18

Winchester Hospital: 30

BILH Behavioral Services: 3

BILH Continuing Care: 6

BILH Primary Care: 28

Tufts Medical Center: 111

Boston Medical Center: 159 

Brigham and Women's Hospital: 233

Mass. General Hospital: 291*
*The hospital says it believes "the vast majority" of the clinical and non-clinical staff diagnosed did not contract the virus at work.
The #StaySafeStayHome mantra failed in Hartford in 1918. We're not going to let history repeat itself. That's why I've got to urge you to maintain social distancing. That's how we'll be safe, and that's how we'll get this economy going again. pic.twitter.com/5LONMMzRLR

— Governor Ned Lamont (@GovNedLamont) April 14, 2020
I'm devastated to share that we've lost 10 more Rhode Islanders to Coronavirus. Our hearts our with their loved ones, and with all the communities that have been forever changed by this crisis.

— Gina Raimondo (@GovRaimondo) April 13, 2020

Many Americans before us, like those who served in World War II, sacrificed for future generations. Now, it's our turn to sacrifice for our fellow Vermonters and keep up our social distancing efforts – which are saving many lives. It's important we don't let off the gas just yet. pic.twitter.com/aGL0npvcU7

— Governor Phil Scott (@GovPhilScott) April 13, 2020




MBTA officials say 75 workers, including dozens of bus drivers, have now contracted COVID-19.
During a meeting Monday, the agency's general manager, Steve Poftak, reported that there were 70 active cases among employees as of Friday, including 41 bus operators, three subway operators, three trolley operators, six inspectors, two repairers, and two transit police officers.
According to Poftak, an additional five employees had recovered from the virus and one employee — identified last week as Andrew Wong, who worked as an inspector for 22 years — had died.
Poftak also reported staggering declines in ridership across the MBTA system due to the pandemic. Based on data from gated stations, subway ridership was down 92.7 percent between March 24, when Gov. Charlie Baker ordered nonessential workplaces to close, and this past Thursday. Ridership levels ranged from 3.8 percent of the usual level on the Silver Line to 10.9 percent on the Blue Line.
Ridership went down even further on the commuter rail. Purchases on the network's mTicket app, which the MBTA says is the most common method of buying single-use tickets, saw a 99 percent decline. And while the T says it doesn't have complete commuter rail data, Poftak estimated that its ridership was "a little bit less" than on the subway.
Bus ridership was more "durable," Poktak noted. Compared to normal levels, bus riders went down roughly 78 percent since Baker's order. Poftak said it illustrated the fact that there are still essential workers, including in the health care sector, that "need to use the T."
Still, MBTA officials said the dramatic decrease in ridership this spring was projected to result in a $231 million — or roughly 33 percent — shortfall in fare revenue, as well as an expected decrease in revenue from local sales taxes (which make up half the T's $2 billion budget). And while the T does plan to receive federal money from the recent coronavirus relief bill, Poftak said the agency will have to think "creatively" about the budgeting process for the upcoming fiscal year.
A Lawrence-based active wear company spent the last week reconfiguring its work space to safely produce one million level-one isolation gowns for the medical community, Gov. Charlie Baker said in his Monday briefing. 
The company, 99Degrees, runs under a 150-person team, CEO and founder Brenna Schneider said. 
It wasn't until mid-March, she said, that she understood the gravity of the virus and began making contingency plans. 
"I felt a responsibility to put our manufacturing model to work," Schneider said. "We began looking into how to make masks." 
Now, the factory is working to make FDA-approved personal protective equipment. 
Schneider said normally it would take about six to 18 months to develop a new product, but this time, they came up with the regulations for isolation gowns within three weeks.
"It goes without saying that I am most thankful to the medical professionals and first responders who are putting themselves and their families at risk for our communities," she said. "On behalf of Massachusetts manufacturers I assure you that we are doing everything within our power to keep you safe."
The partnership between 99Degrees and the state came about through Massachusetts' PPE Procurement and Donation Program, Baker said, which streamlines the process of adapting local businesses to produce PPE. 
Baker said after the program launched, they heard from about 400 manufacturers, 260 of which are based in Mass. 
To name a few, he said Formlabs in Somerville is 3D printing diagnostic swabs, while Merrow Manufacturing based in Fall River is making gowns, and New Balance, headquartered in Boston, is making shoe coverings, gowns, and masks. 
Even Lovepop in Boston, which normally produces greeting cards, is contributing face shields, gowns, coveralls, hoods, and shoe coverings.
The Baker administration also announced a new initiative Monday, the Manufacturing Emergency Response Team (MERT).
MERT will provide $10.6 million in funding to support manufacturers' efforts to pivot their production operations and produce personal protective equipment alongside other gear like ventilators, sanitizers, and thermometers, according to a press release.
Companies hoping to join the effort can apply for grants through an online form.
In addition to MERT's funding, MassTech and Advanced Functional Fabrics of America will offer $5.6 million in funds through the Massachusetts Manufacturing Innovation Institute program.
Another $4 million is available through the Massachusetts Life Sciences Center.
Baker said as the battle for more PPE continues, the state's command center will release a daily summary on PPE distribution.
As of Sunday, 26,650 N95 masks had been distributed to Mass. hospitals, according to the summary.
Health care workers at Brigham and Women's are making use of a new protective, reusable face shield developed at the institution to help ease the shortage of protective equipment in the fight against COVID-19, WBZ reports.
The hospital has tested the clear, plastic masks, made on a 3D printer, in its emergency department.
"They're lightweight, they're substantial and they're far more protective than the PPE that we were receiving," Ed Boyer, an emergency medicine toxicologist, told the station. "People are just more protected using this device than the others that have been available to us."
Cambridge officials announced Monday that testing for the novel coronavirus has been completed at the seven skilled nursing facilities and assisted living facilities in the city. A total of 203 people, both residents and facility staff, tested positive for COVID-19, according to the city's Public Health Department. Six of those individuals have died, the city said.
Officials are working to separate the patients who were diagnosed from those who are negative, the city said. 
The state has deployed mobile teams to assist nursing homes with on-site testing, in the hope of preventing devastating outbreaks among the population at high risk for severe complications from the virus. Cambridge officials said all residents and workers at the nursing facilities are being tested twice, spaced three days apart, to get a firm handle on where the virus is and mitigate its spread.
"The goal of rapid identification of positive cases is to break the chain of transmission in these facilities and ultimately reduce the number of people who become infected," said Claude A. Jacob, the city's Chief Public Health Officer and Director of the Cambridge Public Health Department.
Separate from the cases at the nursing and long-term care facilities, 256 Cambridge residents have tested positive for the coronavirus. One Cambridge resident's death has been attributed to COVID-19.
Over the weekend, other Massachusetts nursing and long-term care facilities announced new cases, and deaths, related to the coronavirus. 
JGS Lifecare said in a letter on its website that the outbreak has reached its Leavitt Family Jewish Home and the Sosin Center for Rehabilitation (JNH) in Longmeadow and claimed the lives of 21 residents. The first cases were diagnosed two weeks ago, the company's president Adam Berman and CEO Barry Berman wrote. 
"The number of residents and staff who have tested positive confirms that we are not immune to the same spread seen across all senior care communities in Massachusetts," the company leaders wrote. "Of the over 180 tests we have conducted, 93 residents in house at JNH have tested positive to date. We have also tested 84 staff members with 43 positive results. Please keep in mind that most of our residents are in stable condition, many are asymptomatic, and some are already showing signs of recovery. Out of caution, all residents at JNH are now quarantined in their rooms, regardless of test status. We have also implemented a universal mask and gown protocol for all staff in the building. On the other hand, there are zero confirmed or suspected cases at Ruth's House, our assisted living facility."
The first few cases of the coronavirus were detected at Chelsea Jewish Lifecare nursing homes last week, JGS Lifecare said Saturday. Eleven residents across the nursing facilities have passed away from COVID-19 and 117 have tested positive. Forty staff members have tested positive. 
"We created an isolation unit at the Jeffrey and Susan Brudnick Center for Living in Peabody, transferring all residents in our nursing homes who tested positive and assigning a separate and dedicated team to care for these residents," the company leaders said. "We increased our monitoring of residents and staff to several times a day for any signs or symptoms. Any staff members with symptoms were asked to remain at home and self-quarantine. We also implemented a universal mask protocol for all staff while in our buildings."
* This entry has been updated to reflect corrected numbers released by the City of Cambridge. 
Anyone exhibiting COVID-19 symptoms is eligible for testing at Massachusetts General Hospital's Chelsea Healthcare Center starting Monday, Chelsea officials said in a Facebook post. 
People experiencing symptoms including a new sore throat, a fever, a new cough, a new runny or nasal congestion, new muscle aches, new shortness of breath, or a new loss of smell are asked to call 617-724-7000 to schedule an appointment. 
Anyone within the Partners HealthCare system is asked to call their primary care physician's office to ask any questions or be scheduled for an evaluation and testing. 
While appointments are strongly encouraged, officials said walk-ins will not be turned away. 
Those who need testing do not need to be a MGH patient, do not need health insurance, and do not need to worry about their immigration status, Chelsea officials said in their post.
As of Saturday, the City of Chelsea reported 472 confirmed COVID-19 patients. While 56 of those who tested positive have now recovered, 14 have died. 
"The City is terribly saddened by the loss of life occurring as a result of the COVID-19 virus, here and among our neighbors," officials said on the city's website. "Unfortunately, we know the virus is widespread, and for at least the foreseeable future, these numbers will continue to grow daily."
A new bill backed by state Senate leaders would halve the number of signatures required for some — but not all — candidates to qualify for the ballot in Massachusetts during the coronavirus outbreak.
The Senate Rules Committee released the bill for a vote Monday, after a bipartisan group of candidates sued the state last week, arguing that the thresholds for signatures — typically gathered in person — were unconstitutionally burdensome, as officials urge residents to stay at home as much as possible. Even incumbent Sen. Ed Markey's reelection campaign has been scrambling to collect the needed signatures as The Boston Globe reported.
The new proposal cut the number of signatures that need to be filed by May 5 from 10,000 to 5,000 for U.S. Senate candidates and from 2,000 to 1,000 for House candidates. It would also cut the number of signatures required for candidates for Governor's Council and county offices — the latter of which are due April 28 — from 1,000 to 500.
However, the bill would not change the requirements for state representative and state senate candidates, who are required to file 150 and 300 signatures, respectively, by April 28. The bill also does not change filing deadlines, as officials note doing so would have knock-on effects on other election dates.
If passed by the Senate, the House would take up the bill this week. Gov. Charlie Baker's office has expressed support for reducing the thresholds, particularly for county and federal candidates.
Boston University announced a COVID-19 recovery plan Friday, recognizing that the school may need to delay reopening its campus to students until January 2021, officials said in a university news article.  
"We've made the big decisions relating to the spring and summer," President Robert Brown said. "We are now in a position to focus on the fall and the best and safest way in which to bring the residential teaching and research community back onto campus when time and public health considerations permit."
The recovery plan aims to answer the question of what a residential university will look like in a post-pandemic world — such as what classes may look like if gatherings are restricted to limited numbers of people, or how dining halls may operate differently to avoid spreading the virus. 
BU said the effort will be spearheaded by five working groups: one handling remote and online details, another focusing on graduate professional programs, one for undergraduate programs, another addressing research more broadly, and one looking into student residential life. 
"Our goal is for these working groups to work very quickly," Jean Morrison, BU's provost and chief academic officer, said. "We want to have a plan in place that will give everyone enough time to do a careful and well-thought-out implementation."
Due to COVID-19, Brown cancelled all in-person summer 2020 classes on the Charles River and Medical campuses. 
"Although this decision will be disappointing to many, we believe it is necessary to achieve our ultimate goal: to return our students, staff, and faculty in the fall to our residential campus community and resume the quality in-person programs that are our hallmark as a leading private research university," Brown said in a letter sent to the community on April 7. "By making these decisions now, we give our faculty time to optimize the remote delivery of our courses during the summer." 
He said all summer deposits for cancelled programs will be refunded as this move gives staff time to reopen campus in the fall under new protocols. 
"For reasons of public health, the economy, or any number of other factors, this is not going to be as simple as flipping a switch and getting back to business as usual," Brown said in the university's recovery plan statement. "This is going to take time, and it will take time to plan. Starting that planning now is the right thing to do, and it is a necessity."
🆕UPDATE: Connecticut has 525 new positive COVID-19 cases, bringing our total to 12,035.

1,654 patients have been hospitalized and there have been 554 fatalities.

More than 41,220 patients have been tested.

For more data sets, visit https://t.co/FpgO8W27I0 pic.twitter.com/Bh0P5Z8iQk

— Governor Ned Lamont (@GovNedLamont) April 12, 2020