Local News
Lottery sales are down 'across the board' in Massachusetts because of COVID-19
The coronavirus pandemic "has dramatically exposed the limitations and vulnerabilities of the lottery's all-cash, in-person business model," state Treasurer Deborah Goldberg said.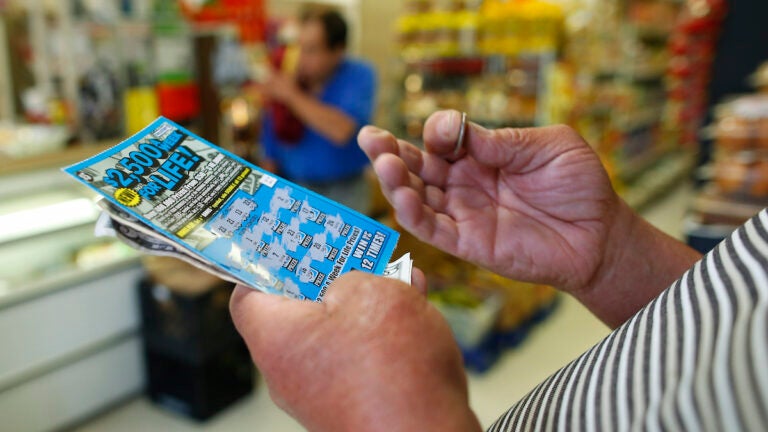 Massachusetts State Lottery sales have dropped sharply as the economic fallout from the COVID-19 pandemic continues on, with weekly instant ticket sales falling to a 15-year low, state Treasurer Deborah Goldberg told lawmakers Tuesday.
Total sales last week were 32.7 percent less than those recorded during the same period last year, and the state has seen a 53.4 percent year-over-year drop in Keno sales — historically one of the lottery's best-selling products — in April so far, Goldberg said during a roundtable meeting on the commonwealth's economic condition as it weathers the public health crisis.
"Sales of all lottery products are down significantly across the board," she said.
The state lottery, through February of the current fiscal year, had already seen a slight revenue dip mainly because of a $95.6 million total decrease in Mega Millions and Powerball sales over the previous eight months, according to Goldberg.
Instant ticket and Keno sales helped to prevent further losses, but the lottery has now seen a revenue outlook that has "changed significantly," Goldberg said.
Of the 7,500 lottery agents where players can purchase lottery products, 1,800 have closed, and, of those that have remained open, some have opted to either limit or eliminate sales because of staff shortages, she said.
"This pandemic has dramatically exposed the limitations and vulnerabilities of the lottery's all-cash, in-person business model," Goldberg said. "We have managed this crisis to the best of our abilities, within the limits of the lottery's statutory constraints."
Now, Goldberg is encouraging lawmakers to "modernize" the lottery so the system can better withstand future crises.
"The ability to process cashless payments and to sell our products online would have undoubtedly helped to mitigate our losses," she said. "We have seen first-time players, overall sales, and online revenue increases in states that offer online purchasing options."
Goldberg said she anticipates more states will begin to offer online sales if they do not already, and pointed to online expansion efforts already underway by governors in Vermont and Connecticut.
Revenue from the state lottery is doled out each year to the 351 towns and cities across the commonwealth to support public safety needs, schools, parks and recreation expenses, road improvements, snow removal, and senior citizen programs.
In fiscal year 2019, the lottery reported $1.1 billion in net profit that was poured into local aid, as revenues set an all-time high at $5.509 billion.
Lottery winners during the public health emergency are able to use a printable claim form on the lottery's website, and prize checks of up to $50,000 are being sent by mail, Goldberg said.