Local News
An emotional Charlie Baker says not to leave anything 'unsaid' with loved ones during pandemic
"I really hope that people have a chance to make sure that they don't leave anything off the table with respect to their loved ones."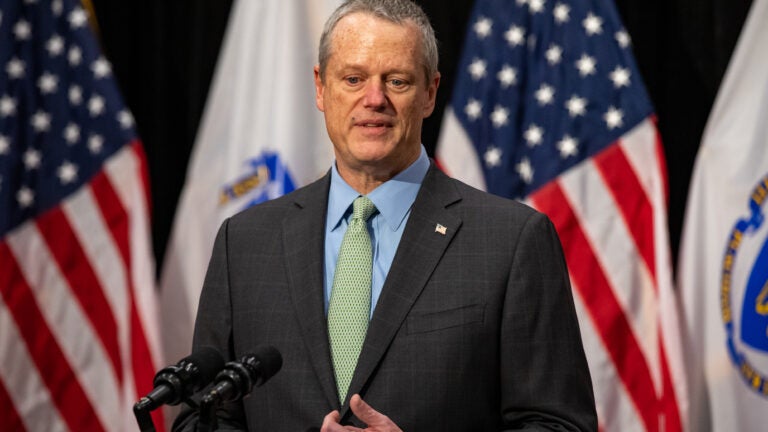 Gov. Charlie Baker got emotional Wednesday during a press conference as he remembered his best friend's mother who died from the coronavirus, saying no one should leave anything "unsaid" with loved ones during the COVID-19 pandemic.
The poignant moment came after a reporter asked for the governor's response to the mounting death toll in Massachusetts. Baker said that while he pays attention to the numbers, his thoughts are on the "the stories and the people" behind them. The governor went on to say the halting of funeral services and memorials, due to the limits on social gatherings to prevent the spread of the virus, has been one of the more "brutal" psychological consequences of the pandemic.
Baker had to pause in his remarks as he shared that the mother of his best friend had passed away from the virus.
"He and his mom had a great relationship, and because they had a great relationship, they never left anything unsaid," Baker said. "You just knew that about the two of them — that this wasn't going to be one of those situations where, 'Oh my gosh, I wish I'd had the chance to tell her' whatever or 'to tell my son' whatever. That never happened with them. But that didn't make the fact that it was an extraordinarily painful process for their family, to go through this loss of a critical ritual that people believe in and hold onto, that's this chance to say goodbye.
"And when you talk about where the numbers are going on this, what I'm really thinking about is all those people who aren't going to have a chance to say goodbye," he continued. "And I really hope that people have a chance to make sure that they don't leave anything off the table with respect to their loved ones."
Not leaving things unsaid is something Baker said he is struggling with in his own relationships with his loved ones, he shared.
"My wife gives me a hard time all the time about the fact that Baker men never really say what they think about anything to anybody, when it comes to personal things," he said. "And even on these goofy phone calls that I have with my dad I try to say more. Because you just don't know anymore what the future is going to hold."
The health care community is working hard to make sure the state gets through the surge and is doing "everything they possibly can to save as many people as we possibly can," Baker said.
"So that they don't have to deal with this situation and their families and friends don't have to deal with it," the governor said of the losses being experienced. "But those numbers to me are about lost opportunities and the significance and the importance of loved ones putting it all out there and making sure they don't leave anything unsaid."
Watch his remarks below: