Local
'Unprecedented' upheaval leaves hazy picture of state's post-coronavirus recovery, experts say
Economists met with officials this week to discuss the economic toll of COVID-19 on Massachusetts. Here are 4 takeaways from what they said.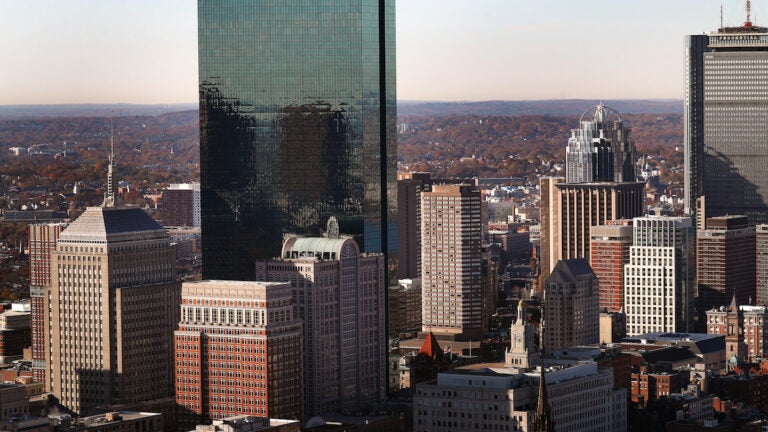 The economy is careening — and it's not easy to say where it will stop.
Top economists and financial experts spoke before Massachusetts state budget writers Tuesday to offer forecasts for the toll of the global COVID-19 pandemic.
The testimony offered by many included a key phrase: "unprecedented."
"We find ourselves in unchartered waters … In a matter of weeks we went from a revenue picture that was somewhat stable to one that is expected to see dramatic shortfalls in the coming months ahead," said state Rep. Aaron Michlewitz, chairman of the House Ways and Means Committee, who co-hosted the virtual roundtable meeting with Senate counterpart committee chairman Sen. Michael Rodrigues and state Administration and Finance Secretary Michael Heffernan.
The three-hour-plus video conference hearing was the first in what's anticipated to be a series of conversations on how legislators and public officials can address the expected economic ramifications of the health crisis through the revamped state budget process.
Springtime on Beacon Hill has always been the backdrop of the House's budget drafting process; however, as lawmakers work to determine how coronavirus impacts will shape fiscal year 2021, Michlewitz said the traditional timeline "is no longer feasible in the new reality we're dealing with today."
The new fiscal year begins in July, and experts say it will be steeped in high unemployment rates and a tanked economy. But of the agencies, organizations, and professionals that spoke Tuesday, many stressed how difficult it is at the moment to offer anything beyond uncertain predictions in the face of an ever-evolving crisis.
Full economic recovery hinges on many variables, including in the health care sector, such as the availability of a vaccine, they said. Even if the health care system is able to stem and overcome the tide of coronavirus by late spring, caveats such as a "second wave" or a seasonal return of the virus could mean additional economic turmoil.
A report published by the International Monetary Fund Tuesday offered that the financial hardship could eclipse the level of harm brought on by the 2008 recession, according to The State House News Service.
"It is very likely that this year the global economy will experience its worst recession since the Great Depression, surpassing that seen during the global financial crisis a decade ago. The Great Lockdown, as one might call it, is projected to shrink global growth dramatically," the IMF wrote. "A partial recovery is projected for 2021, with above trend growth rates, but the level of GDP will remain below the pre-virus trend, with considerable uncertainty about the strength of the rebound. Much worse growth outcomes are possible and maybe even likely."
The global economy could contract by -3 percent and by -5.9 percent in the United States during 2020, although the IMF also predicts economic growth in 2021 of 5.8 percent around the world, and by 4.7 percent in the U.S., should COVID-19 deescalate in the latter half of this year.
Here are some takeaways from Tuesday's State House hearing:
Unemployment could reach 14.7 percent in the Bay State this year, some experts say
While the numbers are still in flux, some economists say models show Massachusetts unemployment rates could hit 14.7 percent this year.
Experts at the Beacon Hill Institute told officials Tuesday that the approximately 469,000 unemployment claims filed in the commonwealth over the past three weeks represent more than 12 percent of the Massachusetts workforce, the News Service reports.
"At this point, we believe that the global and U.S. economy will face a deep recession," Director of Research William Burke said. "If the pandemic sustains for a deeper period of time, through the calendar year, there is a chance the global and U.S. economy could see depression-level job losses."
Meanwhile, the Massachusetts Taxpayers Foundation, or MTF, says the turmoil has pushed the unemployment rate up to 17.8 percent this quarter. The foundation projects 570,000 jobs will be lost in the three-month span, with 677,000 people left unemployed by quarter's end.
"The economic and fiscal fall-out from the pandemic puts an unprecedented strain on the state's budget and resources, surpassing previous fiscal crises because of its sudden and steep onslaught," foundation President Eileen McAnneny said. "Although alarming, MTF's projected shortfall does not represent a worst-case scenario. In fact, we project a recovery beginning in July. Should the size, scope, or duration of this public health crisis grow, the numbers would have to be revised to reflect the deteriorating economic outlook."
McAnneny said Massachusetts could regain 410,000 jobs during fiscal year 2021, lowering the unemployment rate to 7 percent by the end of the fourth quarter that year.
"But despite this recovery, it should be noted that total employment will not return to pre-crisis levels until 2022," she added.
Northeastern University associate professor of economics and public policy Alan Clayton-Matthews told officials that 20 percent of the state's labor force would not be working by mid-June because they are either unemployed, have left the work force, are on leave, or have been furloughed, according to Commonwealth Magazine.
State treasurer says pension board is 'well-positioned to navigate these volatile markets'
State Treasurer Deborah Goldberg said the state Pension Reserves Investment Management (PRIM) Board is prepared to steer the commonwealth's $70 billion-plus pension fund through the economic fallout of the pandemic.
"I recognize the concerns and hardships that public employees, retirees and their families are experiencing as a result of these events," Goldberg, the board chairwoman, said during Tuesday's hearing. "I want to assure stakeholders that PRIM is fully operational and well-positioned to navigate these volatile markets. I also want to make clear that the fund is not facing any liquidity stress as a result of the recent market volatility."
In fact, Goldberg said the PRIM Board is better prepared to handle the current crisis than it was during the 2008 recession.
"Over the last decade, during a soaring bull market, PRIM systematically de-risked the portfolio to better prepare for market environments like this one," Goldberg said. "Over the last five years, PRIM has gradually reduced its Global Equity allocation (from a midpoint of 50 percent to 39 percent) and implemented risk mitigating strategies like long-duration U.S. Treasuries, which returned 30 percent in the quarter ending March 31 alone."
The timing of a full economic recovery is hazy
According to McAnneny, of the MTF, the best case scenario is that an economic recovery begins in July, after the virus peaks either this month or in May and subsides in June, taking on a "V" shape bounce-back.
She expects that would mean a short, initial growth spurt spurred by pent-up consumers that could eventually fizzle, McAnneny said.
"But it is important to note that there can be no full economic recovery until consumers feel safe in crowded settings such as the T or Fenway Park," she said.
As such, economic recovery is dependent upon medical advancements such as antiviral drugs and the development and availability of a potential COVID-19 vaccine, she said. McAnneny also pointed to social distancing, expanded testing, and comprehensive contact tracing as key, short-term elements needed for recovery.
Clayton-Matthews said, however, under a V-shaped recovery, it could take until the end of the 2021 calendar year for the economy to fully bounce back, according to the News Service.
"This bounce back is not quite V-shaped but it's close to V-shaped in this assumption and it's a fairly optimistic assumption," he said.
Experts offered that recovery trajectories could also come in several other shapes, such as "U," "L," or "W."
A "U"-shaped recovery could come if "less optimistic" scenarios play out, such as if a peak in cases shifts the pandemic into the summer and fall, or if the virus re-emerges in other waves or seasons, according to McAnneny. Unemployment levels could take several years to drop to pre-crisis levels should either of those occur, she said.
But Dan White, director of government consulting and public sector research at Moody's Analytics, offered that the economic return could take more of a "W" form, the News Service reports.
"It's not like we ran out of gas, it's really like somebody unplugged the economy," he said. "When we re-plug the economy back in, things should come back quickly — but not everything is going to come back, and not everything is going to come back over a very long period."
The state's $3.48 billion 'rainy day' fund will come in handy, officials say
The state's stabilization or "rainy day" fund is at its highest balance since fiscal year 2008, coming in at $3.48 billion.
"Thank goodness, because certainly we are experiencing the kind of serious situation that rainy day funds are meant to address," Goldberg said.
According to Michlewitz, the fund has one of the highest balances in the country.
And Goldberg said that will serve Massachusetts well, especially when it comes to making its municipal bonds attractive to buyers.
"Our bonds will continue to be perceived as something solid because when push comes to shove, there won't be enough money to go around and certain states will suffer," Goldberg said.
The treasurer also pointed to pending legislation that, if passed, will allow the state to manage deferred revenue from this fiscal year that officials can then pay back in fiscal year 2021, she said.
Building up the rainy day fund means the state may not have to be overly reliant on the reserve cash during the crisis, allowing the account to become a resource for "when it's really necessary," Goldberg said.
A lot of other states are not in that position, she said.
"They don't have the resources that fortunately we've put away in the last couple of years, and all I can say is thank God we did," Goldberg said.