Local
A local judge upheld Charlie Baker's order shutting down recreational marijuana shops. But some see a silver lining.
While their lawsuit was dismissed, cannabis advocates were somewhat "pleased" with the ruling.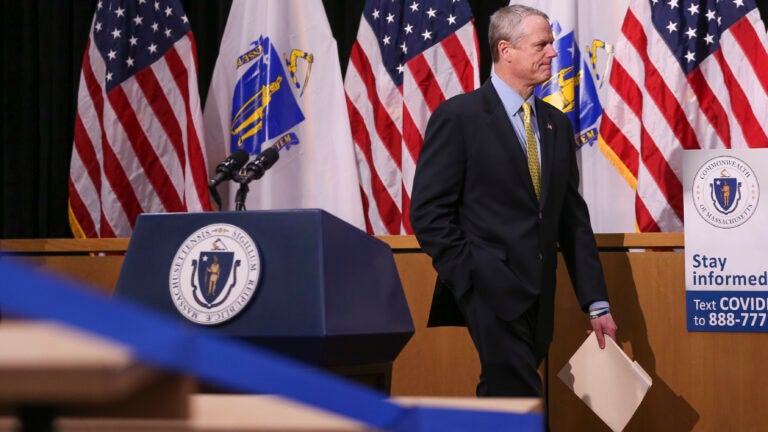 Gov. Charlie Baker's order forcing recreational marijuana dispensaries in Massachusetts to close during the coronavirus outbreak was upheld by a local judge Thursday.
However, some cannabis advocates say they're actually somewhat "pleased" with the decision.
Why? Let's start from the beginning.
Last month, Baker — like most other governors across the country — issued an emergency order forcing all nonessential businesses in Massachusetts to temporarily close their workplaces in response to the COVID-19 pandemic. The order treated medical marijuana dispensaries as health care facilities and allowed them to stay open as an "essential" business. However, it did not grant that designation to the state's 42 adult-use pot shops, forcing them to completely halt sales.
The decision also made Massachusetts the only state with recreational marijuana dispensaries that forced them to close during the pandemic; the other nine states have either allowed the shops to stay open or convert to delivery only to address social distancing concerns.
Baker's move drew immediate protests and, eventually, a lawsuit from cannabis advocates and dispensaries, which were suddenly staring down an existential crisis. Due to the federal prohibition of marijuana, dispensaries aren't eligible to receive the relief aid available to other small businesses through the recently passed CARES Act. As The Boston Globe reported last month, that put the fledgling industry's smaller, younger, and often "highly leveraged" businesses in a uniquely difficult situation.
However, Baker argued that there was also a unique rationale for shutting down recreational marijuana dispensaries during the crisis. Given the fact that Massachusetts is the only state on the East Coast with adult-use dispensaries, out-of-state customers are a regularity (even if it's technically illegal to bring purchases back across state lines).
During a press conference last month, Baker noted that having "a ton of traffic" from nearby states would undermine efforts to freeze unnecessary travel and encourage residents to stay at home to limit the spread of the coronavirus.
Now, fast forward to this week, the two sides took their arguments to court.
During a virtual court hearing Tuesday held through Zoom, lawyers for the dispensaries argued that Baker's order made an "irrational" distinction between recreational marijuana dispensaries and liquor stores, which were allowed to stay open, even though both play similar societal roles.
They also contended that there were less stringent ways of addressing Baker's concerns, such as restricting sales to Massachusetts residents (which wouldn't be logistically difficult; customers already have to show ID proving they're at least 21 to enter dispensaries). Before the order, many shops had already implement social distancing measures to address crowding concerns, such as moving to appointment-only ordering.
All that said, the critical issue before Suffolk Superior Court Judge Kenneth Salinger was whether Baker was within his legal means to close shops. Governors have broad "police powers" during times of emergency. And as Salinger noted, legal precedents have upheld such emergency orders as they have some "rational basis."
During the hearing, Assistant Attorney General Julie Green argued that there are "other policy choices that might have worked," but that Baker wasn't required to choose the least restrictive option.
"In the situation of an emergency where every moment counts, the governor isn't required to try out less restrictive means to figure out if they're going to work," she said.
And ultimately, Salinger agreed with the Baker administration's argument — at least on that point. In a ruling issued Thursday, the judge wrote that it was "reasonable for the Governor to be concerned that the relatively few adult-use marijuana establishments in Massachusetts are more likely than liquor stores or [medical dispensaries] to attract high volumes of customers, including people traveling from other States."
But on the merits of the policy, he sided with the dispensaries — writing that they "convincingly" argued that Baker's concern could be addressed "without compelling all adult-use marijuana establishments to remain closed."
Salinger suggested the administration could limit sales to scheduled pre-orders, curbside pickup, or even delivery of recreational marijuana. He even endorsed the idea of limiting sales to Massachusetts residents during the crisis.
"Plaintiffs make a convincing showing that there may be other ways to address these concerns that would allow adult-use marijuana establishments to restart their businesses without harming public health or safety," Salinger wrote.
But since Baker's order was constitutional, he added that it wasn't the court's place to "second-guess it."
While disappointed with the ultimate decision, cannabis advocates took solace in the potential silver lining Thursday.
"We're pleased that Judge Salinger included in his ruling the assumption that the governor can lawfully restrict adult-use cannabis sales to Massachusetts residents during the current crisis," Jim Borghesani, an industry consultant, said in a statement.
David Torrisi, the president of the Commonwealth Dispensary Association (which was not part of the lawsuit), similarly said they were "encouraged by the judge's acknowledgement that the cannabis industry has several tools at its disposal which would allow adult-use cannabis shops to reopen without harming public health or safety."
"The CDA maintains that our industry is well suited to operate in this environment due to the regulations we are held to and we should be allowed to resume," Torrisi said.
Adam Fine, who was one of the lawyers representing the five dispensaries that sued Baker, said the plaintiffs were reviewing their legal options, but expressed optimism that the administration might reconsider the order.
"We hope the governor will follow his legal option to re-open adult-use cannabis stores with a temporary ban on sales to non-residents," Fine said.
For his part, Baker has called reopening recreational marijuana shops a "non-starter," especially as state officials work to manage the ongoing surge in coronavirus cases.
"If we make recreational marijuana available as an essential business … we are going to have to deal with the fact that people are going to come here from all over the place, across the Northeast, and create issues for us with respect to the fundamental issue we are trying to solve for here, which is to stop the spread," Baker recently told reporters.
The governor also questioned the legality of restricting recreational marijuana sales to Massachusetts residents, though he did not elaborate on the basis for his concern.
Jordan Wellington, the vice president for policy at the cannabis law firm Vicente Sederberg, wrote in recent memo that the Supreme Court "has invalidated state laws that discriminate against non-residents" in other contexts.
However, when it comes to marijuana — especially in the midst of the pandemic — such a restriction might hold up. Wellington noted that a Colorado policy that initially limited the amount of marijuana out-of-state residents could purchase was never challenged. He also said it was "unlikely" that a federal court would grant standing to an out-of-state resident claiming that they had a constitutional right to purchase a federally illegal substance in another state.
Another potential legal barrier is the Commerce Clause, which generally prohibits states from engaging in "economic protectionism" that affects out-of-state competitors or cross-border commerce.
However, Salinger noted in his ruling Thursday the clause has allowed states to impose laws that discriminate against out-of-state interests if they are proportional to a legitimate local concern. The judge cited how some states have been allowed to order out-of-state visitors to quarantine for 14 days in response to the coronavirus; he even cited a Maine law banning imports of live baitfish to protect its local fishers that was upheld in the 1980s.
"If States may exclude people and baitfish to protect the health of local residents and native fish species, it seems likely that the Commonwealth could temporarily restrict adult-use marijuana sales to Massachusetts residents to help stem a public health emergency without violating the Commerce Clause," Salinger wrote.