Local News
Bruce Springsteen will address Boston College's incoming freshmen in September
"Each BC student brings a unique set of talents, and reading Bruce's story will give them an invaluable perspective as they begin their formation at Boston College."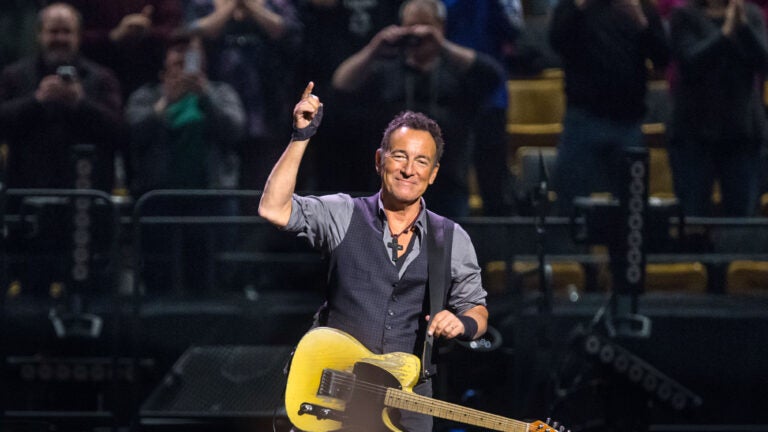 Over 35 years ago, Bruce Springsteen first sang about how he "busted out of class," having learned more from a three-minute record "than (he) ever learned in school."
But here in 2020, now a Rock & Roll Hall of Fame legend, 20-time Grammy winner, and a Presidential Medal of Freedom honoree with his 2016 best-selling memoir Born To Run under his belt, The Boss may be better suited to offer up some wisdom of his own.
And so, on Sept. 10, the New Jersey native is slated to address Boston College's Class of 2024 during the institution's annual "First Year Academic Convocation" in Conte Forum, the school announced Thursday.
"Through his songs, Bruce Springsteen has long been such a conversation partner to his audience, masterfully portraying the American experience through lyrics that inspire reflection about our world, our families, our jobs, our struggles, and our relationships," Executive Director of Student Formation Michael Sacco said in a statement. "But in his memoir, Bruce reveals the conversation he had with himself as he approached many of his life's crossroads.
"In doing so, Bruce shares how attentiveness, contemplation, and authenticity played a key role in his personal growth and honing his immense talents," Sacco wrote. "Each BC student brings a unique set of talents, and reading Bruce's story will give them an invaluable perspective as they begin their formation at Boston College."
The event has been a formative experience for students at the college since its inception in 2004, giving an opportunity for freshmen to hear from award-winning authors as they begin their undergraduate years. Past speakers have ranged from former President Barack Obama and late U.S. Sen. John McCain to Ann Patchett (Run) and Colum McCann (Let the Great World Spin).
"At Boston College, we have long understood from the Jesuits about the importance of engaging students in a conversation that encourages their growth intellectually, socially, and spiritually,"  Sacco said. "The format of the conversation can vary, but the aim remains to encourage students to be attentive to their experiences and reflective of their meaning, with the hope that this will help them discern their role in the world."
First-year students will receive an e-copy of Springsteen's memoir this summer and "a reflection guide that will help them to examine the themes raised in Born to Run — family dynamics, personal relationships, addressing adversity, and setting and fulfilling aspirations – and how they might intersect with their own lives," college officials said.
"For the Class of 2024, Born to Run is a wonderful introduction to the lifelong process of discernment that is so central to the philosophy of student formation at Boston College," First Year Experience Director Ali Bane said in a statement. "Springsteen's memoir includes countless examples of him paying close attention to his life experiences, reflecting upon their meaning, and living in a way that translates this meaning into action to create a better world.
"Inspired by his own working-class upbringing, many of Springsteen's songs empathize with those who have been marginalized or oppressed," Bane added. "First-year students will benefit greatly from reading this honest, reflective, and authentic narrative of someone who has so significantly shaped the cultural milieu of our country throughout his decades of music making."
Though the convocation marks Springsteen's first and only official visit to the school, he is no stranger to the college.
Evan Springsteen, his son with wife Patti Scialfa, is a 2012 Boston College graduate, and the couple has been active in helping the school provide undergraduate scholarships in past years. Most recently, in November, the music icon played a set in Asbury Park, New Jersey to benefit financial aid services at the esteemed institution.