Local
Marijuana delivery moves closer toward reality in Massachusetts
Applications will be available later this month.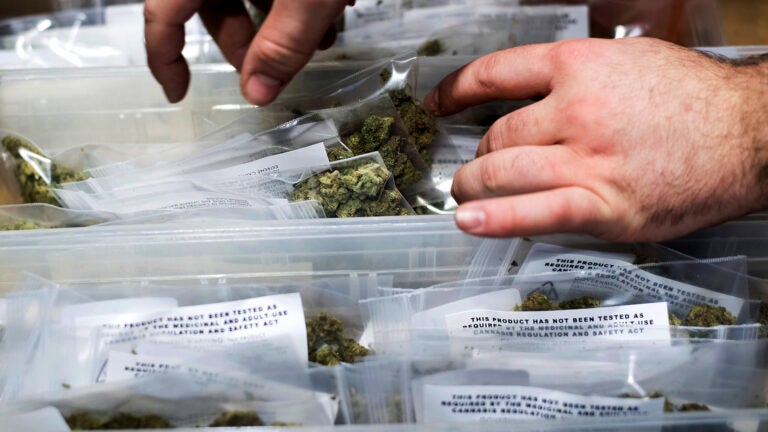 Recreational marijuana sales in Massachusetts remain on pause in the midst of the coronavirus outbreak, but state officials are moving toward making delivery an option for when they do resume.
The Cannabis Control Commission announced last Thursday that it will make license applications available on May 28 for third-party companies hoping to deliver purchases from dispensaries to local residents' doorsteps. Applications will also be available to marijuana "microbusinesses" hoping to deliver their own product. For the first two years, only participants in the CCC's two equity programs will be able to apply.
While medical marijuana dispensaries in Massachusetts have been allowed to offer home delivery (and 18 do), most adults have had to visit one of the state's often-bustling 42 recreational pot shops in person to make a purchase. Officials say that puts the legal industry at a competitive disadvantage with illicit drug dealers, who have offered home delivery for years.
The applications will be available through the CCC's online portal.
However, delivery applicants will also have to first provide some basic information to the CCC about their business, plans, and procedures in order to receive "pre-certification," which the agency hopes will speed up the overall process and shield small businesses from incurring too much financial risk.
"They don't have to put up a lot of money before they get some indication that they're going to get a host community agreement from the town," CCC Chairman Steve Hoffman said during a meeting last Thursday, as the Boston Business Journal reported.
The CCC finalized rules for home delivery last fall, restricting such orders to primary residences of customers who are at least 21 years old. Deliveries to college dorms, hotels, federally subsidized housing, shelters, and other people's houses — as well as in communities that have banned marijuana dispensaries — will be prohibited.
Like in-person sales, orders will be limited to up to 1 ounce of marijuana flower or its equivalent in edibles and concentrates. They will also be limited to between 8 a.m. and 9 p.m., and customers won't be allowed to make more than one delivery order a day.
Delivery employees will also be required to wear body cameras for safety purposes.
CCC officials have hoped that the new licenses will help further the state's goal of promoting small and minority-owned companies, given the fact that delivery companies generally require less start-up costs than a brick-and-mortar dispensary or growing operation. Through the first 18 months of recreational marijuana sales in Massachusetts, small business owners have complained about the difficulties of breaking into the increasingly corporate industry.
In the midst of the pandemic, delivery may also be a relatively safer option — particularly for high-risk individuals — than visiting dispensaries when adult-use sales are allowed to resume. Over the weekend, cannabis industry representatives met with Gov. Charlie Baker's advisory board on reopening businesses that were ordered to close due to the coronavirus.
Besides Massachusetts, every state that has licensed recreational marijuana sales has allowed dispensaries to stay open during the outbreak, though some have ordered shops to only offer delivery or curbside pickup.