Local
Could the commuter rail help ease crowding on the MBTA? Officials are giving it a try.
"I just want us to be exploring every possible way that we could add additional capacity."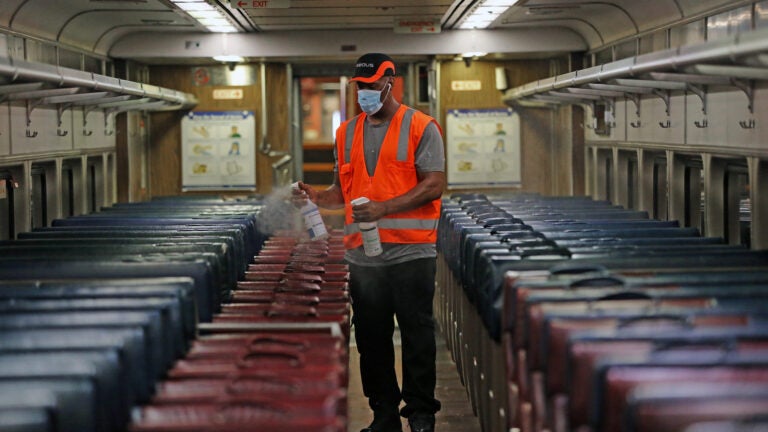 For a limited time beginning Friday, a CharlieCard or CharlieTicket will be as good as a commuter rail pass for passengers between Lynn and Boston.
The MBTA announced Thursday that Zone 1A fares will be accepted at the Lynn Commuter Rail Station from Friday through May 31, as crews finish work that has shut down a portion of the Blue Line. That means that riders can travel between Lynn and North Station for the "same affordable price as a subway fare" during the 10-day period, according to MBTA general manager Steve Poftak.
The brief pilot program also comes amid concerns of crowding during the coronavirus outbreak. Though ridership is down significantly across the MBTA system, the Blue Line hasn't seen ridership drop as much as other subway lines. And the MBTA isn't planning to ramp up subway service until the second phase of Gov. Charlier Baker's reopening plan.
Poftak hopes that new commuter rail option will give some additional space to Blue Line riders, who have been forced to climb aboard shuttle buses to complete downtown trips from Airport Station for the first four days of the two-week service disruption.
"We're offering this temporary zone change with the goal of reducing crowding and promoting social distance on buses and the Blue Line during the current service diversion, and we encourage our North Shore riders to consider the Commuter Rail to and from Lynn as a travel option instead," Poftak said.
However, during a virtual meeting of the MBTA's Fiscal and Management Control Board on Thursday, officials suggested that opening up the commuter rail to other transit riders could be more than just a narrow pilot program.
Ridership on the MBTA subway system remains 90 percent lower than usual, though Poftak said Thursday that it has slowly begun to rebound. And as the MBTA continues reduced, weekend-level service during Phase 1, officials are trying to ensure that there is sufficient space on trains and buses for essential workers who rely on the system to safely get to work. Bus ridership has also continued to run much higher than subway lines during the crisis.
"Crowding is going to continue to be an issue, and I just want us to be exploring every possible way that we could add additional capacity," said Monica Tibbits-Nutt, the FMCB's vice chair.
That's where the commuter rail system could come in.
The network has seen ridership drop even more than the MBTA's subway system in the wake of the pandemic. Transportation Secretary Stephanie Pollack said Thursday that it appears traditional commuter rail riders are "fairly capable" of working from home and thus likely to come back more slowly.
Pollack said she sees "an immense amount of promise" in the concept of utilizing that additional capacity to take the pressure off other modes.
She noted that the MBTA is already planning a pilot program this spring to increase service and allow CharlieCards on the Fairmount Line (they have similarly been planning to ramp up service on the Boston-to-Lynn stretch of the Newburyport/Rockport line as part of the T's long-term commuter rail plan). The board also approved a move Thursday to allow free transfers from Zone 1A Fairmount Line stations to buses and trains at South Station.
Pollack also pointed out Thursday that the Brockton Area Transit Authority runs a popular bus service connecting residents to the Red Line at Ashmont Station, but there are also three commuter rail stations in the city, which is is one of the Massachusetts communities hardest hit by the pandemic.
Pollack said Brockton officials were concerned about crowding on those buses, as well as the Red Line, as the state reopens. The state had formed a working group with regional transit authorities "that touch the MBTA commuter rail system to coordinate this capacity issue," she said.
At the same time, Pollack said it made sense to start with the Lynn station; a zip code survey of people parking at Wonderland Station, the Blue Line's northern terminus, found that somewhere between one of four and one of five riders were from Lynn.
"We know that Lynn commuters are using the Blue Line regularly, so this idea of taking on capacity on the commuter rail to take people off more crowded lines … this is the right place to test that idea," Pollack said.
FMCB Chair Joseph Aiello even expressed concern that the Lynn pilot was too limited and wouldn't produce a representative sample of its potential. Aiello suggested making it a two or three week experiment.
"I think having a longer experimental period may give us a better set of data," he said, adding that it "could be a permanent tactic" to address crowding concerns.
"There's a lot of promise," Pollack said. "I think the Lynn experiment is great."