Local News
'Not with a peaceful intent': Boston police commissioner says some were 'hellbent' on destruction after protests
"It was rough for a while out there last night."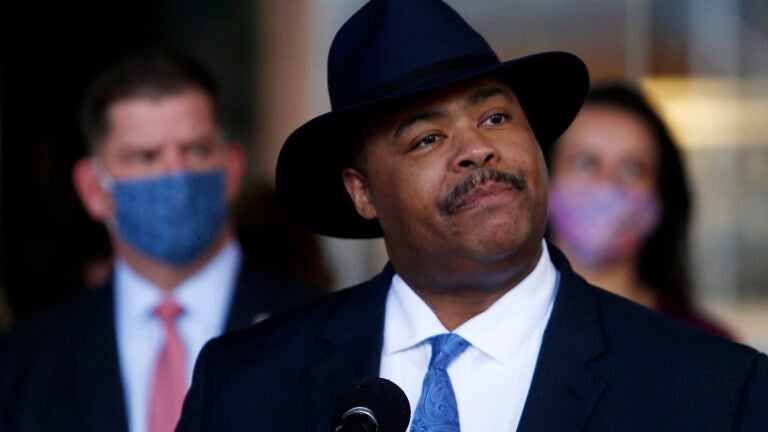 Boston Police Commissioner William Gross praised the thousands of people who peacefully protested the death of George Floyd in demonstrations in the city on Sunday, but strongly condemned the violence that followed.
"It was rough for a while out there last night," he said. 
Officials say 53 people were arrested, with nine police officers transported for treatment of injuries that weren't life-threatening and 18 bystanders hospitalized in the chaos that followed hours of peaceful protests. The unrest began around 9 p.m. and continued through the overnight hours with looting and vandalism downtown. 
"We had people from everywhere, from inside of Boston to Greater Boston — from all over our commonwealth to come in and peacefully protest in homage of Mr. George Floyd," Gross said of the earlier demonstrations. "I can tell you right now, I'm very proud of that."
In his remarks during a Monday press conference with Boston Mayor Marty Walsh, the police commissioner called out the "decades and decades of people dying at the hands of the executive branch of the United States." 
 "Voices have to be heard and black lives do matter," Gross said. "Those voices, speaking out against murderous acts that were committed in Minneapolis, have to be heard and move us along to where we can better serve the community together."
Gross emphasized that the majority of the day was peaceful and said those who acted otherwise were undermining the message of protesters.
"Unfortunately, individuals showed up not with a peaceful intent on mind, but with being disruptive," he said. "That's not paying homage. The Boston Police Department, we pride ourselves with working with the community. We learned the lessons from the past and we learned lessons from tragedies that are going on today. And again, we applaud everyone who protested peacefully. But unfortunately others came hellbent on destroying our city, our great city, our destination city."
Gross commended his officers, the National Guard, and other individuals who opposed the violence that occurred and who "said, 'no one is going to take over our city and burn it to the ground.'"
The police commissioner said he wanted to break the "negative stereotypical view" that everyone causing destruction was from Boston. Of the 53 arrested, 27 were from the city, 24 from outside Boston, and two arrests and a summons were issued for individuals from out of state.
"The negative actions will not deter us from remaining together as a community," Gross said. "I say from this day going forward, this should strengthen our resolve to work together. No matter what."
The mayor told reporters that Boston police are "working" on a way to address any "outside agitators" coming into the city, seeking to cause disruptions related to ongoing protests. 
"This is not just unique to Boston," Walsh said. "This has been a constant theme across the country. I've been in constant contact with mayors from around the country …  and we're all dealing with the same issues. So we're trying to figure out as we move forward, how do we deal with that?"
Gross concluded his remarks by saying work remains to be done, and called for Bostonians to set an example in addressing racial inequities and civil rights.
"Let's remember this, the whole nation began here," Gross said. "We will set the example and show that we can work together in making sure that this destination city, the start of our nation, is a shining example for all when it comes to our human and civil rights and our ability to express them."