Local
Flavored tobacco sales are now limited to smoking bars in Massachusetts. Here's what to know.
You have to go to a smoking bar to find these products under the new law.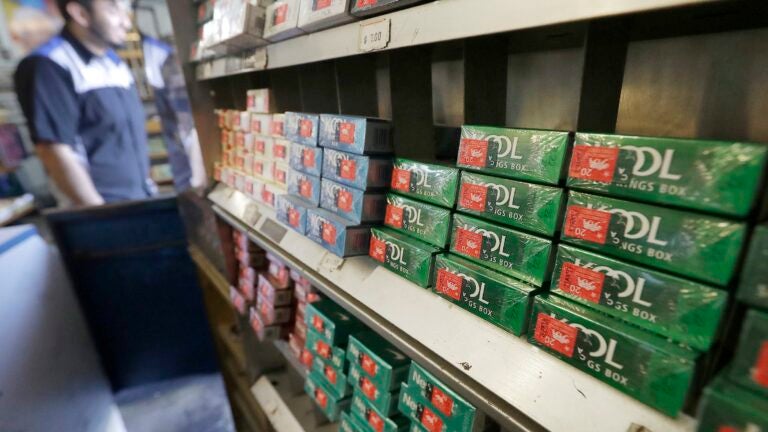 Smokers looking to pick up a pack of their go-to menthol cigarettes at their local corner store will find themselves out of luck Monday.
Under a new, first-in-the-nation state law that takes hold June 1, flavored tobacco sales are prohibited at retailers such as convenience stores and gas stations in the commonwealth.
The regulations were championed by youth anti-tobacco advocates alongside similar restrictions on e-cigarette nicotine products that have already taken effect in Massachusetts.
Supporters say the new law targets products used by tobacco corporations to entice children and teens into picking up the habit.
"I've been fighting big tobacco my whole life," state Rep. Danielle Gregoire, a co-lead sponsor of the legislation, said when the law was passed in November. "Big tobacco steals things. Big tobacco steals money, it steals health, it steals lives — and today, we say Massachusetts shows the door to big tobacco. We're putting a nail in their coffin.
"This is going to make a difference in people's lives, starting immediately," she added.
Here's what to know:
What products are impacted by the law
"An Act Modernizing Tobacco Control" limits where flavored tobacco products, including menthol, mint, and wintergreen flavors, are sold.
The flavored products impacted by the law include:
Cigarettes
Cigars
Chewing tobacco
Pipe tobacco
Snuff
Starting Monday, those products can only be purchased for on-site consumption at licensed smoking bars, where customers must be at least 21 years old. However, non-flavored products will still be available at traditional retail outlets.
Other parts of the law already in effect for flavored nicotine vaping products limits sales to smoking bars for on-site consumption. The bars and adult-only tobacco stores are also the only retailers in the state allowed to sell vape products with a nicotine content of over 35 milligrams per milliliter.
Non-flavored vaping products with smaller quantities of nicotine can be sold elsewhere.
The law also ushers in Monday an additional 75 percent excise tax on the wholesale price of nicotine vaping products on top of the 6.25 percent state sales tax.
Store owners asked — unsuccessfully — to delay the law amid COVID-19
The New England Convenience Store & Energy Marketers Association, the industry group representing 3,300 retailers across Massachusetts, wrote to Gov. Charlie Baker twice last month asking him to consider holding off on enacting the law during the coronavirus pandemic.
NECSEMA Executive Director Jonathan Shaer wrote that menthol tobacco transactions make up about 20 percent of revenue for store owners, and estimates project that with the new law in effect, 800 stores could go under within a month or two.
"I am gravely concerned about the large number of convenience store causalities the impending law, coupled with the COVID-19 related financial fallout, will have on our industry and the communities they serve," wrote Shaer, who said would-be customers will look to out-of-state stores for products during a time when officials are discouraging travel.
Instead, NECSEMA requested the state postpone the enactment of the law for one year.
But supporters of the ban offered that it is needed now more than ever.
"The middle of a lung disease pandemic is absolutely the worst time to delay necessary action to protect our kids from addictive tobacco products that harm the lungs," Matthew Myers, president of the Campaign for Tobacco-Free Kids, said in a statement last month.
Baker weighed in last week, saying he didn't see a reason for why the crisis should delay the changes.
"I think it should go into effect," the governor said, in response to a question asking if the law should be put off. "It was a public health issue at the time and it was particularly important to a number of folks in the public health community and to the Black and Latino Legislative Caucus and the leadership, and we supported it and we signed it and we want to see it go into effect."