Local News
Mayor Walsh says Sunday's violence 'hurt a community that is already hurting'
"This was the very last thing" that Boston needed, said the mayor.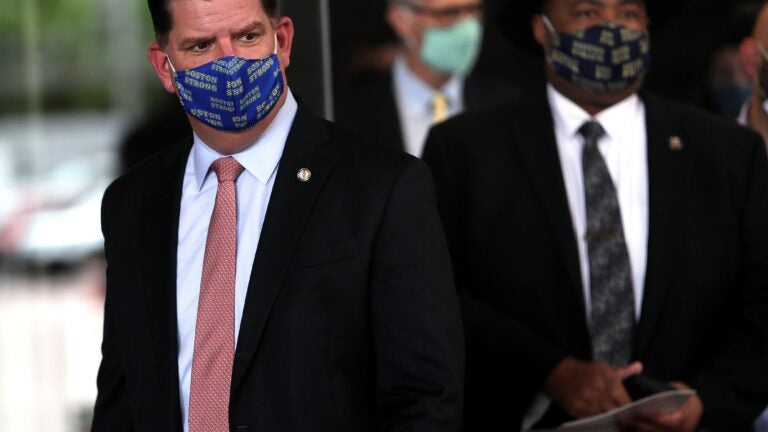 Mayor Marty Walsh held a press conference Monday afternoon to discuss the violence that erupted in downtown Boston after protestors led a largely peaceful demonstration calling for justice in the death of George Floyd, the Black man who died while in police custody in Minneapolis last week. 
Walsh recognized that a vast majority of those who came out to the city were passionate and peaceful, adding that he doesn't want anything to take away from the impact they had.
"I want to say to all of those peaceful demonstrators: your words, your testimony, your call to action, moved me. And you are moving our society forward," he said. "We will continue that conversation and lead that progress because that's who we are in Boston. But what happened in downtown after the protest ended was an attack on those values and it was an attack on our city and its people."
Aside from damage done to businesses in the Back Bay and the seven police officers who were reportedly injured, Walsh said EMS also transported 18 bystanders to the hospital.
"Police officers were hit with sticks and bottles and fireworks. Cruisers were torn apart and set on fire," he said. "Stores were smashed up and robbed."
The unrest, Walsh added, also left many city monuments — including some dedicated to civil war veterans and abolitionists, along with the back of the Robert Gould Shaw and the 54th Regiment Memorial — defaced.
"That memorial is sacred to Black Boston and to our country," he said. "This was the very last thing that our city quite honestly needed."
Walsh offered his sympathy and support to everyone hurt by last night's events.
"We have to understand that the Black community is in real pain, struggling with lifetimes of unequal treatment, and putting themselves out there to try and make a change," he said. "We will continue to stand with them, and we will continue to push for that change. And I want to be clear: We are going to keep Boston safe so that Boston continues to be a place where you can make your voices heard. We want to protect that right."
The protests grew larger than anyone thought they would, Walsh said, adding that in his experience as mayor, it's normal to have a handful of "agitators." But Sunday night, he said, there were more than just a handful.
"To the people of Boston: this is your city, this is our city. This is a city where we respect all of our neighbors," Walsh said during the press conference. "To all the folks that came in from the outside: don't lose sight of George Floyd's murder, and what demonstrators are trying to do. People are tired, people are fed up. The actions of some last night hurt that cause and hurt a community that is already hurting more than anyone should ever have to bear."
Going forward, Walsh said he would do everything possible to keep Boston safe.
"But I also am not going to let that distract us from what George Floyd's memory means, what Ahmoud Arbery's memory means, or Breonna Taylor's memory means, or Tamir Rice's memory means, Trayvon Martin's memory means," Walsh added. "This has been a difficult time and it remains a very difficult time. We can't allow violence to take away our focus."
The mayor thanked Boston police, firefighters, and EMTs for their "courageous and compassionate service last night, and every night."
He added that Boston will stand united and will heal from the aftermath of the violence.
"We will stand with the injured officers and their families, we will be there for the damaged stores just as we have been there for small businesses throughout this entire crisis," Walsh said. "And we will stand with our Black community as a city where Black lives are valued and where positive change is always our goal and our guiding light."