Local
Rachael Rollins: 'People are disgusted and outraged, and they should be'
"To the white community that is now waking up to see this rage: We have been telling you this forever."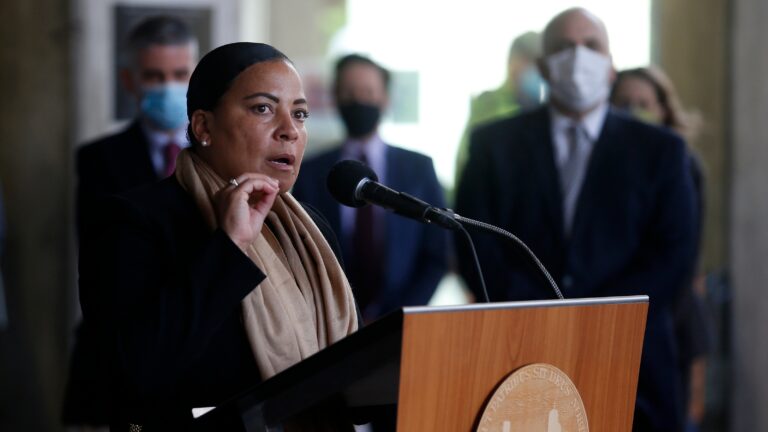 Suffolk County District Attorney Rachael Rollins said Monday she shares the outrage that drew thousands of protesters to Boston's streets Sunday in the wake of George Floyd's death in Minneapolis police custody last week.
"I am exhausted," she said. "As your elected district attorney, we have looked around this country and seen police officers — people that Black lives pay taxes to fund these positions — shoot us in the street as if we were animals."
Rollins was among several officials who spoke at City Hall Monday, emphasizing and praising how protesters handled themselves peacefully while speaking out against police brutality in the hours before demonstrators and officers clashed later in the night.
Officials said 18 civilians and nine officers were hospitalized with injuries, while authorities arrested 53 individuals and issued one court summons. Twenty-seven people arrested were city residents, while 24 individuals were from elsewhere in Massachusetts and others were from out of state, according to Boston Police Commissioner William Gross.
Rollins said her team was actively prosecuting those who "disgraced" Floyd's memory by looting stores, throwing objects, and burning a police cruiser. She was told that some officers were shot at "in a drive-by situation," she added.
"That is unacceptable," Rollins said.
But the Democratic prosecutor acknowledged the frustrations of the scores of people who turned out Sunday as well.
"This burning rage that you are seeing when you turn your TV on or hear in my voice is real. People are fed up," she said. "And to the white community that is now waking up to see this rage: We have been telling you this forever. We have been saying this since Colin Kaepernick took a knee. We have been saying this for decades, and you didn't listen to us. You didn't care until you saw a video."
Rollins also highlighted the irony in the calls for peace and order issued by public officials and leaders for demonstrators when they're trying to speak out against brutality by the hands of law enforcement.
"People are disgusted and outraged, and they should be," she said. "And it is completely ironic to have to say to you, 'Please don't be violent. Please keep your voice down. Please be silent and comply with all of the police's requirements,' when in fact it's those very people that murder us with impunity. But that's where we are right now."
According to Rollins, individuals arrested Sunday were being arraigned during three sessions in Boston Municipal Court Monday. She vowed those charged would be prosecuted and held accountable.
"But I will also say that buildings can be fixed, and I am happy that those officers, I hope, will make it out of it as will the civilians (who were injured)," she added. "There are lives that were stolen, and people who were lynched and murdered, and they're never coming back. I hope you take a moment to reflect what a terrible, terrible situation we are experiencing right now."