Local
'Racism is a public health crisis': Harvard public health dean releases statement on death of George Floyd
"It is a gut-wrenching consequence of what we in the public health community know all too well."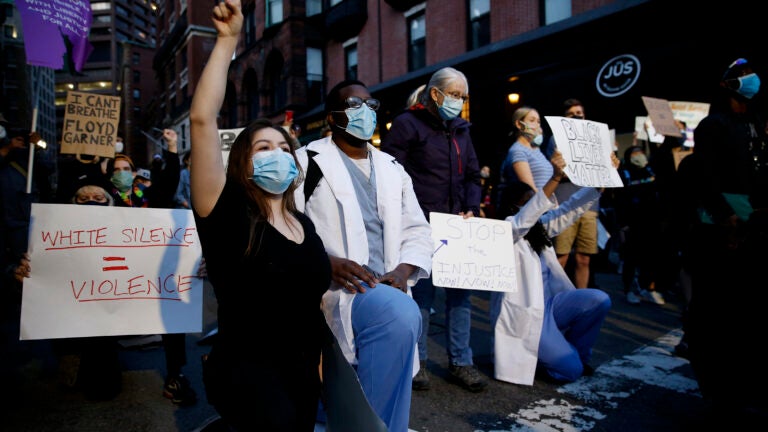 The dean of Harvard's school of public health issued a statement on the death of George Floyd on Monday, saying it is "more than a grave injustice that must be condemned."
"It is a gut-wrenching consequence of what we in the public health community know all too well — and a reality that people of color are confronted with every day: Racism is a public health crisis," Michelle Williams, dean of the Harvard T.H. Chan School of Public Health, wrote. "That reality is apparent not just in the police brutality that disproportionately claims the lives of Black Americans, but in the legacy of slavery and discrimination that persists in countless social determinants of health."
Health care professionals were among the thousands who joined in Sunday's peaceful protests in Boston, and area hospitals are among the institutions expressing support for the demonstrations against institutional racism and police brutality.
Every day this week I have been asked by professors:

"How's it going?"

Today, I decided to no longer pretend I'm okay. The truth is Black students are NOT okay.

We are hurting, our community is suffering and we need space to grieve.

All educators need to hear this message. pic.twitter.com/t6NcubYlDx

— LaShyra "Lash" Nolen (@LashNolen) May 29, 2020
I very rarely experience racism personally.

Yet everyday I see how racism drives #socialdeterminantsofhealth – #poverty #foodinsecurity etc – in my patients from vulnerable communities.

Police violence is one of the #socialdeterminantsofdeath.#GeorgeFloyd #StructuralRacism

— Jacob Mirsky MD MA (@DrJacobMirsky) June 1, 2020
The Massachusetts Medical Society stands with all who are mourning and those who daily experience racism, including our physicians and patients of color. Racism permeates all sectors of society. Healthcare is no exception. (1/3)

— Dr. David Rosman (@darosman) June 2, 2020
The Massachusetts Medical Society will ensure that our commitment to working for the best possible health care for all patients is focused by the lens of equity and racial justice. @MassMedical (3/3)

— Dr. David Rosman (@darosman) June 2, 2020
Email to the @harvardmed community from Dean George Daley. Subject: In Solidarity. pic.twitter.com/ACs3QithKX

— John Bachman (@johnabachman) May 31, 2020
At BMC, we are committed to addressing the effects of racial inequity on our community and being part of the collaborative efforts to create systems for racial equity today and in the future. https://t.co/SZZqKoGgmY pic.twitter.com/gaGdJOz3T8

— BostonMedicalCenter (@The_BMC) June 2, 2020
As part of @bethisraellahey, BIDMC stands in solidarity against racism and hate. We affirm our commitment to work together each day to constructively address disparities and foster an inclusive culture. Our hearts go out to everyone who has been impacted by violence & injustice. pic.twitter.com/jLUAvfloHc

— BIDMC (@BIDMChealth) June 1, 2020
Williams said her institution's community shares "in the despair and outrage over these killings — and the countless others that have not made headlines — that have rightfully sparked anger and activism all across the country," referencing the pleas of "I can't breathe" uttered by both Floyd, as a police officer knelt on his neck in Minneapolis last week, and Eric Garner in 2014.
"To understand how this manifests today, one need only examine the disparities in health care, pollution exposure, and access to green spaces, nutritious food, and educational opportunities that have long harmed health — and prematurely ended lives — in marginalized communities," she wrote. "While the COVID-19 pandemic has newly laid these inequities bare for all Americans to see, the underlying injustices have endured for generations."