Local
Several New England cities faced looting, clashes between protesters and police Monday night
Dozens of arrests were made among Worcester, Providence, R.I., and Portland, Maine.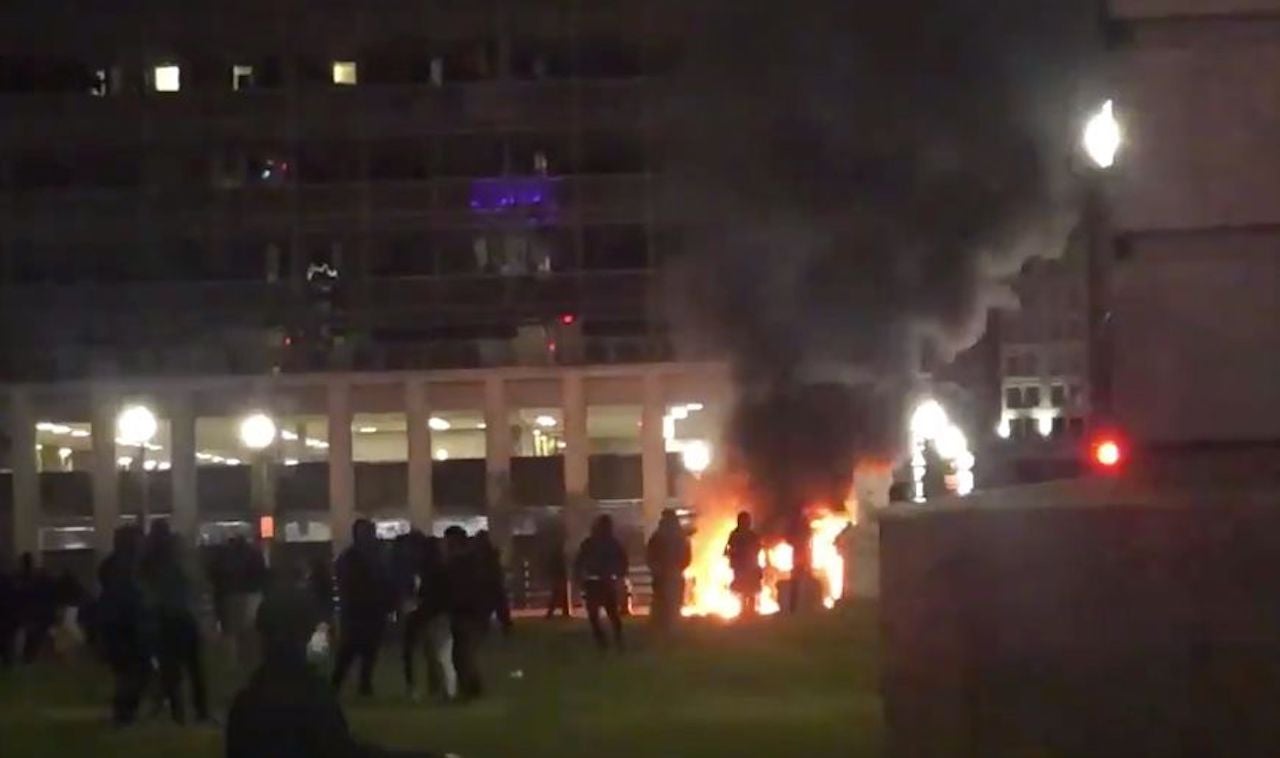 After violence and destruction Sunday night following a day of peaceful protests, Boston reportedly had few protesters Monday night, but other New England cities reported clashes between protesters and authorities.
In Worcester, Portland, Maine, and Providence, R,I., arrests, vandalism, and looting took place after protests. In Worcester and Portland, there were protests on Monday. In Providence, there were reportedly peaceful protests over the weekend.
Ongoing protests have taken place throughout the country calling for justice for George Floyd, a Black man killed while being taken into custody by Minneapolis police last week. Floyd's heart stopped while police were restraining him – video shows now-fired Minneapolis officer Derek Chauvin resting his knee on Floyd's neck. Authorities ruled Floyd's death a homicide, and Chauvin is facing a murder charge.
In photos shared to the department's Facebook page around 9 p.m., crowds can be seen holding signs in Worcester, and one photo shows an officer taking a knee with protesters.
"Tonight's peaceful protest…UNITY," the post reads.
"We have looked at systematic racism, lynching, segregation, discrimination over hundreds of years and to see something that transpired with brother Floyd is a flashback," said the Rev. Clyde Talley of Belmont A.M.E. Zion Church, according to the Worcester Telegram & Gazette. "And we have to make a stand to say this is not acceptable, because we understand not all white people think the way that cop did, but there are some that do."
But after the protest, a group gathered in the city's Main South neighborhood. There were around 50 police officers and 20 cruisers there for a time, and "several" people were taken into custody, the Telegram & Gazette reported. Fireworks exploded, and a bush was set on fire. There was a march on Main Street, and police in riot gear encountered the group on Hammond Street, according to MassLive.
Trouble at Providence Place
In Providence, more than 60 people were arrested, and 10 police officers injured after a "mob" broke into the Providence Place mall early Tuesday morning. There were about 300 to 500 people who converged on the street there, and around 2 a.m., police began spraying tear gas, according to an Associated Press report.
"Last night's incidents were devastating for our community who has already experienced so much unrest and pain," Mayor Jorge Elorza said in a statement, according to the news service. "Violence is never the answer and we need collective action — one that is productive, not destruction of our small businesses, who have been impacted so much already, and by putting others' safety at risk."
Monday afternoon, the department had praised the peaceful protests in a Facebook post.
"Thank you to the members of the community who demonstrated peacefully during protests over the weekend, setting a trend and positive example for other cities around the country, proving that together we can make a difference," the post said. "We are stronger together."
Tensions in Portland
Portland saw over 1,000 protesters, the Associated Press said in a separate article, and 23 people were arrested, police said in a news release. Tension mounted as police tried to move the crowd back when they reached the police station, and some of the crowd began tossing water bottles at authorities.
A peaceful protest began at 7 p.m., and the crowd, numbering roughly "several hundred," police said, began on Commercial Street and then marched throughout the city. Around 8:30 p.m., some of the protesters left while "a few hundred" stayed at the police headquarters on Middle Street.
"Some of the protesters began damaging barricades and were encircling and attempting to damage the police vehicles that had been positioned at intersections to close off roads and they were preventing them from leaving the area," the release said. "During this time several officers had water bottles, glass bottles and rocks thrown at them. Some had their vehicles swarmed, where protesters threatened them with death."
A truck then reportedly drove through the crowd around 9:30 p.m. after making a delivery on Middle Street, the release said. The driver and passenger were met with protesters, and police took the driver into custody "when police and the occupants of the truck started to be attacked."
The driver, Anthony McAfee, 45, of Massachusetts, was charged with reckless conduct of a dangerous weapon, the release said. The 22 others arrested, who appear to mostly be from Portland, were charged with failure to disperse.
The situation was under control as of around 2 a.m., roughly 3 1/2 hours after the police made their first arrest, according to the release.
"The Portland Police Department wants to extend our thanks to the multiple agencies that responded to our request for mutual aid. Without their assistance the outcome could have been very different," the release said.
https://www.facebook.com/PortlandMainePolice/posts/3319237511420610?__xts__%5B0%5D=68.ARDE4N1daN6nk6AGvssJDMCOLsf_Ds3Pjfl6_fTFMk5y8QVX1gupJnv3hxljWCqyU6tlzCunArd5DoBQ-4sDdD3GmhsJJ5x4uYuNPNNzajoRb_TbXtIb58T4ZWPvx7qEb18JJWPNhJjrgdZ6l1IwxHBOe6f-qOwtajXzS_9h-puWzBXgQc4-qTHhyIaw16BiwlLWYOZwiubrwX1USVvyJZUthvrP3DQYkCXYc3ZLOtQ7ILd01uunP8os5_xH5rPlLQ7yRDUOccgJB1xmlBM9hCDjcNNr0joWIp_GD4kR2NYmHo7MawtHDQ2sOWRWMmXInh6hLEDTma0Iz6Zlg6EfqQ&__tn__=-R