Local
Security footage shows looting of Boston's first recreational marijuana shop
"They were deliberate."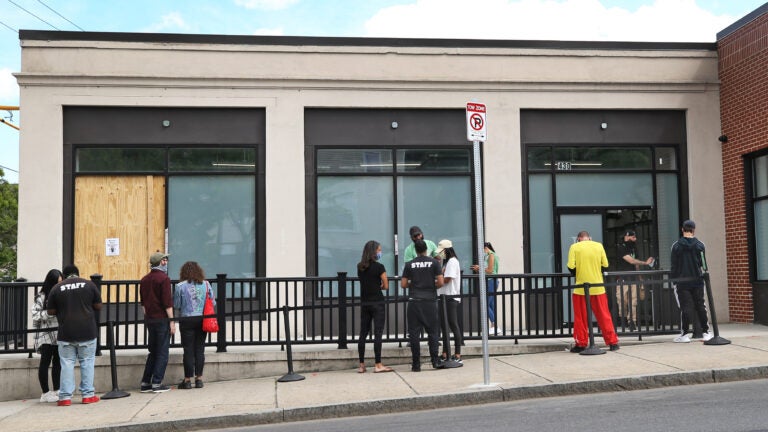 Pure Oasis, both the first recreational marijuana dispensary in Boston and the first Black-owned pot shop in Massachusetts, was among the many businesses hit by looting early Monday morning in the city.
Kobie Evans, a co-owner of Pure Oasis, told The Boston Globe that more than a dozen people entered the store after breaking through a large window around 1:43 a.m. Monday and stole roughly 2,000 pre-rolled joints and 2,000 containers of marijuana flower worth more than $100,000.
Security footage obtained by the Globe and published Tuesday shows a steady stream of people racing through the dispensary's front desk into the back room, some returning with armfuls of product.
Given the Dorchester shop's location far removed from the epicenter of the downtown looting Sunday night, Evans told the Globe that he suspects it was a "targeted attack" while the attention of law enforcement was elsewhere. Police did eventually arrive at the scene, but not before bystanders had joined in on the robbery.
"They were deliberate. They purposefully came just to our shop," Evans said. "They were able to get into a secure back room. They knew exactly where they were going."
Pure Oasis wasn't the only local pot shop targeted following the protests Sunday; the Cannabis Control Commission is also reportedly investigating incidents at Mayflower Medicinals in Allston and Patriot Care in downtown Boston.
"The Commission remains deeply concerned for all licensees and the health and wellbeing of constituents who have been devastated by disproportionate harms to communities of color," the CCC told 7News in a statement Tuesday. "We will collaborate with local authorities as necessary to ensure the safety of all Massachusetts residents during this time."
Pure Oasis was the first shop in the state to come through the CCC's economic empowerment program, which aims to help communities of color gain a footing in the still-young industry, following the disproportionate effects of previous marijuana laws.
However, the shop has been hit with a series of setbacks out of their control. After several years of planning, Evans and co-owner Kevin Hart opened Pure Oasis in early March but were forced to close two weeks later due to Gov. Charlie Baker's nonessential business closure order in response to the coronavirus pandemic.
Pure Oasis reopened for curbside pickup last Monday, May 25, as part of Phase 1 of the state's reopening plan. They didn't make it a full seven days before getting hit by looters this week.
Still, Evans told the Globe that he and Hart "stand in solidarity with the people protesting" institutional racism in the wake of the killing of George Floyd in Minneapolis police custody last week.
"In no way do we draw any connection between what happened to us and people protesting for a good cause," he said. "This is a somewhat isolated incident where a few people exploited the situation for personal gain, because someone wanted a free pair of Jordans and some weed to go with it."
Pure Oasis also reopened for business Tuesday — with one boarded-up storefront window. In a tweet Tuesday afternoon, Evans said they were "overwhelmed with the outpouring of support from all over the Country." While the shop had received offers of help, he urged supporters to instead donate to the socially-minded Haley House cafe in Nubian Square.
Pure Oasis "will be OK," Evans wrote.
https://twitter.com/KobieEvans/status/1267892231333183495?s=20