Local
Charlie Baker says despite conflicts law enforcement have shown 'discipline and restraint' to keep people safe during protests
"We cannot and should not stand for the shameful actions of a few that attempt to distract from the important message everyone came together to share."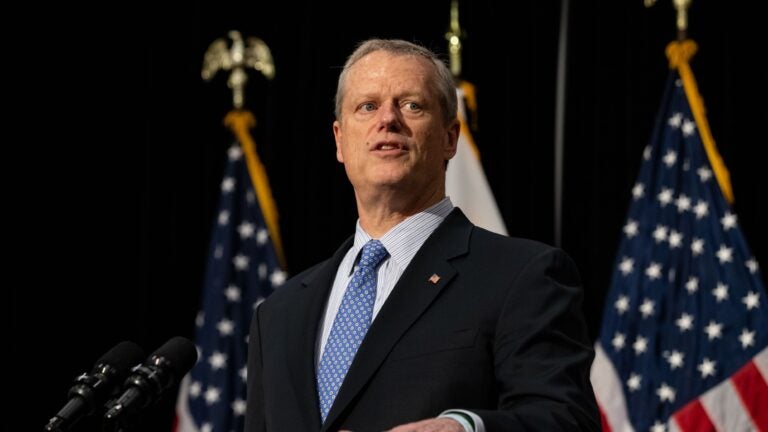 Protesters gathered in Massachusetts communities once again Tuesday night to rally against police brutality in the wake of George Floyd's death.
During the protests, law enforcement have often donned riot gear to interact with demonstrators, which some politicians have said only incites violence. At his Wednesday afternoon briefing, Gov. Charlie Baker said he thinks "attitude has a lot more to do with" the violence, than what police officers, state troopers, and National Guard troops wear.
"This is much more about attitude, and I think the folks in law enforcement have shown a remarkable amount of discipline and restraint in their work and their effort to keep people safe," Baker said, " and we all expect that will continue to be the case."
Baker said in some cases, officers might feel like they aren't wearing enough to protect themselves as some demonstrations have turned violent, referring to the several officers who were reportedly injured Tuesday night near the Brockton police station where citizens hurled rocks, bottles, and fireworks their way.
"Some of the ones last night who got hit by some of the stuff that got thrown probably wish that they did have a little heavier kind of equipment on," he said. "But in the end, I'm going to let the locals make the call with respect to what they think the best way to protect their communities is and what the best way to protect their citizens and their residents is and what the best way to protect their officers is."
Both the Brockton and Boston protests Tuesday night were filled with moments of raw emotion, tension, and people sharing "their agony and their anger over the injustice that pervades our nation. It was hard to watch at times," Baker said.
He added that there were powerful moments between demonstrators and law enforcement, too.
"The cowards and criminals who attempted to injure law enforcement and destroyed property, I expect you will have your day in court and will be held accountable," Baker said. "We cannot and should not stand for the shameful actions of a few that attempt to distract from the important message everyone came together to share."
Going forward, he promised that through conversations with members of the Black and Latino communities, elected officials, clergy members, and public safety officials, his administration intends to pursue ideas that will enhance transparency and accountability across the Massachusetts law enforcement system.
And for now, he asked that everyone stay safe and peaceful as marches, rallies, and demonstrations move forward to demand justice for Floyd, the Black man who was killed in Minneapolis police custody on Memorial Day.
 "We ask everyone to balance the fight against the virus with the fight for what we as individuals believe in," Baker said.