Local
Emerson president calls George Floyd's killing 'a legalized lynching' in letter to campus, reflects on own experiences of racism
"George Floyd was invisible. And it was his invisibility, a brutal white power structure and Chauvin's dehumanization of him that killed him."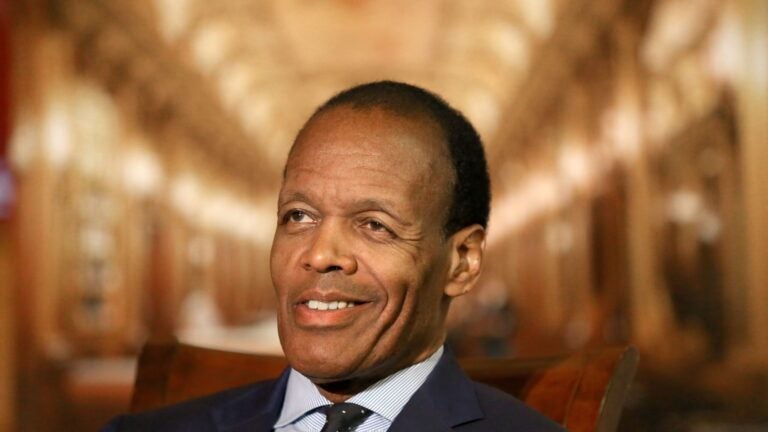 Emerson College's president penned a poignant and deeply personal letter to the campus community Sunday, referring to the killing of George Floyd in Minneapolis as a "legalized lynching" and detailing how racism has painfully impacted his own life.
Lee Pelton said he didn't sleep all of Friday night and instead, "like a moth drawn to a flame," found himself watching the cellphone video of Floyd's death on repeat. 
"I was mesmerized by the casualness with which the Minneapolis police officer Derek Chauvin murdered George Floyd. Chauvin dug his knee into his neck for almost nine minutes, even as Floyd repeatedly said, 'I can't breathe. I can't breathe,'" Pelton said. "As he called on his Mama before he took his last breath, Chauvin continued to talk, he looked as if he didn't have a care in the world. He didn't stop until Floyd was unresponsive. George Floyd was invisible. And it was his invisibility, a brutal white power structure and Chauvin's dehumanization of him that killed him."
Like Floyd, Pelton said Black Americans are invisible to most of white America, living in the shadows. 
"The persistent structural racism that undergirds American society and permits the police and others to kill Black people is pernicious and ubiquitous," he said, turning to his own history and experiences of racism. 
In his lifetime, Pelton said he's been called the n-word by white people in every state and city he's ever lived in. 
"I have been pulled over driving while Black more times than I can remember," he said. "I have been spit on by a white parking lot attendant. I was stopped 20 feet from my house by two white police officers in their cruiser, the searing heat of their spot light on my neck, guns drawn on either side of my car because I looked like a black man who was alleged to have stolen something from a convenience store."
While living on the West Coast, Pelton said he was pulled over twice in a single night for allegedly not using his turn signal "the proper feet before a stop sign." 
During his time as president of Willamette University, in Salem, Oregon, Pelton recalled the time "two teenage boys drove up on the sidewalk to block my path home because I looked like someone who was suspected of stealing from neighborhood homes. When I asked what that person looked like they described someone more than twenty years younger than me."
In the '70s, at 20 years old, he said he was visiting his cousins in Conway, Ark., when he "suffered the deep humiliation of having to go to the back alley of a local restaurant to order food." 
"I was angry at the overt racism and at my cousins for enduring such indignities almost a decade after the passages of the two Civil Rights Acts of the mid-'60s," Pelton said. 
The raw recollection of his past brought him to add a final message: "What happened to George Floyd is not new. It [is] as old as 250 years of slavery and the Jim Crow laws that sought to marginalize and shut out black Americans from American society."
He told the campus community that offering words of comfort would be inauthentic and would "absolve so many from coming to terms with their own silent complicity in the world in which we live."
Instead, he offered a long list of Black Americans who died at the hands of police and vigilantes. 
"Do you remember Trayvon Martin or 12-year old Tamir Rice or Sandra Bland or Philando Castile or Eric Garner or Freddie Gray or Botham Jean or Breonna Taylor?" Pelton asked. "Say their names. This is not new. All of them dead. Each of them invisible."
Closing with one last reflective question, he asked, "What are you going to do?"
https://twitter.com/LeePelton/status/1267883078787182594