Local
Peaceful protests give way to confrontations with law enforcement in Brockton
"Change is coming, change is needed, but change can't happen through violence."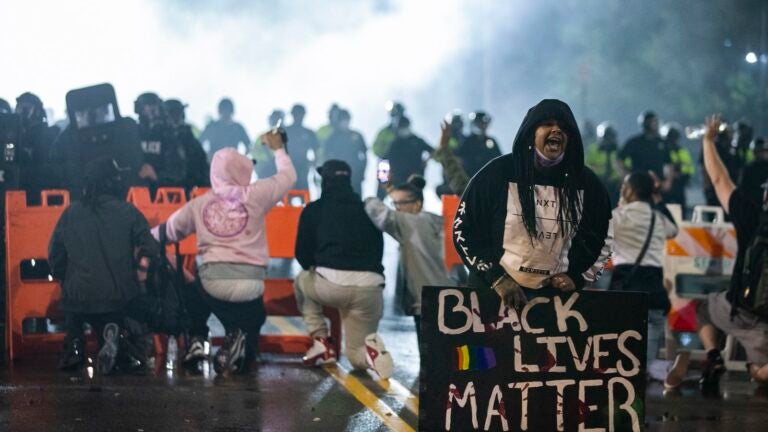 Tensions rose outside the Brockton police station Tuesday night as hundreds of protesters clashed with law enforcement following a peaceful protest and rally at West Middle School about an hour earlier. 
Brockton Mayor Robert Sullivan said at a Wednesday morning press conference, as he stood outside a damaged Dunkin' on Montello Street where protesters had shattered windows and ignited a fire the night before, that the chaos was counterproductive to the cause. 
He said the 5 p.m. rally was a true reflection of the Brockton community, where many took a knee in solidarity against police brutality alongside others protesting the death of George Floyd, a Black man killed by a Minneapolis police officer who knelt on his neck for nearly 9 minutes last week. 
But violence and vandalism shadowed that message later in the evening, Sullivan said, when a seemingly separate, and larger, group gathered near the Brockton Police Department on Commercial Street. 
"I concur that we need change, that was a blatant murder of Mr. George Floyd in Minnesota, and change is coming, change is needed," he said. "But change can't happen through violence."
One state trooper was injured by a projectile, and several Brockton police officers were injured when rocks, bottles, and fireworks were hurled at law enforcement, Sullivan said. 
He said the Brockton police chief also reported that a handful of arrests were made for assault. 
Damage was spread throughout the core of the city, Sullivan said, with glass broken at the Brockton District Court, and a local pawn shop, Ideal Jewelry and Loan. 
"The good news is that there was not grave bodily injuries to anybody, thank God," he said. "We can fix the glass … but the damage is really impacted in the heart."
Sullivan stopped taking questions from reporters Wednesday morning to listen to two men recount their experience of the peaceful protests that gave way to some confrontations with police. 
One of the men said he was involved in the peaceful protest earlier on and had warned others that the group heading to the police station was not organized or part of any pre-planned route. 
"Lets not paint the narrative that it's Black people," the resident said, adding that he had witnessed a white man throw a can of corn at officers. 
He said the crowd turned hostile after clouds of tear gas filled the area. 
"The officers did their job — I don't appreciate the tear gas being thrown, but at the same time I understand what they had to do," he said. "What occurred at the police station was just a select few people who were there to have fun." 
The other bystander chimed in, saying police seemed to become excessive at some points, recounting a moment when he saw a woman trying to escape a crowd before an officer pepper sprayed her. 
"I feel like in certain aspects the police were looking for reasons to become excessive," he said. "It doesn't make sense for a water bottle to be thrown at people with riot gear and then their response is to throw tear gas at people in t-shirts and hoodies."
That helped build the tension, he said. 
But Sullivan said the National Guardsmen had left by the morning and he pledged his own help in restoring the damage done to local businesses. 
"Today's a new day, we all woke up, we'll be able to rebuild, but really it's a rebuilding of the people and listening to these statements," Sullivan said. "We can't just listen and walk away to a deaf ear."