Local
Ayanna Pressley calls on the Boston police union to apologize to Rachael Rollins
Pressley said the union's tactics were "predictable but deeply disappointing."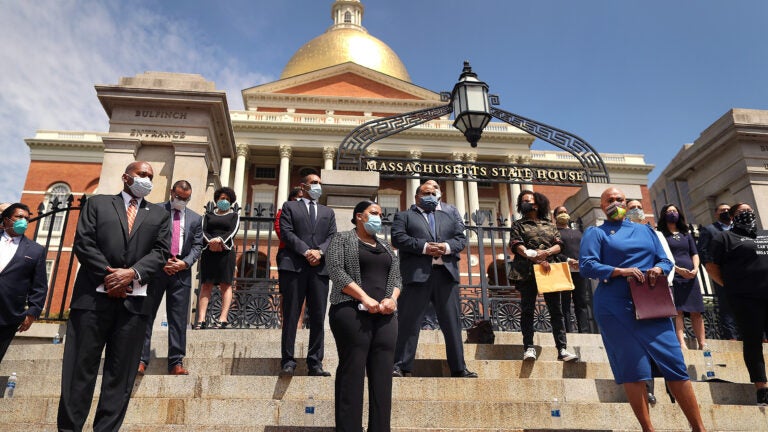 Rep. Ayanna Pressley is backing up Suffolk County District Attorney Rachael Rollins in her dispute this week with the local Boston police union over her response to the recent anti-police brutality protests.
"The tactics of the Boston Police Patrolmen's Association are predictable but deeply disappointing," Pressley said in a statement Wednesday night, calling for an apology from the union for their "unfound attacks" on the Democratic district attorney.
Rollins, who has pushed for more racial equality in policing as the Boston area's top prosecutor, faced criticism this week from leaders of the Boston Police Patrolmen's Association, after she gave voice to the frustration in communities of color over police violence during a press conference Monday, following peaceful protests Sunday in Boston that led to looting and clashes with law enforcement. Rollins called the looting and attempts to harm officers "unacceptable," but also called it "ironic" that people were being asked to be nonviolent by law enforcement groups that disproportionately act violently toward people of color.
In response, the BPPA accused Rollins of "slandering our officers as murderers," when she should have done more to highlight how they "responded to violent attacks against them with courage and restraint." Of the 53 people arrested following the protests Sunday, three were charged with assaulting an officer. At least 21 police vehicles were also damaged.
"It was utterly inappropriate for you to make a statement mocking violence," BPPA President Lawrence Calderone and Vice President Richard Withington wrote in a public letter to Rollins, referring to her comments about the "irony" of the calls for nonviolence.
During the press conference, Rollins did commend Boston police leadership and said her "heart goes out" to the officers who were injured in the aftermath of the protests. Still, she added that people in Boston's disproportionately low-income communities of color were "fed up" with interactions with many rank-and-file officers.
According to a comprehensive 2014 report by the ACLU, Black people in Boston were more likely than white people to be stopped by police, even when controlling for non-race factors, like local crime rates, prior arrest rates, and alleged gang affiliations.
Pressley, a fellow Boston Democrat, said Wednesday that Rollins has "earned the deep trust of families, advocates, and officers across Suffolk County" and has an "unmatched" command of "justice and accountability." She also suggested the union's response was dangerous.
"The BPPA's unfounded attacks put the DA at risk, but will not derail for a moment her tireless and disciplined work to lead us towards a more just and humane legal system that centers the dignity and humanity of the people we have all sworn to serve and protect," Pressley wrote.
"The Patrolmen's Association should immediately issue an apology to our District Attorney," the Massachusetts congresswoman continued. "In a time of national crisis, when Black men and women are disproportionately dying in police custody, the BPPA should be at the table humbly working to chart a path forward, not tearing down a Black woman in leadership and putting her life at further risk."
The local Boston chapter of the NAACP also said Wednesday that the police union's response was "not what we need."
During a press conference Tuesday pressing for legislative action to address police misconduct, Rollins thanked the "overwhelming majority of members of law enforcement that go to work every day and do a job that none of us would sign up for — even if it was three times the salary." But she noted that, in every career field, there's a certain percentage of people "who just show up and get a paycheck and don't care about what they're doing." Rollins also noted that law enforcement is the only branch of government, "which all of our taxes pay for," with the right to kill "without any oversight."
"We're not here because of the good and honorable and culturally competent and deescalation-able officers," Rollins said. "We're here for the other ones."